MUSIC
MUSIC | Finally! Shakey Graves has made more of his music legally accessible and it's like blues Christmas.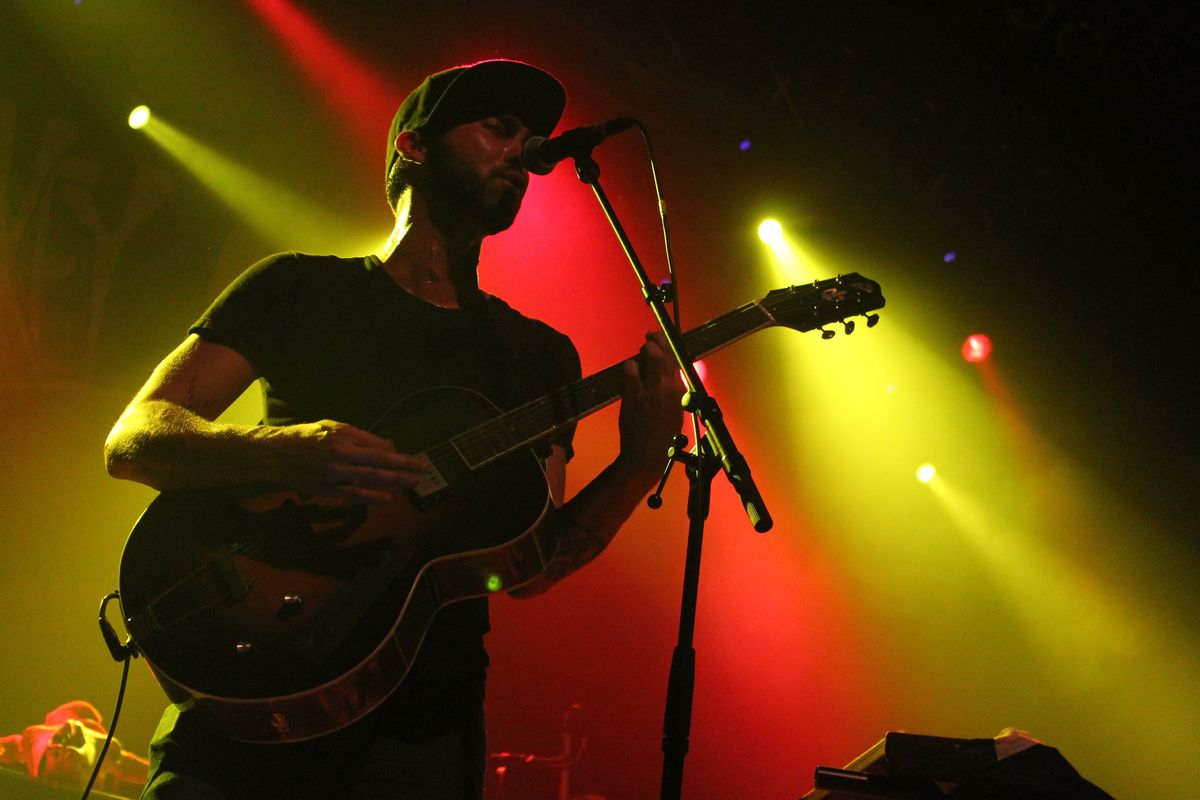 photo by Hailey Nuthals
Shakey Graves, the performing moniker of Austin, TX born and bred Alejandro Rose-Garcia, is releasing a two-disk set of previously unofficially released recordings. A compilation of his records Nobody's Fool and The Donor Blues, Shakey Graves and the Horse He Rode In On is going to be available, through Dualtone Records, as a digital download or limited-edition clear vinyl pressing, and both will be put on streaming services.
With this move, Shakey is literally going to double the amount of his music that you can legally engage with outside of that special annual period of days surrounding Shakey Graves Day. The situation is so notable that when the blues rocker, equally stunning as a one-man wonder and as a bandleader, announced the release of The Horse He Rode In On, the press release noted that "The Donor Blues is available only via Bandcamp, and Nobody's Fool is currently even harder to find, passed around as an online bootleg by fans." (Never mind that this reporter has had copies of those albums for years; the already not-so-challenging feat of music piracy is made so much easier when the artist in question releases their music for pay-as-you-want once a year and even does you the courtesy of announcing it in their email newsletter.)
The release is a shocking delight to fans who haven't heard about Shakey Graves Day (or who missed it, or haven't been fans long enough to get a chance to experience it). It's certainly a boon to Shakey, whose music can now be streamed on popular services that pay him royalties. Most significantly, Shakey is now that much less of an underground enigma. It's true that he's been far from a fan-kept secret of late; "Dearly Departed," his duet with singer Esme Patterson, made huge waves following its release and "Hardwired" was recently featured in a commercial for Samsung's new virtual reality headset. Both of those songs, though, were from Shakey's sophomore album And the War Came. His debut LP Roll the Bones was so lo-fi that it's hard to imagine it got many synchronization deals, but it did create a loyal fan following. Outside those two albums, listeners had to rely on the (admittedly vast) collection of his live performances on YouTube.
But now, screw YouTube and their questionable practices with the music industry. Forget marking the calendars you don't look at for February 9th. Fans can listen to four separate Shakey Graves albums at will, and they can make sure he gets paid for them, too. Better yet, they can listen to four different Shakey Graves albums. Listeners can opt for And the War Came, Shakey's first step away from solo recording and towards recording with a full four-man band (plus several duets with Patterson). Or, if they're in a darker, more enigmatic mood, the debut Roll The Bones, complete with a borderline-scary cover of Bruce Springsteen's "I'm on Fire," classic folksy love songs, and the requisite wanderer's anthem and title track.
And now, the personal and dramatic Nobody's Fool gives a grittier version of Shakey with the added bonus of scratchy recordings of a woman telling bad jokes (see "Haven't You Noticed" for jokes and the title track for personal rumination). Donor Blues rounds out the set with a wholeheartedly folk repertoire, including "Stereotypes of a Blue-Collar Male" and "Family Tree," which toe the line with Shakey's enigmatic smirk between cheesy Americana and achingly melancholy tunes that make you want to sip a bourbon on your front patio before remembering that you neither own a patio nor bourbon. (Well, maybe you have the bourbon, you lucky duck.)
You can order
Shakey Graves and the Horse He Rode In On
on the Dualtone Records
webstore
, and find the rest of Shakey's (legally available) music on the usual channels. He'll also be embarking on a tour of the US and Canada later this summer - see dates on his
website
---