American Airlines elderly passengers treatment—AA's treatment of 88-year-old Aubrey Brown shows a marked lack of respect for senior citizens
Long lines, delays, lost baggage and cancelled flights are just some of the common issues travelers face.
Nobody expects to experience anything worse than just a hassle and inconvenience when flying—but, maybe they should.
As a frequent traveler you'd think I would have seen it sooner, but I didn't
I fell for it—I fell for American Airlines' hollow claims of providing great customer service and caring for their passengers.
So much so that I flew with them as much as possible, which boosted me to a Gold member status.
I even got an AAdvantage credit card that I use daily to rack up more points that I can redeem for miles.
I had so much faith in AA that I put first time flyer, 88-year-old Aubrey Brown (my uncle), on a flight to Nashville by himself for a family get together.
Brown, who lives in California like I do, decided to give flying a try when he was invited to Tennessee for my nephew's graduation.
Also being a huge Elvis fan, he wanted to road trip it to Memphis to visit Graceland, which was his lifelong dream.
So why was he flying alone?
I had already booked my flight long before he said he was going and I couldn't get him on my flight.
Nevertheless he was totally excited to go and believed he would be fine—we all did.
He flew United on the way there and American going home because it was the best deal.
He literally jumped and screamed when his flights were confirmed—it was a special moment.
For someone his age, he's very active and independent, but he can't walk long distances.
So I set up wheelchair assistance for him with both airlines. All he had to do was ask an airlines agent for one and they would take him through security and help him board.
Brown arrived a day before I did without incident.
He told me, "Wow flying is the way to go. I loved every minute of it," when I asked how it went.
The trip itself was wonderful and it was amazing to see his adventurous spirit come alive.
He had a great time with the family, and he finally made it to Graceland to pay tribute to his rock star idol.
Everything was fine until he left to head home.
My mom and dad took him to the Nashville airport at 3:20am—two hours before his flight.
According to my uncle and mom there weren't many employees present at that time, but they did finally find an agent at the kiosk area helping passengers get boarding passes and directing them where to put their check on luggage.
My mom told the agent my uncle needed a wheelchair as well as help getting his boarding pass.
The woman said, "since you have to do both, you can't get a wheelchair at the kiosk so you'll have to wait in line."
My mom said, "I thought well this is their procedure. She gave me the impression she couldn't help.
"I thought since there were two agents on the floor it wouldn't be too long before the ticket counter would open.
"We were trying to be polite and do the right thing."
She added, "Since people were starting to arrive for the 5:30am flight, which Brown was on, I wanted to get in line as quickly as possible so Aubrey could get his wheelchair.
"We were near the front of the line and thought we'd get assistance momentarily."
After 40 minutes, the counter still hadn't opened and without warning Brown passed out, falling face first and hitting a metal pole.
"I was in shock," my mom said. "People were trying to help him up and I was behind him. I was trying to talk him to. I was yelling Aubrey, Aubrey and he wasn't responding.
"There were 2-3 people on each side of him trying to pick him up but he was so limp they couldn't."
Within five minutes paramedics and a wheelchair arrived and agents all of a sudden appeared at the ticket counter.
My mom snapped at the agent, "I told you he needed a wheelchair and she responded, "We don't always have one available."
This could have been prevented, but due to the negligence of an airline agent my 88-year-old uncle is paying the price.
He went to the ER when he arrived back in California and had a series of tests done.
Surprisingly, with the exception of a horrible black eye and cuts to his face, he's alright.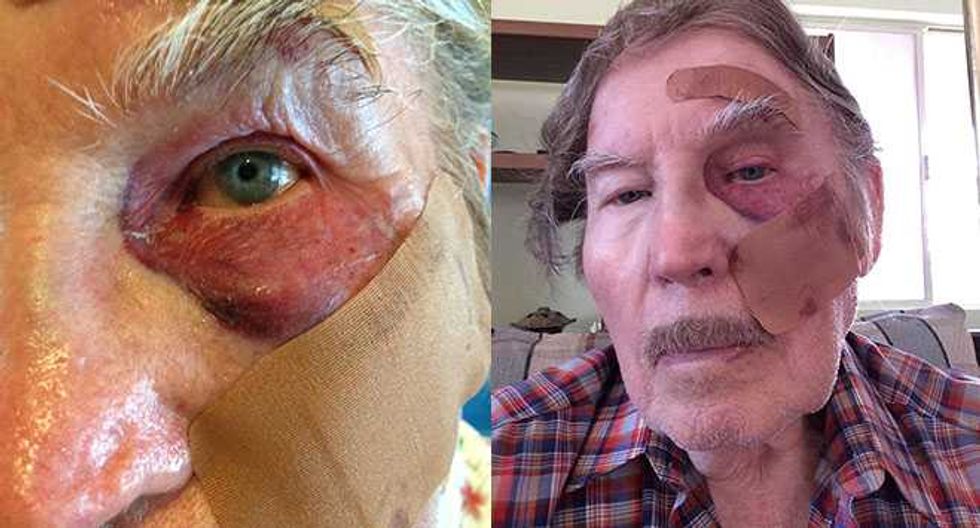 I immediately called a supervisor at AA when I was informed about what happened.
She told me my wheelchair request was in the system, but that she wasn't able to help me and to contact customer relations.
I sent two emails and finally, 10 days after the incident, the airline called me.
The AA representative apologized and offered my uncle a $200 travel voucher.
I asked if they would cover his medical bills and she said he could submit them for review, but there's no guarantee they'd be taken care of.
I asked if they would refund his ticket and she said no.
I have filed a complaint with DOT and they're currently looking into the matter.
Elderly passengers have a right to travel and the airlines say they have services to help those who need it.
Yet, in this case it wasn't convenient for them to follow through and this is the outcome.
If this could happen to my uncle, it could happen to others, and it shouldn't.
AA needs to do the right thing by Brown.
I was told they work to take "excellent" care of their customers, but clearly that's not the case.
I was so loyal to American Airlines so why weren't they loyal to me in return?
Popdust reached out to AA for comment—but at time of posting had received no reply.
France's Hamster Hotel Let's You Experience Life As A Rodent—Yep, Really
Good Morning Pyongyang! Video Offers Eery Glimpse At Everyday Life Inside North Korea
LAX Plans VIP Terminal So Celebs Can Avoid Regular People
Scottish Woman Has 3 Inch Leech Living In Her Nose For A Month
american airlines elderly passengers treatment
american airlines elderly passengers treatment
Passenger Jokes 'I have Ebola, You're All Screwed' Is Removed From Plane In Cuffs
Snarky Flight Attendant Has Passengers Rolling In The Aisles—Watch His Amazing Performance
Jason Biggs Makes Disgusting Joke About Downed Malaysia Airlines Flight 17
Woman Arrested For Molesting Female Passenger On Flight From Las Vegas
american airlines elderly passengers treatment
Terrifying Buenos Aires Attempted Armed Robbery Captured On Tourist's GoPro
Uncommon Grounds—Todd Carmichael's Marrakesh Souk Haggling 101
Mesmerizing Video Gives Glimpse Of Everyday Life In Pyongyang, North Korea
Homeless Stowaway Pleads No Contest to Trespassing After Sneaking On Flight
american airlines elderly passengers treatment