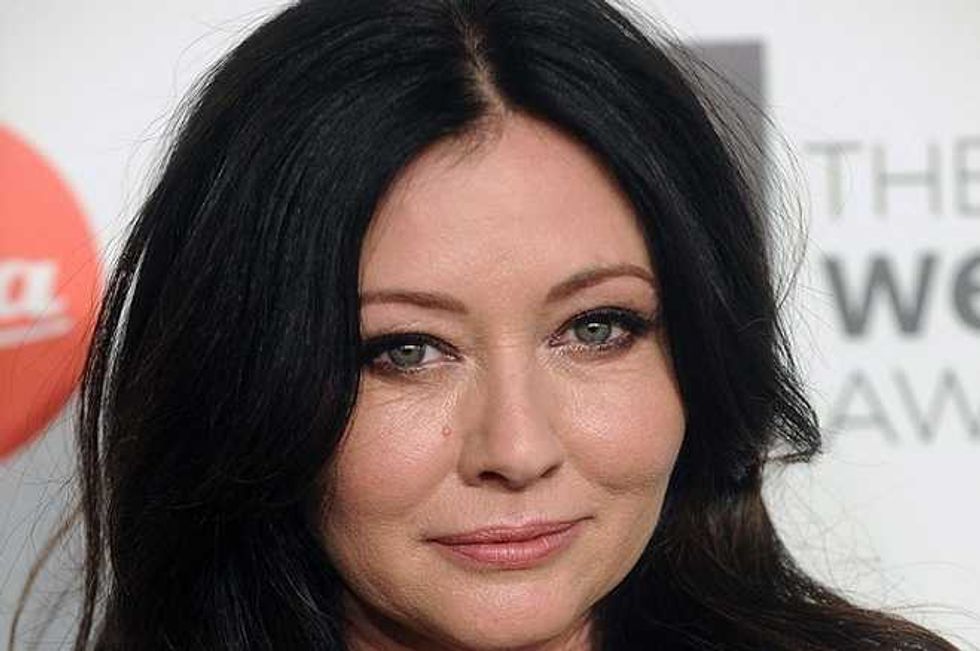 Shannen Doherty has revealed that she is battling breast cancer.
The star who may have to undergo a mastectomy and chemotherapy was forced to reveal her health crisis when TMZ reported that she had filed a lawsuit against her former business manager. Doherty alleges Tanner Mainstain, who she stopped working with in 2014, allowed her health insurance to lapse, during which time she did not receive the medical care which may have detected the cancer sooner.
The actress, 44 confirmed that the diagnosis was in March 2015 to People, adding;
"I am continuing to eat right, exercise and stay very positive about my life. I am thankful to my family, friends and doctors for their support and, of course, my fans who have stood by me."
The notoriously difficult to work with actress is best known for being an original cast member on Beverly Hills 90201 and Charmed. Her lawsuit reveals;
[She] discovered that she had invasive breast cancer metastatic to at least one lymph node and was informed that her cancer had spread during 2014 (when she was uninsured). [She] was also informed that, had she been insured and able to visit her doctor, the cancer could potentially have been stopped, thus obviating the need for future treatment (including mastectomy and chemotherapy) that [Doherty] will likely have to suffer through now."
Shannon argues the firm ignored the invoice payment of the Screen Actors Guild insurance premium in 2014, meaning she was unable to re-enroll until 2015. As she was uninsured during this period she avoided visiting the doctor. She certainly doesn't hold back in her accusations, claiming the firm;
specialize in fleecing actors and entertainment industry professionals."
Doherty married photographer, Kurt Iswarienko in 2011. He is also suing the firm in a separate but similar lawsuit.
Taylor Swift, Businesswoman, Trademarks The Phrase 'This Sick Beat'
A rep for Tanner Mainstain issued this response;
Tanner Mainstain is saddened to learn that Ms. Doherty is suffering from cancer and wishes her a full recovery. However, the claim that Tanner Mainstain caused her to be uninsured, prevented her from seeking medical care, or somehow contributed to her cancer is patently false. Tanner Mainstain will aggressively defend all of Ms. Doherty's claims in court."
Shannen Doherty Shares Photos As She Shaves Her Head In Cancer Battle