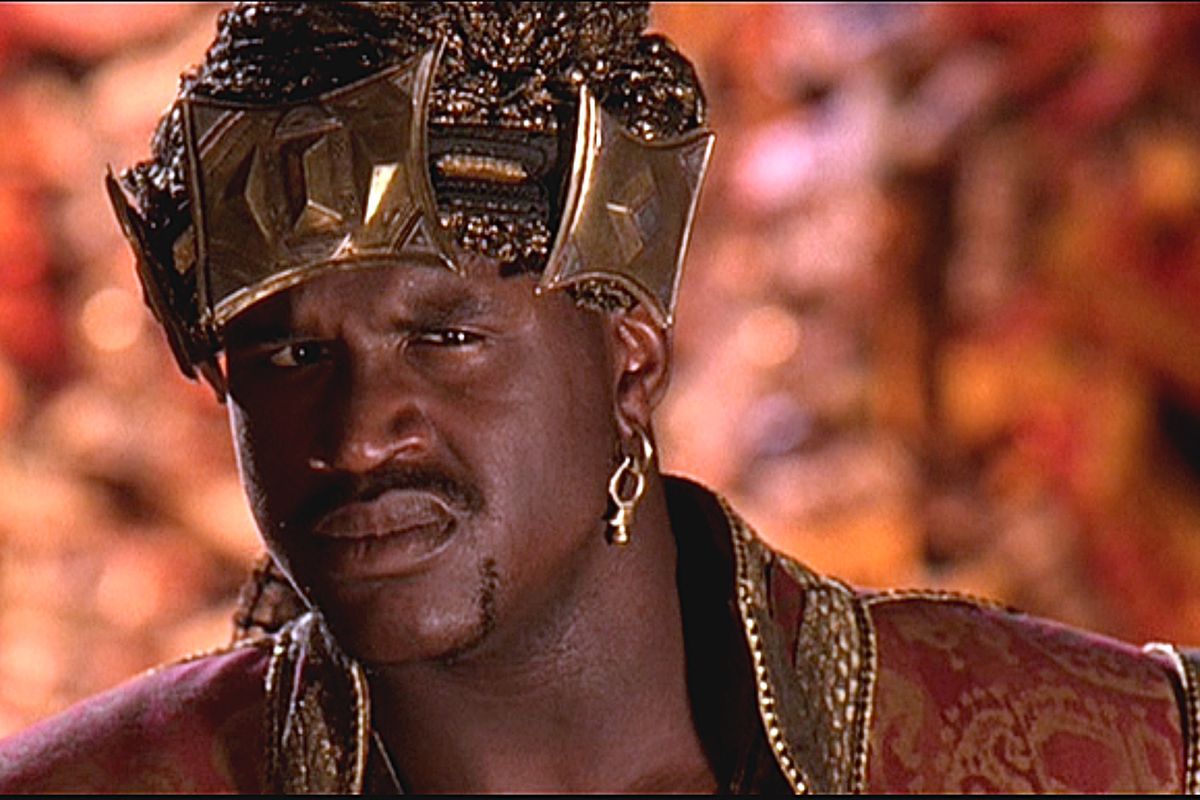 Touchstone Pictures
If there's one thing I learned from watching Shaquille O'Neal dance with the Jabbawockeez, it's that Shaq's talent is completely irrelevant to how terrifying he is.
Shaq dances with Jabbawockeez at All Starwww.youtube.com
Shaq is a truly gargantuan man, towering above all the measly human dancers around him. I'm honestly not even sure if his giant, lumbering motions could even be considered dancing. But that doesn't matter, because he could literally eat everyone else on that stage.
In a similar vein, I don't know if Shaq is a good rapper, but I'm also not convinced that a man as massive as Shaq can be subject to a good-bad binary. I imagine Shaq existing in a parallel, albeit loosely connected plane, whereby he slumbers like a Lovecraftian Elder God until the time arrives for his next performance. If the man says he can rap, then okay, I'll take his word for it.
So when Damian Lillard of the Portland Trail Blazers came out and said, "I think I rap better than Shaq," I'm not sure what he was hoping to accomplish. That's like saying, "I'm a better baker than that actual ogre who just baked some cookies." Like okay dude, maybe you are, but why is that the bar you're setting yourself up against? More importantly, why go out of your way to challenge a guy who can literally eat you?
Anyways, Shaq took the bait and literally ate Dame.
Shaq - Freestyle (Damian Lillard Diss) (AUDIO)www.youtube.com
Shaq goes hard: "Call me when you get a back-to-back-to-back-to-back/ Why would I wanna be a rapper, rappers wanna be Shaq." Like Dame, son, there's no coming back from that. Shaq just consumed you.

Dame tried to respond with his own diss track. Maybe it's objectively better; I have no idea and frankly don't think it matters. What can you possibly say to offend Shaq? The man has 400 million dollars and, again, is a giant basketball man.
This already played out in Kazaam when that chonk, sallow-faced white kid tried to step to genie Shaq and literally got buried in sand. Does Dame want to be Max from Kazaam? Because that's how you become Max from Kazaam.
Kazaam Rapwww.youtube.com
In short, there was never even beef. Shaq simply consumed Damian Lillard alive like a Taco Bell taco.
Taco Bell "Taco Neck" - Commercialwww.youtube.com