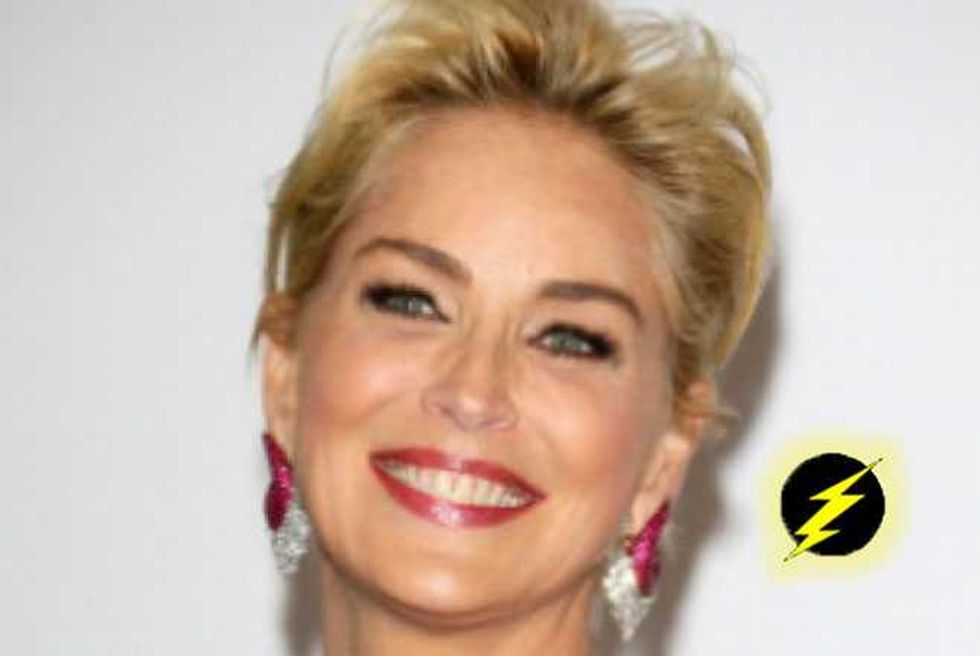 sharon stone no make up Sharon Stone With No Make Up Looks NOTHING Like Sharon Stone
Sharon Stone with no make up looks nothing the Sharon Stone we're used to seeing on the red carpet and big screen.
And, when we say nothing, we really mean NOTHING like her, like, completely unrecognizable.
The 57-year-old posted a totally bare faced photo of herself, along with her adorable French bulldog, Joe, on her Instagram last week.
Sharon Is A Stone Cold Naked Fox In Harpers Bazaar Nude Photo Shoot
And, it's amazing how fucking totally different she looks—albeit still beautiful and flawless, of course...because, duh! Sharon Stone.
Check it out: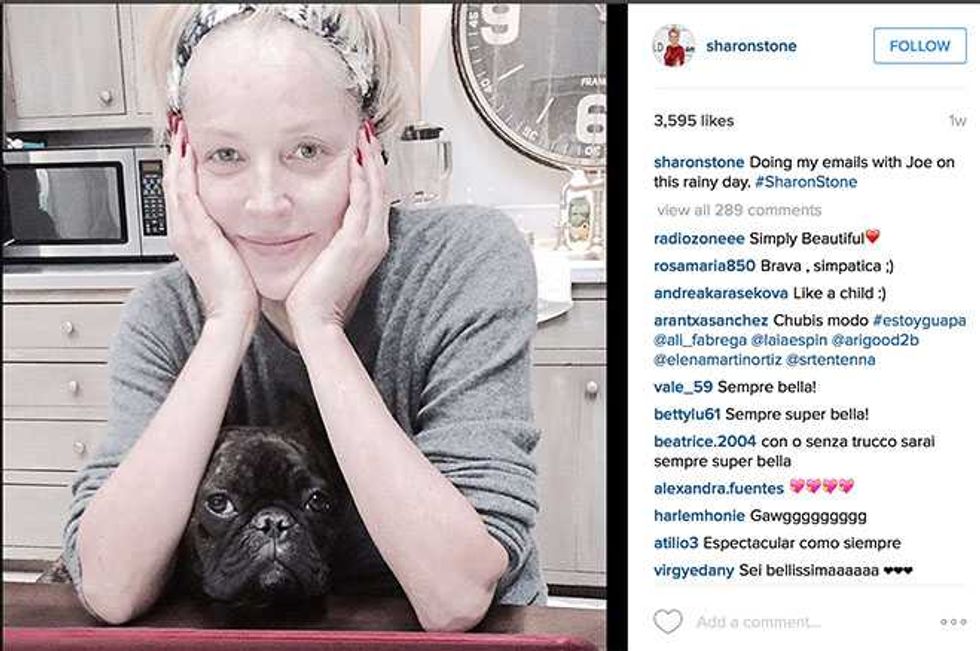 Is that really you Sharon Stone?!!
She captioned the pic:
Doing my emails with Joe on this rainy day.
And, although Joe looks less than happy at being roped into Stone's work day, the actress looks radiant, relaxed and serene.
She really is a natural beauty—even if she is bat shit crazy.
Director Dishes On 'Slightly Declining Actress' Sharon Stone's Diva Behavior
As Popdust previously reported, Stone stripped down and bared her soul last September, for a candid interview, and absolutely stunning photo shoot with Harpers Bazaar.
The mom-of-three, clad in just Jimmy Choo pumps and jewelry, was a stone cold fox in the completely nude, black and white photo shoot—which was shot by renown American fashion photographer, Mark Abrahams.
Sharon Stone Admits She 'Cried And Cried And Cried' Over Getting Older
In the accompanying interview, Stone opened up about her life after suffering a debilitating stroke back in 2001, plastic surgery, body image, and her complete lack of a love life.
On plastic surgery:
It's so common now for people to use fillers, it's almost like a beauty treatment. It's like you have mascara and a filler. And it's a far better alternative than having your face cut apart and ending up looking like you got sucked into a wind tunnel.
On body image:
I'm aware that my ass looks like a bag of flapjacks, but I'm not trying to be the best-looking broad in the world. At a certain point you start asking yourself, 'What really is sexy?'

It's not just the elevation of your boobs. It's being present and having fun and liking yourself enough to like the person that's with you. If I believed that sexy was trying to be who I was when I did Basic Instinct, then we'd all be having a hard day today.
Carrie Fisher Wants You To STFU About Her Body And If She's Aged Well
All we can say is that if this is what a bag of flapjacks looks like, we'll take a double order please.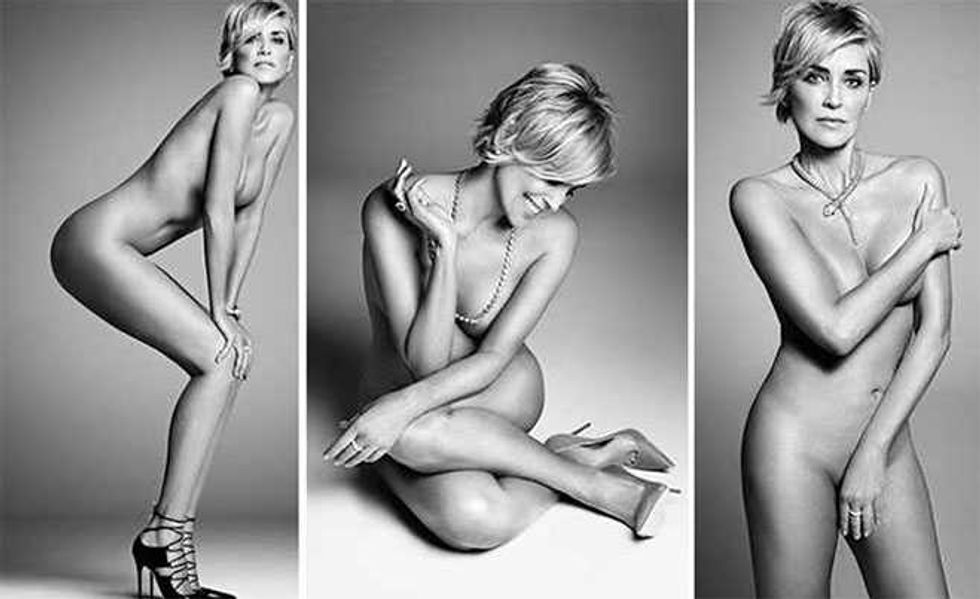 Dang girlfriend, just.... dang.
In another interview, back in February 2014, the then 55-year-old Stone admitted to locking herself in the bathroom in her 40s and crying non-stop as she struggled to come to terms with her aging face and body.
Melanie Griffith Posts Unfiltered Photo—Dares All The Haters To Hate
She told Shape Magazine:
There was a point in my 40s where I went into the bathroom with a bottle of wine, locked the door, and said, 'I'm not coming out until I can totally accept the way I look right now,'

And I examined my face in the magnifying mirror, and I looked at my body, and I cried and cried and cried. Then I said to myself, 'You're going to get old now. How do you want to do that?'

And I thought, 'I'd like to age like a dancer.' I want to keep my body in shape like that. I want to do the work. I like to dance and stretch. And I like going to the gym.
Well, you got there Ms. Stone—and, true beauty never really ages, even in Hollywood, no matter how much they attempt to brainwash us otherwise.
For more entertainment, world, music and pop culture updates and news follow Max Page on Twitter