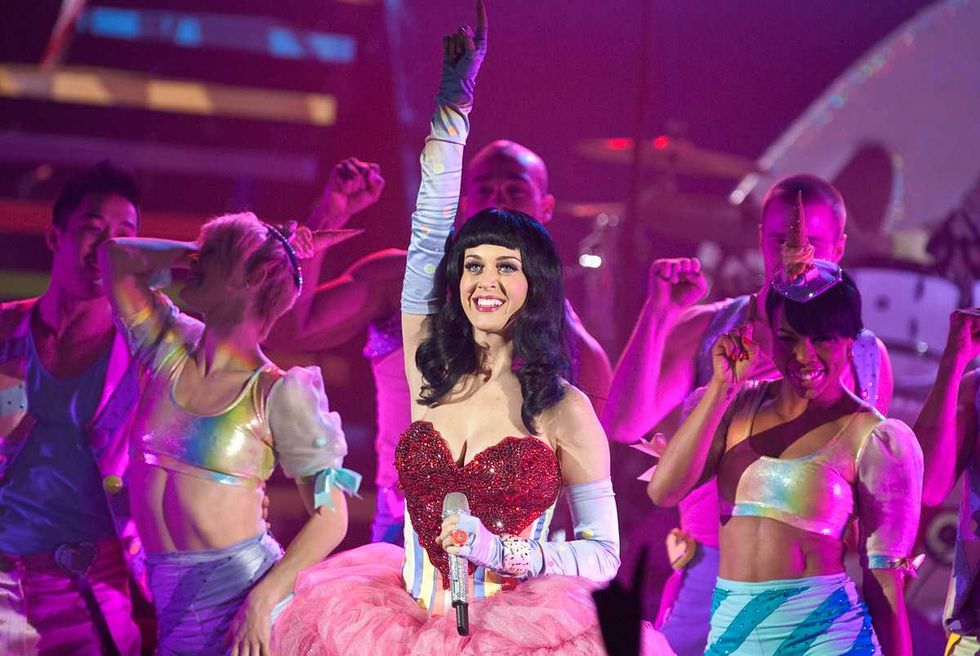 Chart geeks, take note—Katy Perry has now accomplished a feat unmatched by Madonna, Prince or even the Beatles. With the Kanye-featuring "E.T." unseating Lady Gaga's "Born This Way" on top the Billboard Hot 100 this week—before the video has even premiered, no less—Katy has now reached pole position with each of her first four singles off Teenage Dream. Only a handful of other artists in the 50-plus-year history of the Hot 100 chart have ever spun as many No. 1s off an album as Katy now has off her third full-length.
It's a mildly startling achievement for an artist who was fingered as a one-hit wonder when her novelty-ish anthem of bi-curiosity "I Kissed a Girl" owned the summer of 2008. But pop debut One of the Boys ended up spawning two other top ten hits, and "California Gurls" made it two summers out of three for Perry when it spent six weeks at No. 1 in June and July of last year. Then "Teenage Dream," "Firework" and now "E.T." followed suit, putting Perry and her Teenage Dream album in some seriously rarified pop company.
So who else has pulled off the quartet of chart-toppers from one LP? Well, Katy is the first to do it since Usher spent a combined 27 weeks at No. 1 with his 2004 Confessions album—becoming, between "Yeah!," "Burn," "Confessions Pt. 2," and "My Boo," the first artist to ever spend more than half of a calendar year in the top spot of the Hot 100. Besides Mr. Raymond, Katy is mostly in the company of women, matching the chart-topping tally from Whitney Houston's 1987 album Whitney ("I Wanna Dance With Somebody (Who Loves Me)," "Didn't We Almost Have It All," "So Emotional" and "Where Do Broken Hearts Go"), Janet Jackson's 1989 CD Rhythm Nation 1814 ("Miss You Much," "Escapade," "Black Cat" and "Love Will Never Do (Without You)") and Mariah Carey's self-titled 1990 debut ("Vision of Love," "Love Takes Time," "Someday" and "I Don't Wanna Cry").
Of course, even having reached that top tier of pop success, Katy Perry still falls just a little bit short of the King. With five No. 1s off the same album, Michael Jackson still stands alone with the all-time mark for most chart-toppers from the same record—though probably not the record you'd think. Thriller might have spent 37 weeks on top of the album charts, but it only produced two No. 1 singles—it was the 1987 follow up Bad that generated five separate chart-toppers, "I Just Can't Stop Loving You," "Bad," "The Way You Make Me Feel," "Man in the Mirror" and "Dirty Diana."
Having said that, it seems unlikely that "E.T." will be the last single pulled from Teenage Dream, and who knows what might happen if songs like "Last Friday Night (T.G.I.F.)" or "Circle the Drain"—which have already made appearances on the Hot 100 without any radio play—see an official release. The all-time record could be in her sole possession by summertime.