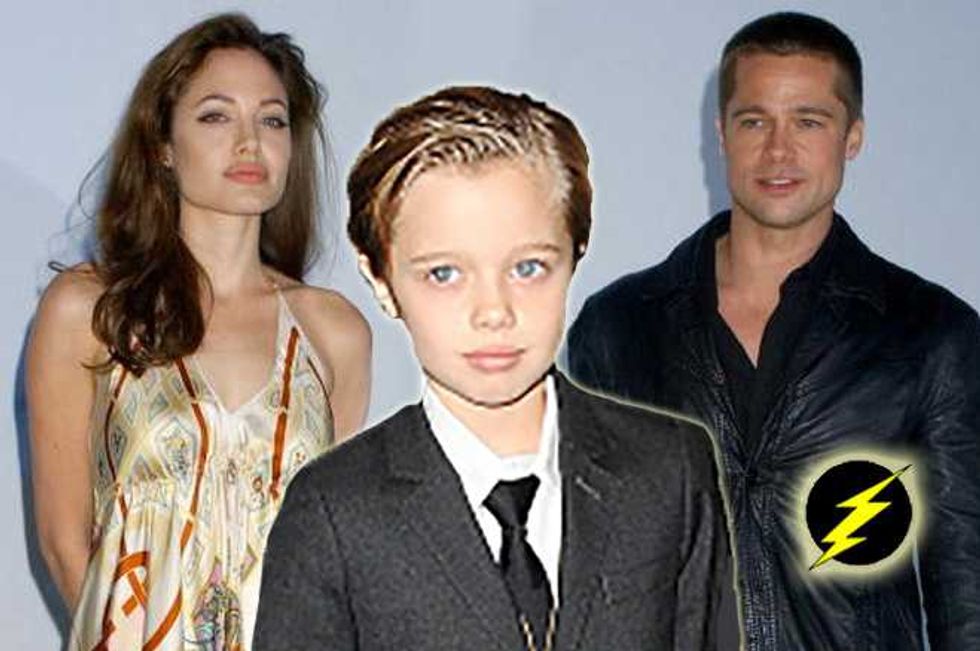 Shiloh Nouvel Jolie-Pitt has gone and got herself all grown up—and she is the absolute spitting image of her mom, Angelina Jolie, and dad, Brad Pitt.
The 8-year-old made a rare red carpet appearance Monday night, alongside her father, brothers Pax, 11, Maddox, 13, and grandparents Jane and Bill Pitt—Popdust has photos.
Rocking her trademark tomboy style, Shiloh looked positively angelic with her short blonde locks, big blue eyes and cherubic lips—clad in a super cute pants suit.
The six Pitts were standing in for Angelina at the premiere of her new movie, Unbroken—as previously reported, the actress is currently recovering from a nasty case of chickenpox.
"I just want to be clear and honest about why I will be missing the Unbroken events in the next few days," the 39-year-old told NBC News last week. "I will be home, itching and missing everyone."
Presumably also at home, keeping their moms spirits up, were the other Jolie-Pitt kids—Zahara, 9, and twins Knox and Vivienne, 6.
Angelina has been open about her daughter's distinct style, telling Vanity Fair, "Shiloh, we feel, has Montenegro style...She likes to dress like a boy.
"She wants to be a boy. So we had to cut her hair. She likes to wear boys' everything. She thinks she's one of the brothers...She dresses like a little dude. She likes tracksuits, she likes [regular] suits."