David And Yolanda Foster Divorce
Real Housewives of Beverly Hills star Yolanda Foster and her musician husband of four years, David Foster are to divorce.
"Sadly we have decided to go our separate ways.  We've shared nine beautiful and joyous years together.  During that time we experienced love, friendship and the inevitable challenges that come with managing a marriage, careers, blended families and health issues."
Yolanda Foster Selling Stunning $27.5 Million Mansion—Take A Peek Inside
The Dutch born ex-model, 51 has been struggling with her health for the last three years after being diagnosed with Lyme disease.  She has frequently posted pictures of her receiving treatment and has spoken openly of the toll it has taken on her every-day life.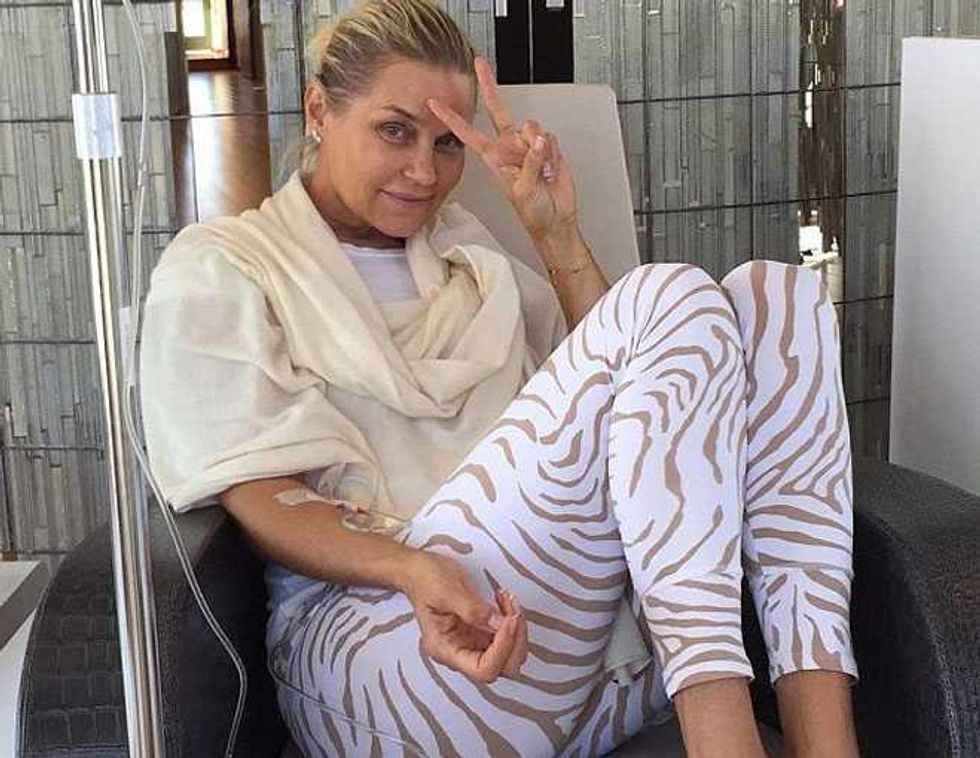 The first episode of the new season of RHOBH aired yesterday and saw Yolanda tearfully revealing the loneliness of her treatment—notably absent was her husband.  She explained his apparent lack of support, saying;
"He's so busy, he travels for work...that's who he is...that shouldn't change just because I'm sick."
That speaks volumes.  Of COURSE his lifestyle should change if his wife is sick.  That's what you do when you are married.  You know that vow about 'in sickness and in health'?
How Real Are The Housewives? RHOBH Plastic Surgery Exegesis
Mother of models Bella and Gigi Hadid tied the knot with songwriter and uber-producer David, 66,  back on 11/11/11—it was Yolanda's second marriage and David's fourth.  In March this year Yolanda, 51,  praised her husband for supporting her through her illness but it couldn't have failed to cause a big shift in their marriage.  Earlier seasons of RHOBH saw Yolanda devoted to making her husband's life as easy and smooth running as possible and her debilitating illness will surely have had an impact on that.
Real Housewives Craziest Fights, Insane Meltdowns And Brawls Ranked
The couple put their $19.45 million Malibu mansion on the market earlier this year  and moved out of the property in October—with Yolanda claiming that she just could not cope with managing it whilst trying to focus on her health.  Just four weeks ago David posted a picture of the two of them celebrating his birthday at a Laker game with the caption "best Laker girl ever".
David And Yolanda Foster Divorce
Yolanda's co-star Kyle Richards appeared on Watch What Happens Live just after the news broke and admitted there had been signs that all was not well with the marriage.
"It's very sad...I mean, we didn't know.  I think that they've been struggling and Yolanda's been so sick.  I don't know if that has anything to do with it.  It's so sad."
Nice of her to acknowledge that Yolanda has been struggling—in the episode aired, Richards and co-star Lisa Vanderpump were bitching to the camera, shocked that Yolanda, who had forced herself to attend a girls dinner while feeling incredibly ill, hadn't bothered to put any make up on!  Jeez!  Does the woman not have her priorities straight? No wonder her husband left her!
Filming for the season has wrapped already so the split will not be shown on camera, however in July David told people that he struggled to support his wife.
"I fail some days.  You know, I get cranky and then I realize that she's got it 100 times worse than me.  But I just do my best."
Well whatever happened, Yolanda can now just focus on herself and getting well.
David And Yolanda Foster Divorce
David And Yolanda Foster Divorce