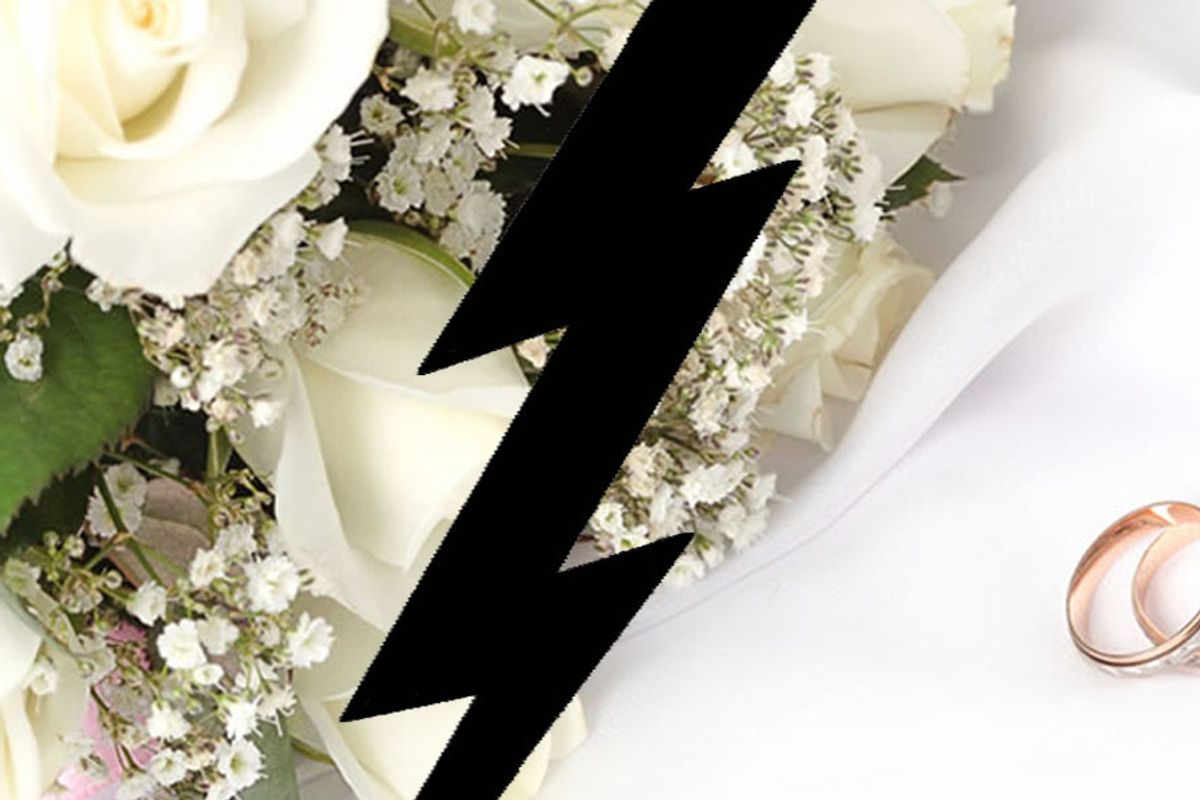 We've all done it....got caught up in the romance of a new relationship and decided it's true love and it's gonna last for ever.
However most of us haven't raced to the altar, closely followed by a positive sprint to the lawyers office to get a divorce.
That's because we're not famous celebrities!
Maybe it's the world of make-believe they live in that makes them think that their life will always be a rom-com with a fairytale happy ending, or maybe they are just too wasted to realize what's going on.
Our wealthy pampered celebs don't have to control their impulses or worry about their finances, so they are free to make reckless decisions and try to buy their way to a happy ever after when the mood strikes.

---
MORE FROM WEDDING WEDNESDAY...
Wedding Wednesday: 5 Facts About The Shante Taylor / Snoop Dogg Marriage
Wedding Wednesday: 5 Facts About The Kendra Wilkinson And Hank Baskett Marriage
Wedding Wednesday—5 Facts About The Ashton Kutcher And Mila Kunis Marriage


---
Celebrities are used to getting what they want. They are surrounded by people who agree with them and do their bidding and so it must come as a bit of a shock to all of a sudden be in a relationship where they have to <gasp> compromise.
I mean seriously, if you go through life believing you are utterly desirable and all round awesome, why on earth would you want to put up with someone who may not pander to that?
Get rid of them. Stat!
The list of reasons that so many celebrity marriages are short-lived is endless—ego, money, temptation, media, pressure, schedules....or maybe in some cases they just don't know each other at all before they rush to say "I do".
But does it stop them?
Never!
Check out our gallery below of our favorite 7 shortest celebrity marriages;
For better or worse, for richer or poorer.....but the vows don't say anything about for longer or shorter!

Kim Kardashian and Kris Humpries—72 days

The unlikely match in 2011 made for uncomfortable viewing. The union always came across as a fake made-for-ratings pairing but it seems the ever manipulative Kardashians neglected to inform the groom that he was disposable after the viewing figures were in. Literally two weeks after their two-part wedding special aired on E!, Kimmy filed for divorce, blindsiding her new husband. Humphries wouldn't go quietly though, and the divorce wasn't finalized until nearly two years later—a few weeks before Kim gave birth to baby North with Kanye West.

Chad Ochocinco and Evelyn Lozada—41 days

NFL star Chad 'Ochocinco' Johnson married Basketball Wives star Evelyn Lozada in 2012 in a glittering ceremony. The marriage came to an abrupt end just 41 days later when he head butted her during an argument. Lozada was left with a three inch gash on her head requiring eight stitches. Johnson was sentenced to 12 month probation for the attack but was thrown in jail for 30 days when he slapped his lawyers ass during a hearing! What a charmer!

Drew Barrymore and Jeremy Thomas—1 month

Drew Barrymore was just 19 years old in 1994 when she married Jeremy Thomas in the bar he owned. He was 31 and they had never lived together. She proposed to him at 2am in a back alley near Hollywood Boulevard after they had been together just six weeks. He responded, "That's wonderful, when?". Turns out she meant RIGHT THEN. They were married at 5am by a minister/psychic/private detective. Drew said at the time; " "Usually people live together first and then get married. I guess we're doing it the old-fashioned way. Kind of," ...She filed for divorce a month later

Eddie Murphy and Tracey Edmonds—2 weeks

Unlucky in love Eddie Murphy exchanged vows with Tracey Edmonds in a romantic ceremony in Bora Bora in 2008. Only two weeks later they announced that they would not be legalizing their marriage in the US. Many rumors have abounded about just what went on in Bora Bora with reports that their families just did not get on. There were stories of screaming matches with Tracey and her family apparently acting all superior and accusing Murphy's family of being "too ghetto". Apparently Tracey's family were intent on striking up lucrative business deals the moment Murphy said "I do" and both of them realized that they were completely incompatible—luckily they didn't have to go through a divorce as they hadn't had the legal civil ceremony when they pulled the plug on their union.

Mario Lopez and Ali Landry—2 weeks

Mario Lopez had been with his wife to be Ali Landry for six years when the decided to get married in 2004. Unfortunately, Mario enjoyed his wild bachelor party weekend in Mexico a little too much and cheated on her just days before their wedding. The marriage was annulled just two weeks later. Ever the gentleman, it took Lopez seven years to confess his infidelity (to Howard Stern) and then in 2014 he revealed in his memoir that he was never actually truly in love with Landry anyway. Nice.

Carmen Electra and Dennis Rodman—6 days

Back in 1998 NBA player Dennis Rodman had been dating Baywatch babe Carmen Electra for eight months. They went to Las Vegas and got married at the Little Chapel of the Flowers. Just six days later, Rodman filed for an annulment claiming he wasn't of sound mind during the ceremony on account of his having been on an all night bender. He then withdrew his claim, but it wsn't enough for the marriage to survive—Carmen filed for divorce six months later.

Britney Spears and Jason Alexander—55 hours

Another instance of what happens in Vegas needs dealing with quick before it follows you home....

Back in 2004 Britney shocked everyone when she married her childhood friend Jason Alexander at 5 am on January 3 after a wild weekend of partying. On hearing of the nuptials, Spears' manager, Larry Rudolph swung into action and arranged for annulment papers to be prepared for the couple. According the George Maloof, the owner of the Palms where they were staying, the couple seemed perfectly happy to sign the papers at 4.30pm the very afternoon of the wedding. Alexander left Vegas and Britney's record label release a statement saying the couple "took a joke too far by getting married". The annulment was filed first thing on the Monday morning—just 55 hours after the wedding. The reason cited was that Spears "lacked understanding of her actions to the extent that she was incapable of agreeing to the marriage." Oh to have been a fly on the wall when her management realized she'd married with no pre-nup!
From Your Site Articles
Related Articles Around the Web