Art speaks louder than words. Sia's viscerally-fueled brand of creation recently came under fire with the release of the Shia LaBeouf-starring "Elastic Heart" music video (co-directed by Daniel Askill).
Also featuring Dance Moms' Maddie Ziegler, the clip manifests inner demons and the struggle of overcoming. "I thought it would be interesting if Shia was working with Maddie as if she's one of his self states, maybe his inner child or maybe one of his demons. We switch between her representing some of his self states," the singer says in a brand new behind-the-scenes featurette (below)—released by DanceOn Network as part of their new The Edge series' second season bow.
On choosing LaBeouf for collaboration: "I think what's awesome about choosing people who have a gift is that I can trust them to move within the scope of their feeling framework. We create a loose narrative but really allow him to dictate the kind of emotional arc that he is experiencing in his real life."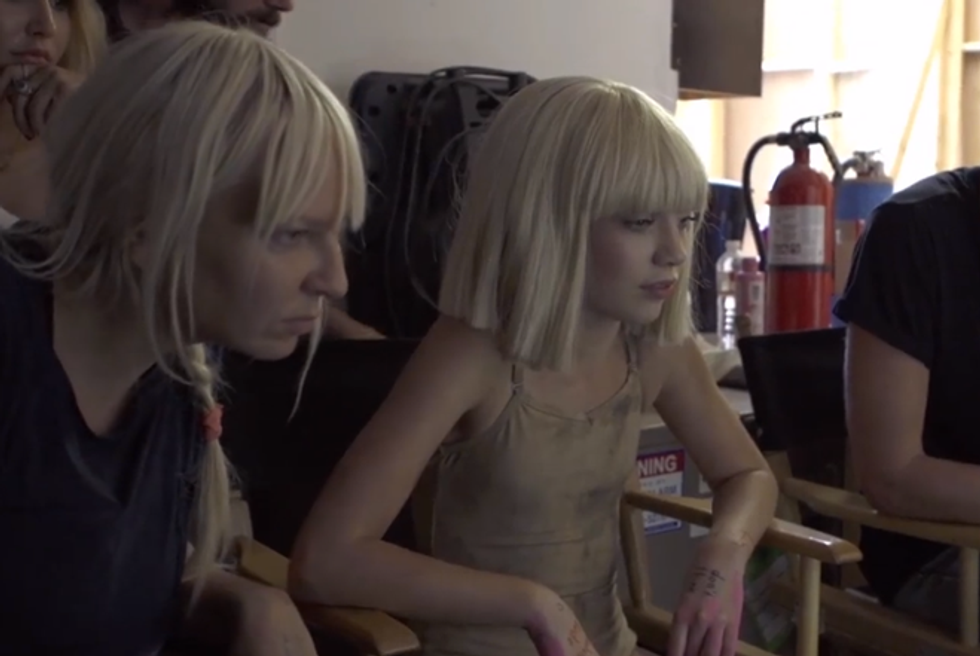 As someone who has taken a more avant-garde approach to his work in recent years, LaBeouf says of the piece:
"She probably picked me because she identifies with some aspect of my personality, in that we push boundaries a bit. I think we're in this middle ground of pop...and something else. I also believe in the healing power of art. Her work is very cathartic. If you listen to the album, it's like reading a diary. All of my work, especially over the past five years, has been my soul bared on film."
Sia Elastic Heart Music Video
"It just has to elicit some sort of excitement. I have to be moved. I'm so rarely moved," Sia says of art and its relationship to her life. She then adds that "Elastic Heart" is "part of a trilogy, because we had so much fun making that video. So, we decided to make a trilogy."
Following 2014's smash "Chandelier," the video of which also showcases Ziegler (perhaps representing Sia's own personal tormentors), the singer enlisted the young ingenue again. "Dancing is so hard. I was watching 'Dance Moms,' and I saw Maddie. I thought she was incredible. I cried. I thought, 'If I cry watching a kid do that kind of choreography that's highly commercial, then she must have something special.'"
Stay tuned for Sia updates. Be sure to follow @Popdust and @JasonTheScott on Twitter!