Sia is the unlikeliest of reigning pop queens, but it's her mysterious public persona that has fueled the demand for her gripping pop hooks. As we all know by now, she doesn't want to be famous, but she lets such creative artists as Dance Moms' Maddie Ziegler and the offbeat Shia LaBeouf to interpret her work. During the singer's "appearance" on The Ellen DeGeneres Show on Fri. (Jan. 30), Sia brought her new hit "Elastic Heart" to eclectic new life for the audience, sans a hunky and shirtless LaBeouf.
This latest live theatrical piece is significantly different than the music video. Instead of a live cage match, Ziegler (accompanied by several blonde-wigged clones) is trapped inside a white box. Only half her body is free, and she uses her hands to conceive a touching tribute to the lyrics. Meanwhile, Sia's floating head appears on the back left, powering into the mic.
Sia then made a huge announcement: she'll be taking the stage at this year's Grammy Awards. Already, we're mapping out what kind of extravagantly elaborate staging, costumes, and choreography she'll concoct for our amusement. Maybe a live adaptation of her "controversial" music video? (Hint: let's hope so!) Of course, she's up for four awards, including Song and Record of the Year (both for "Chandelier") and Best Music Video.
The 2015 Grammy Awards go live on Sunday, February 8 on CBS at 8/7c.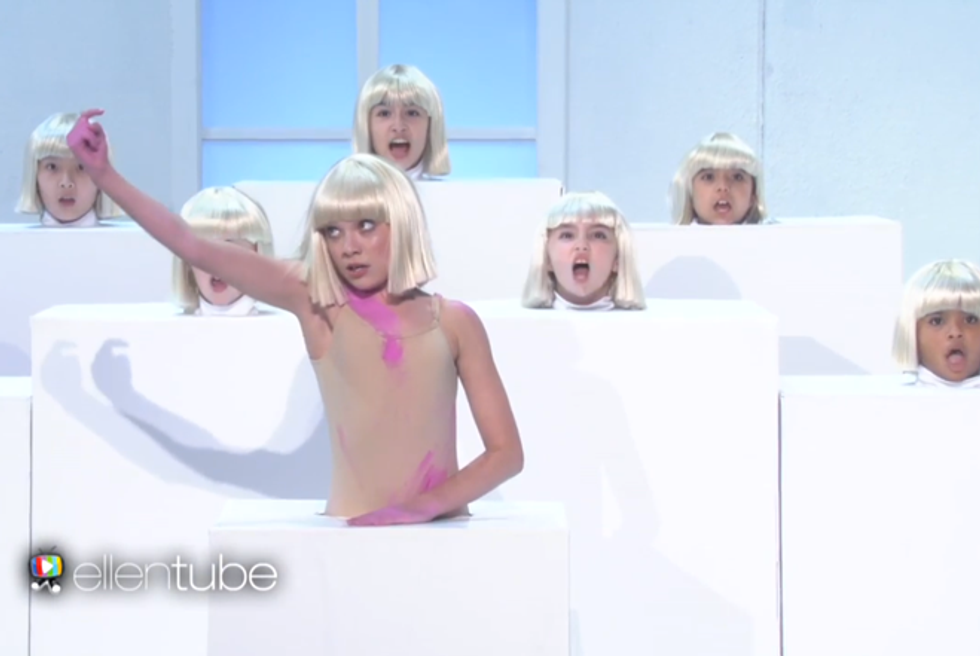 Stay tuned for Sia updates. Be sure to follow @Popdust and @JasonTheScott on Twitter!