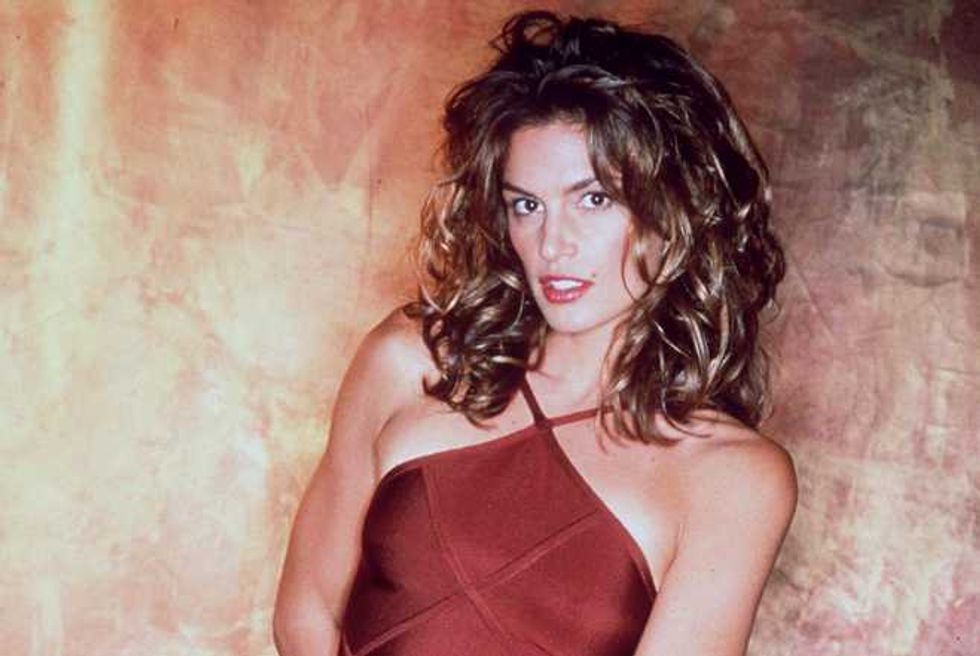 Once upon a time, many years ago, before the cast of 16 and Pregnant had graced this world, MTV premiered a show called House of Style. Corresponding with the rise of, and subsequent fascination with, the world of supermodels, HoS was originally hosted by Cindy Crawford and featured basically all the supers of the '80s and '90s including Naomi Campbell, Molly Sims, Kate Moss, Christy Turlington, Niki Taylor, and Linda Evangelista.
Before fashion bloggers, before Facebook and Twitter and Instagram (can you imagine?), House of Style democratized the fashion industry by showcasing its inner workings and profiling its biggest stars. In addition to the models, the show featured top industry talent like Vogue editor Andre Leon Talley, J.Crew CEO Mickey Drexler (who back then worked at Gap), photographer Herb Ritts, and designers Jean Paul Gaultier, Giorgio Armani, Betsey Johnson, Calvin Klein and Karl Lagerfeld;as well as actresses and musicians of the moment. The House of Style crew went backstage at Paris Fashion Week, traveled to street style meccas like the Harajuku shopping district in Japan, took budding model Liv Tyler back-to-school shopping (she was in ninth grade) and pretty much hung out with every legendary face of the time.
Someone at MTV must be feeling nostalgic, because in addition to bringing back fan favorite The Hills, the network has decided to resurrect House of Style. According to the Hollywood Reporter, instead of just re-screening episodes MTV is launching an entirely new series. They've partnered with Teen Vogue on the project, which will debut on MTV's website October 9th. Before that, though, the network will air a big House of Style retrospective, House of Style: Music, Models and MTV, which will premiere August 7th. The new HoS host, who's bound to be a model, will be revealed at the MTV Video Music Awards.
Below, we take a look back at the birth of House of Style–which, like most things MTV in the '80s, was part inspiration, part happy accident–via this excerpt from the recent MTV oral history, I Want My MTV: The Uncensored Story of the Music Video Revolution, co-written by Rob Tannenbaum and Popdust editor-in-chief Craig Marks.
CINDY CRAWFORD, model; host, House of Style: House of Style was like a comedy club where you try out your material. It didn't have to be perfect. If you could think it up, you were given a chance to try it.
ALISA MARIE BELLETTINI, MTV producer: I started at MTV in September of 1988, as a segment producer in the news department. They said, "Go interview the Beastie Boys." It was so much fun–they poured beer on my head. One day, Doug Herzog said, "We're gonna start covering fashion, and you're gonna do it." I was always stylish. And the two other writers in the news department, one was a Rastafarian and the other was reading Hitler books all the time.
Kurt Loder was our main news anchor, and fashion stories had to come out of Kurt's mouth. He was not comfortable doing it. The look on his face, going from a Guns N' Roses story to a fashion story–he looked like he was about to die. We got a memo from Tom Freston which said, "What the fuck? Why do we have Kurt Loder talking about fashion?" That night, I wrote up a paragraph saying we should do a show about style. Within twenty-four hours, Doug Herzog said, "You've got $25,000 for your budget and you have to find a host." My first host suggestion for House of Style was Johnny Rotten.
CINDY CRAWFORD: I don't think Alisa ever told me that. "We couldn't get Johnny Rotten, but we got you."
ALISA MAIRE BELLETTINI: Herzog said, "Please go back to the drawing board." He told me to look at fashion magazines, which I never read. But I saw there were these girls called "supermodels." I saw photos of Cindy Crawford and thought she was a great idea because she was considered a sex symbol and I'd read an interview where she said she was already tired of modeling.
CINDY CRAWFORD: Alisa was looking for someone who had credibility in the fashion world but who guys could also relate to, because MTV had a very male audience. And I'd just posed for Playboy. Alisa wanted me for House of Style, even though I had zero experience doing anything like that.
DOUG HERZOG, MTV executive: I'd become smitten with Cindy Crawford. She was on the cover of all my wife's magazines. So we asked, and not only did she say yes, but she agreed to host the show for free. That's how badly she wanted to be on TV.
ALISA MARIE BELLETTINI: Her manager said no. Her modeling agency said no. I asked them to have her call me. When she did, I said, "Would you like to do a show about fashion?" I don't have any money to pay you." She immediately said yes. The whole first year, she worked for free.
CINDY CRAWFORD: My agents thought it was a waste of my time. I was making so much money modeling, per day, why take away from that? Other than Elsa Klensch on CNN, there was no fashion on TV. Look at how much TV has changed since then. Now, of course, an agent would say, "Yes, you should do it. And you should do a blog."
ALISA MARIE BELLETTINI: The first show aired in May 1989. When the ratings came in, Herzog high-fived me and said, "You've got a show."
CINDY CRAWFORD: I was like a cardboard cutout in that first show. It's cool that Alisa didn't can me.
ALISA MARIE BELLETTINI: It wasn't an easy show to do at first. People like Annie Lennox felt that if they talked about fashion, their music wouldn't be taken seriously. So we covered a lot of hip-hop, because they were cool about style. We weren't covering high-end designers, we were covering the cool ones: Anna Sui, Marc Jacobs, Todd Oldham. I wanted the audience to be girls in the Midwest who we could teach about style.
JOHN VARVATOS, fashion designer: House of Style definitely had an effect on pop culture. To certain people, especially in the Midwest, it was their bible–it was their guidepost to fashion. There really wasn't anything like it.
CINDY CRAWFORD: House of Style seemed like it was on weekly, because they air the shit out of stuff on MTV. It seemed like each show was on a hundred times a week.
ALISA MARIE BELLETTINI: We weren't showing big butts and breasts–the show was respectful to women.
CINDY CRAWFORD: We talked a lot about demystifying beauty. We showed Naomi Campbell putting zit cream on at night. We also said, "Look, fashion is great, but we're holding our stomachs in at photo shoots." One reviewer said House of Style was "silly, superficial, and wonderful." I loved that quote. We couldn't ask for a better review of the show, because that's what fashion is all about.
NICK RHODES, Duran Duran: Going on House of Style was one of the funniest things we ever did on MTV. Cindy Crawford took us to Sears and we had to spend $200 on clothes.
CINDY CRAWFORD: Simon and Nick were wearing dresses at one point, that's all I remember.
SIMON LE BON, Duran Duran: I ended up in drag, wearing a zip-and-dash dress. And Nick made a suit out of ties, I believe. It's hilarious.
I Want My MTV is available through Amazon, Barnes & Noble and your local independent book store. The paperback will be released on Sept. 25th.