Sinead O'Connor laughed off Arsenio Hall's $5M defamation lawsuit against her after she accused him of supplying Prince with drugs.
On her Facebook page, where she had earlier published her accusation, O'Connor retorted with the invitation, 'Suck my dick.'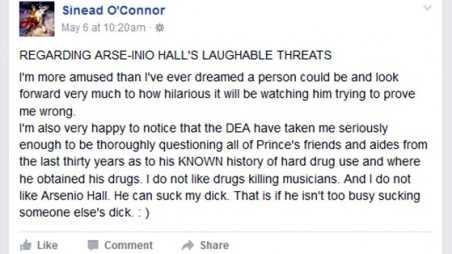 In a complaint filed on Thursday in Los Angeles Superior Court, Hall described O'Connor as a:
desperate, attention-seeker, now known perhaps as much for her bizarre, unhinged internet rants as for her music.
According to the complaint, 'Ever since O'Connor posed her malicious and reckless lies about Hall on her 'OFFICIAL Facebook page' (where they have been commented on and forwarded thousands of times), her brazen lies have spread like wildfire across the media throughout the United States and the world.'
Hall also states in the lawsuit that he hasn't had any contact with O'Connor in 25 years and that her accusation of criminal conduct is 'extraordinarily damaging' to his reputation.
In the Facebook post that Hall feels so aggrieved by, O'Connor says:
Two words for the DEA investigating where prince got his drugs over the decades.... Arsenio Hall (AKA Prince's and Eddie Murphy's bitch) Anyone imagining prince was not a long time hard drug user is living in cloud cuckoo land. Arsenio I've reported you to the Carver County Sherrif's office. Expect their call. They are aware you spiked me years ago at Eddie murphy's house. You best get tidying your man cave
Oh, knock it off, you two!
Do I have to separate you and send you to your  rooms?
Sinead, if Arsenio doesn't drop his lawsuit, why not counter-sue him for calling you a desperate attention seeker?
The important thing to remember is that Sinead O'Connor brought the world her beautiful version of Prince's timeless ballad, 'Nothing Compares 2 U.'
We will never forget the artistry of Sinead O'Connor or the brilliance of Prince...but Arsenio Hall? He won't register a footnote in our cultural history, no matter how many dicks he has sucked or not sucked.