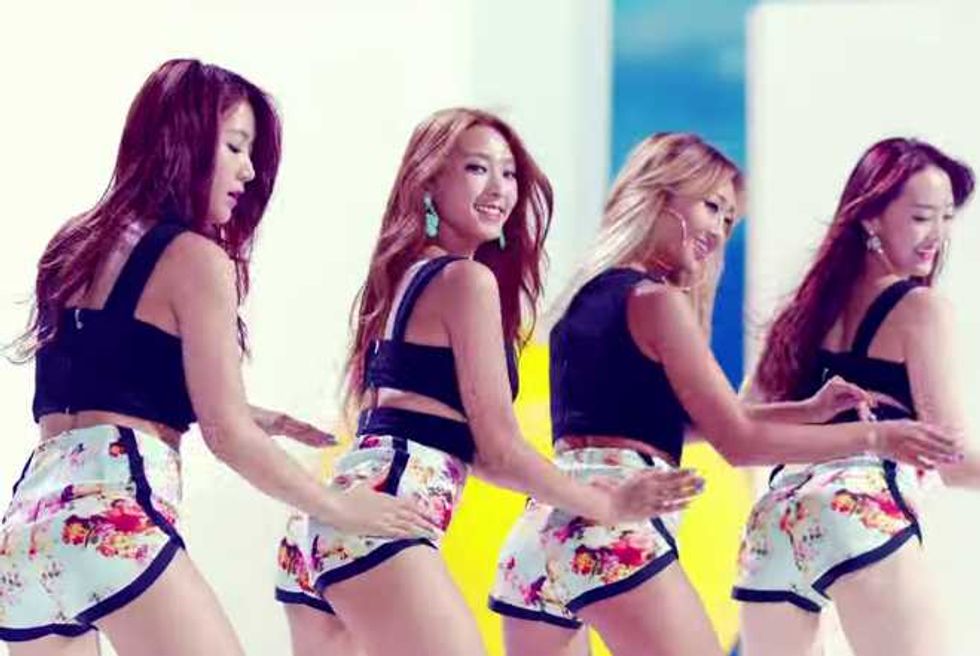 Outside of PSY, there aren't too many K-pop hits that have been able to capture people's attention outside of the usual community of K-pop fans. HyunA's "Bubble Pop!" is one of the select few songs that did break out; it became a mini viral sensation after its release in 2011, racking up over 70 million views on Youtube and scoring HyunA press from Billboard, Spin, and Pitchfork -- at one point, there was even talk of her making an American advancement off of the popularity of the song.
Unfortunately, HyunA never did quite make it the States, but the impact of "Bubble Pop!" can still be felt today.
Sexy quartet SISTAR --who are currently the second biggest girl group in Korea after the almighty Girls' Generation-- released their new single "Touch My Body" this week, and it looks and sounds a lot like HyunA's "Bubble Pop!."
The two songs share some noticeable similarities, but not to the point where you could call it plagiarism or recycling. "Touch My Body" is more like the turnt remix to "Bubble Pop!"; it's bigger, louder, and sexier. The most noticeable difference between the two is the heavy sax used in "Touch My Body", which routinely blasts in and out of the song until the bridge, where it gets the kind of repetitive solo that Alexandra Stan would kill for.
Throw in some hot pants, booty shaking, and cartoon-y effects in the music video, and you've got the "Bubble Pop!" of 2014.
Funnily enough, "Bubble Pop!" was actually directly 'inspired' by Britney Spears' Femme Fatale cut, "How I Roll," so I guess you can say that both SISTAR and HyunA are really just poppin' in the house that Britney built.