Arts
John Guare's 1990 play flares back into blistering life at the Barrymore Theatre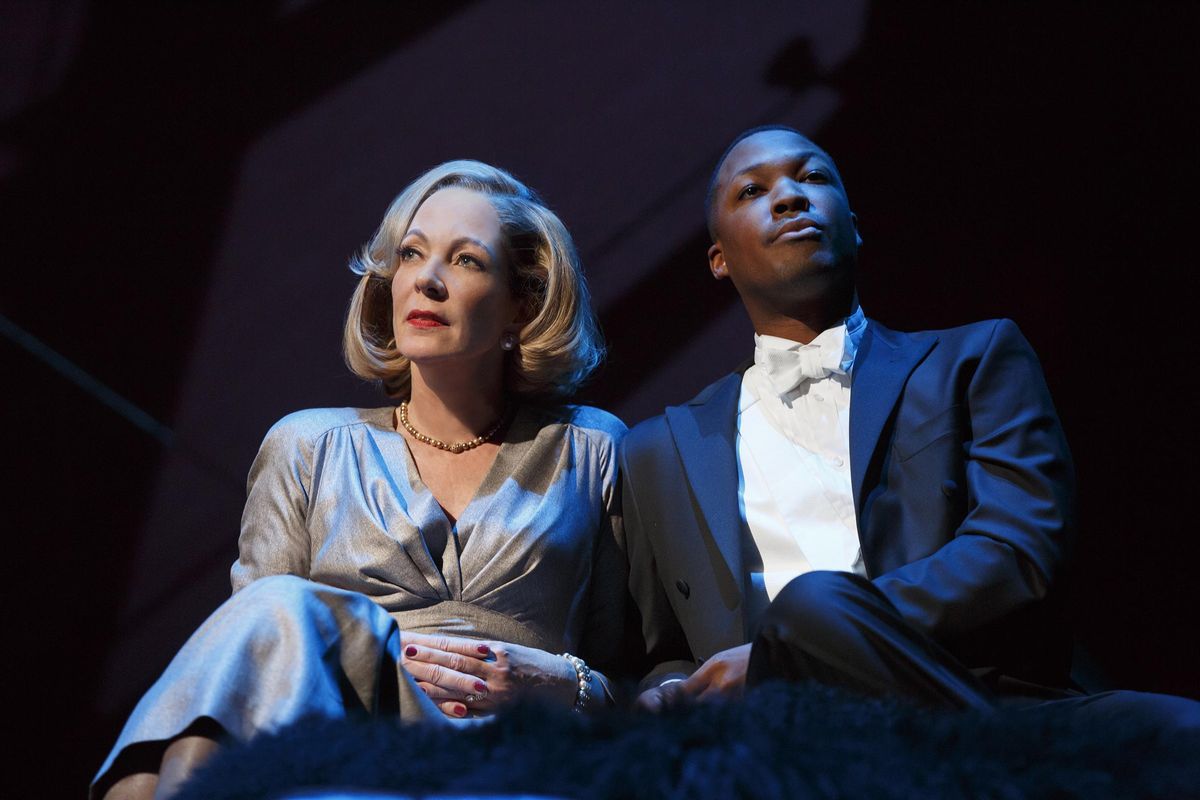 Allison Janney and Corey Hawkins. Photos by Joan Marcus
What starts out as a farce dissolves into a drama of the self. While aspects of Six Degrees of Separation have now dated it and made it a period piece (this would be a radically different play in the internet age), its probing questions in to identity, fraud, and interpersonal connections allow it to maintain its relevance. In this Broadway revival of John Guare's highly influential play we see wealthy New Yorkers being lead asunder by a brilliant young man with an elusive backstory. Allison Janney heads up the show's excellent cast.
Ouisa and Flan Kittredge (Allison Janney and John Benjamin Hickey) are art dealers living the Manhattan high-life. They are on the verge of the biggest deal of their lives. However, their evening's plan to acquire investment money from South African tycoon Geoffrey (Michael Siberry) is interrupted by the arrival of Paul (Corey Hawkins), who has been stabbed and needs help. He claims to be a friend of their children, and recites intimate details of their lives. They help him, and he turns out to be the lynch pin in securing their investment, but... he is not the son of Sidney Poitier he claims to be. He disappears eventfully the following morning, in a flurry of near violence and nudity. As they try and track him down the story gets more and more ridiculous. He appears to have conned several families… and yet stolen nothing. As the Kittredges try harder and harder to find him, via their children and the police, the story takes on a darker and darker bent. All the while, it is difficult to tell if Paul is the sort of person they want put in jail, or welcome in to the family…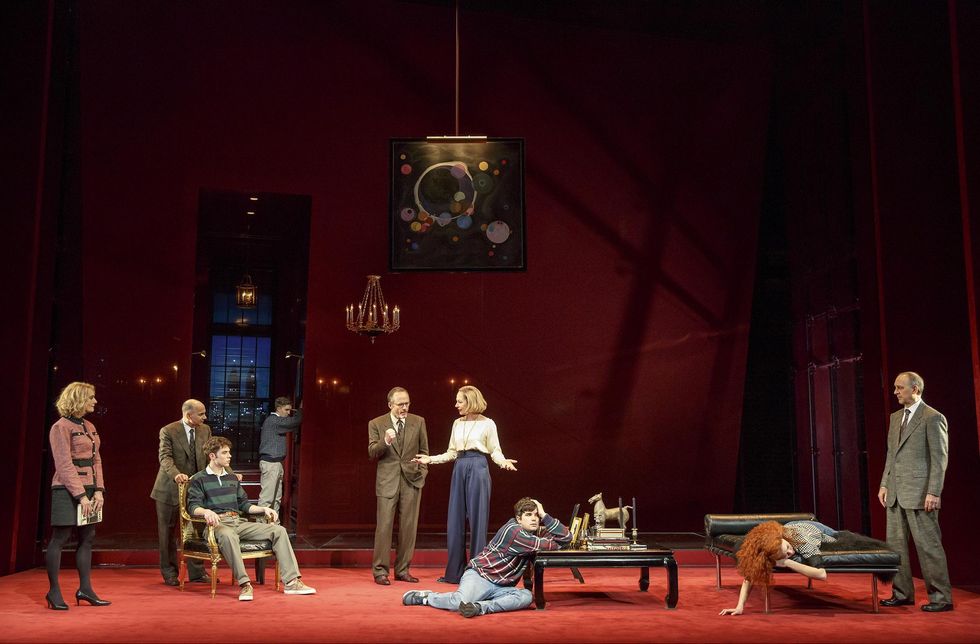 L-R: Lisa Emery, Ned Eisenberg, Cody Kostro, Keenan Jolliff, John Benjamin Hickey, Allison Janney, Ned Riseley, Colby Minifie, and Michael CountrymanPhoto by Joan Marcus
Janney is the big name attached to this production, and she brings all the class and hilarity we have come to expect from her. Her performance as Ouisa is alternately comprised of effortless breezes of comic brilliance, and aggressively thoughtful moments of introspection. Occasionally both at the same time. The strength of this play comes from the writing. It's easy to see why Guare's work was nominated for a Pulitzer. Corey Hawkins interpretation of the role of Paul is nothing short of spectacular. He is at once charming, ephemeral, and yet deeply damaged as the false Poitier. John Benjamin Hickey is high strung and effusive, barreling through the script with magical aplomb. The core cast here are all excellent.
Outside of the cast's central trio, the players are uniformly brilliant. Colby Minifie (as the daughter Kittredge) demonstrates a knack for taking shrieking hysterics to new heights of art. Michael Siberry is a charming South African curmudgeon. Peter Mark Kendall as Rick transitions from lovable schlub to beaten puppy in a matter of minutes. Sarah Mezzanotte (Elizabeth) is a picture of idealism and hurt opposite Kendall, and her fall from grace is heartbreaking, signaling the distinct shift in the play's tone efficaciously.
Also worth noting regarding that atmospheric shift is the work of the scenic and lighting department. Director Trip Cullman has not only worked his cast into a delightful frenzy, he has cultivated a crystal clear semiotic system for the play. In its initial phases, Mark Wendland's sets are warm, if aloof, supporting the ruse that this play is a straight laughing comedy. However, as the play evolves into a more complex entity, the expensive and expansive living room set simply lists off to one side, revealing a brick back wall. Ben Stanton's lighting too is crucial in this shift of mood. As the play becomes more darkly emotive, we move from warm reds to pale blues. From bright, even spreads, to moody shadows. Spotlights that only served to highlight actors before, now seem to isolate them, speaking to the separation in the play's title.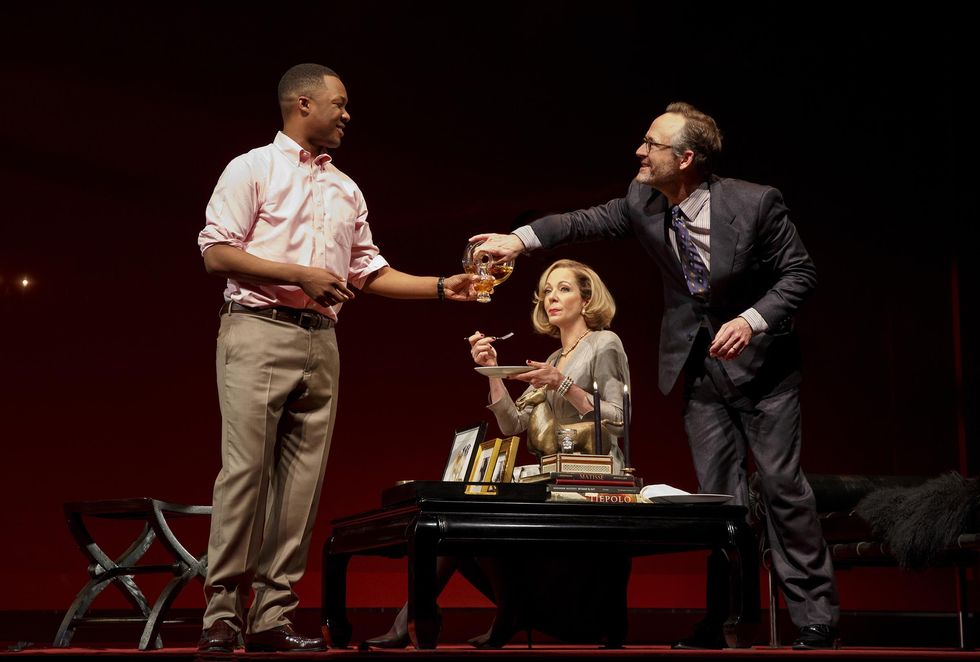 L-R: Corey Hawkins, Allison Janney and John Benjamin HickeyPhoto by Joan Marcus
Taken as a revival, this is a brilliant piece of theatre. Taken as a piece in its own right there is one pressing issue. That of the children in the play. To call it a flaw in the script is to be unkind to an undeniably brilliant work of stage writing, but it does have to be acknowledged that Guare's attitude to the children of his protagonists becomes problematic as they play wears on. In a farcical mode, it is charming and silly to see the ridiculously pronounced disconnect between rich upper class parents and their spoiled children. However, as the play moves on, and speaks more to emotional connectivity and a need for closeness, the continued dismissal of those parental bonds now seems either worryingly cavalier, or ominously unaddressed. It is not enough to ruin the experience, but it is the only notable blemish on this otherwise superb production.
The amount of good plays on Broadway currently really does feel like a treat. Between Little Foxes, Present Laughter, Oslo, Doll's House Part Two, and Six Degrees of Separation, there is actual choice in quality non-musical entertainment. Amongst that, Six Degrees is likely the most New York choice. It's a fast paced comedy with a strong streak of social commentary; adroit references to famous actors, artists, and social mores abound; and the cast are all excellent stage performers… it is a delectable NYC dish. Recommended to the discerning theatre-goer.