MUSIC
Sleaford Mods play the USA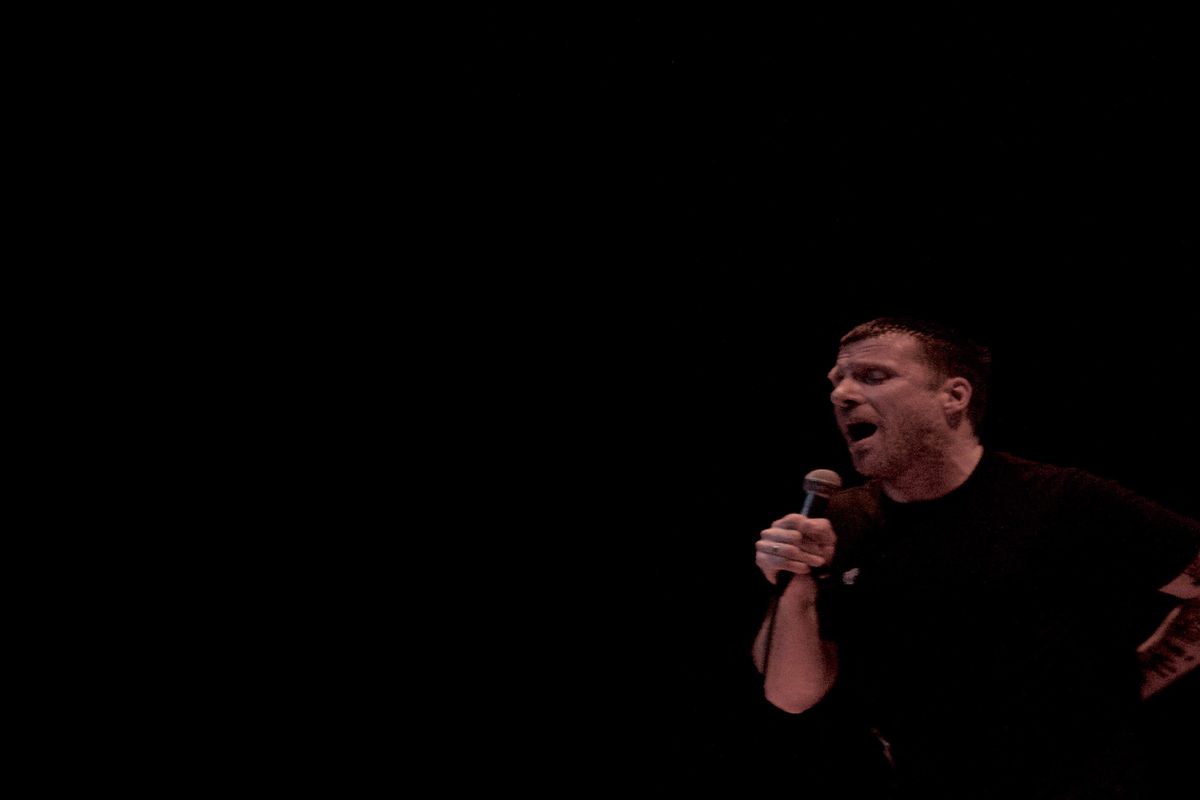 AK
It was the night LCD Soundsystem sold out. The line was wrapped around the block at Brooklyn's Warsaw: the Sleaford Mods were playing their second date in the United States, ever, in half an hour. They have released somewhere around ten albums since the late '00s, their breakthrough in the US marketplace, Divide and Exit, was called "about as punk as punk gets in 2014." Waiting in line, I ran into a woman who complimented my Spoon t-shirt in an English lecture three years ago. She was with a Czech sophomore with Dracula-skin. They told me they were here for the venue, wondered what it was like and I remembered that, like most people I knew, she identified as vaguely Polish. I wondered what they thought of the Mods, whose idiosyncratic melding of Mark E. Smith delivery with '80s rap aesthetics (the DJ in a baseball cap, bare else on the stage) had made them champions of austerity-era Britain. "They've mentioned, for instance, an interesting contempt for John Lydon," I observed. "I don't even know who that is," she said after some thought.
Opening was Negative Scanner, three Chicago guitars that 'excel at creating tension' and a drummer I couldn't quite see. I wondered if all punk bands without at least one saxophonist were all one big blur that wasn't the Downtown Boys, who had recently signed to Sub Pop. The band refused to move much, performing what I gathered was a form of shoegaze-informed yelling. I had given my friend and her Kundera-reading lover the slip and parked by Warsaw's legendarily stony faced security team, the kind of men built from pierogis.
Openers, Negative Scanner: I wondered if all punk bands without at least one saxophonist were all one big blur that wasn't the Downtown Boys
Jason Williamson, at times, recalled Henry Rollins with no designs on removing his t-shirt. Iggy Pop has called the Sleaford Mods "the world's greatest rock and roll band."
Andrew Robert Lindsay Fearn, Williamson. Some have mentioned that their latest record, ENGLiSH TAPAS, their first on Rough Trade, involves more actual singing than any of their earlier releases. "We've covered the ground with the rant thing," Williamson has expressed recently in an interview.

Sleaford Mods are, to some extent, problematic. The fierce ethnocentrism of the austerity years has brought us Brexit, Donald Trump and the menacing specter of a border wall. Do they reject the conclusion of so many of their white and working class peers? "You pretend to be proud of ya own culture/whilst simultaneously not giving two fucks about ya own culture/What culture?/Fuck culture," Jason Williamson sings, or rather barks, on "Bronx in a Six" from Key Markets, a song that I just learned is a reference to a shoe brand and not a borough accessible by the 6 train. But the Mods also reject anarchism, this is the source of their complaint with the Pistols. They are working class, emphatic on the former and less concerned with the latter: they are the father who wanted you to get a job raving in front of a microphone. They are the father who wanted you to get a job performing in a genre that Wikipedia calls "rap-rock."
They are on by the time I return with my sausage dunked in cheap Polish beer fresh from the discovery that the father who wants me to get a job does not sell band t-shirts or merch of any kind. A small woman with thick-rimmed classes sells the Mods material on Rough Trade, the record label still-remembered for signing The Smiths, that signed on Williamson's brand last year. They have released two records for the Mods so far: T.C.R., an EP, and ENGLiSH TAPAS, a full length that includes the cut "B.H.S," a "Daft Punk is playing..".-era LCD track that I listened to about thirty times without knowing it was about British Home Stores, an English chain of department stores that closed last year, laying off 22,000 employees, sans pension, amid complaints that CEO Sir Phillip Green was busy sailing the Mediterranean on a "Superyacht."
Williamson waddles a little as he performs "B.H.S." It's a little like a duck, a little like he's the last person left who really doesn't give a fuck. It's just him on stage, I can confirm this from the front row of the photo-pass holders, along with Andrew Robert Lindsay Fearn and his laptop. A grime-inspired DJ with no less than ten albums of his own work, the total of Fearn's actions on the stage last night involved bobbing up and down like a blow-up sex doll and opening new tracks on his well-stickered laptop. His beats have been described as "barely [going] beyond cheap plastic keyboard presets" by critics. That this is the Sleaford Mods and not just Williamson's minimalist solo act recalls the grand tradition of MCs and their DJs; the Eric B. behind Rakim, The Bomb squad concocting urgent action behind Chuck D.
Punk, in most narratives, is the rebellion against technical skill, a revolt aimed at Jimmy Page's two-armed guitar. In her memoir, Kim Gordon accused her ex-husband and ex-bandmate Thurston Moore of lathering in too many guitar solos toward the sunset years of their marriage. The guitar solo, itself, is the subject of a lot of dispute in the punk community. Sleaford Mods presented their version of the argument and offered no guitars and no displays of musical workmanship besides those of Williamson's voice which, I must urge again, bears significant resemblance to that of Johnny Rotten, as we remember him and not talking Trump and Brexit as he is wont to do these days.
He waddles, a little like a duck. That this is the Sleaford Mods and not just Williamson's minimalist solo act recalls the grand tradition on MCs and their DJs.

The references mean something because Sleaford Mods are punk, in every element. They are the band you fell in love with and then broke your heart, performing forever in that liminal state. A weird statement, given how often the band is wont to discuss things like "stink" and how it "glides through the air" (from "Livable Shit" on Divide and Exit) or "lowers itself on me" (from "B.H.S."). The Mods give stink, the smell of pure shit you breathe in from another stall, character. Their put-on is boys with opinions about bathing. These things, wrestled from the collective Past, are their currency. At no moment, even when in tears, when the minor chord-wrestle of "Drayton Manored" became a memory of Patrick Stump's five minutes of real soul in 2003, were my eyes unable to look away from the set's stark minimalism, Fearn's up and down bump, Williamson's waddle and knee-jerk hand motions. He would lift his arm to his head, as if for two milliseconds in prayer, before jerking back. This was a half-second motion, it felt military.
By then I had fully enmeshed myself into the crowd and wondered if I would ever see my college friend again, from the English class. The story wasn't quite that: she had been over to my apartment once. In twenty minutes, my girlfriend was bored to real tears and slipped upstairs like a cat, after putting "Heroes" on the player. She told me my bags would be at the door if I ever subjected her to the woman who complimented my Spoon t-shirt again. The next day, the woman who had liked my Spoon t-shirt would message me that "The lead singer kept touching the back/side of his head, which I thought was weird."
In front of me, it wasn't quite a mosh. When I was in the photo row, a British man with Hitler-hair had begun a chant, "Mods, Mods, Mods," before the show began that hadn't quite caught on. Now, there was this gentleman behind me, who I had pushed aside, who looked like the character Ray Wise played in Twin Peaks, the father who killed his daughter after possession by an evil spirit. The Leland Palmer-man had begun dancing back and forth in the middle, grooving his middle aged body against other concertgoers in a late '70s fashion, much to the amusement of his partner, a middle aged woman who looked like she worked in a bookstore when she was twenty. An altercation between the Leland Palmer-man and some groups behind him had begun. I noticed they were pointing at me. In the middle of the Mods performance of "Dull," I had begun dancing also. I dipped the scene shortly after.
---
Do they reject the fierce ethnocentrism of their white and working class peers?
"You pretend to be proud of ya own culture/whilst simultaneously not giving two fucks about ya own culture/What culture?/Fuck culture"
---
I was in front of the speaker display, now, snapping photos of Williamson from an odd slant. Sneaking forward, the bouncer was giving me looks. Sometimes I would put my camera down and just let Williamson's voice hit me, touch my chest. It wasn't a barroom brawl, my fingers could feel it. As poetry, it was sluggish and squirmed clunkily on the paper. "I'm sick of all this pissy sell-outs, ignoring actuality," from "Pubic Hair Ltd," is not a line I would use in this review even though that's what I am saying, over and over again. Williamson's delivery can eat any word and turn it into real syllables spoken in the common space. It could deliver Yeats or Eliot better than Yeats or Eliot ever could, but it stays in the bathroom, the bar, the line at the grocery store.
In one of their most popular songs, "Jobseeker," which the Mods opened their encore with, Williamson is either critical or sympathetic toward its titular subject: people seeking employment. He sings in the chorus, "Desperately clutching onto a leaflet on depression/Supplied to me by the NHS" but I have always heard it as "Desperately clutching onto a lifelong depression/Supplied to me by the NHS." Is his protagonist, named Mr. Williamson, clinging onto his depression, supplied to him by the privilege of medical care, like a much criticized character in Lena Dunham's Girls or simply unable to face the thing itself and his "Nah, I'd just end up robbing the fucking place"-rage a valid reaction to the day-to-day stress and anxiety of unemployment? I am, perhaps, wrong. I am, perhaps, projecting my own feelings on the matter.
My friend, whose hair was mousy and reminded me of my mother, was already gone by then. I imagined myself alone with that Czech man, somebody studying Philosophy and interested in ethics, in a college dormitory. The way the whole world felt like a stage. Those small rooms.
---
Andrew Karpan is Popdust's resident punk. He has fond memories of his work as a roadie on the Sex Pistols first, and only, U.S. tour. Follow him on Twitter.