On a frigid Thursday night (Feb. 26) at Terminal 5, Sleater-Kinney wowed the crowd, made their fans proud, and whipped the room into a fiery frenzy.
Packed elbow to elbow, the crowd of roughly three thousand people had waited eagerly for the band to play what would be one of their first two New York City shows in nine years. Suddenly, the lights dimmed and the audience exploded with applause as three familiar figures took the stage. One of those figures, rhythm guitarist Corin Tucker, began playing the creeping, chromatic opening riff for "Price Tag" off their new album No Cities To Love. As lead guitarist Carrie Brownstein strummed power chords and drummer Janet Weiss played a pounding latin beat, the crowd began cheering and pogo-ing with wild abandon.
The members themselves seemed both happy and ready to be back playing together, and why not? The band went on an indefinite hiatus in 2006 to focus on their own projects and in the years since have done just that.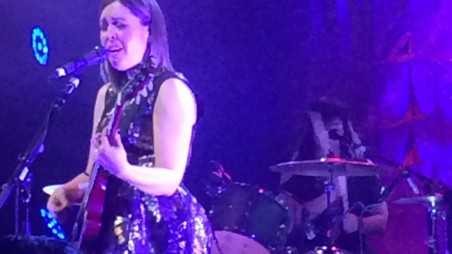 Tucker put out two albums with The Corin Tucker Band after having her second child in 2008. Weiss contributed to The Shins' most recent record in 2012 and toured with Stephen Malkmus and the Jicks. Brownstein played with Wild Flag (which included Weiss) until 2013 and co-created the hit IFC comedy Portlandia with Fred Armisen (who was rocking out during the show with fellow SNL alum Aidy Bryant in the VIP section).
Although everyone was glad Sleater-Kinney was back, the group sounded as though they had never left. Unlike other bands returning from hiatus, their skills as live performers have not diminished. In fact, they might have gotten stronger. Brownstein shredded on guitar as much as punk principles would tolerate, all while doing high kicks and windmills. Weiss's drumming continues to be the driving force behind all of the band's setlist, especially on "Youth Decay" and new songs like "Fangless. Tucker's piercing operatic voice can still hit the high notes for hours on end."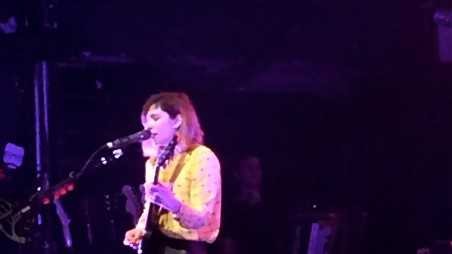 This was exhibited especially when she put down her guitar and assumed full frontwoman duties during "Gimme Love." I would have normally been disappointed that a band like Sleater-Kinney would need a touring musician with them. However, Katie Harkin (from British band Sky Larkin) did well on guitar and keys making sure songs like "Oh!" were as close to the record as possible. Also seeing her comically kneel as she handed Tucker's guitar back after "Gimme Love " was a nice touch.
The band included eight of the ten new songs in their set list. For any other returning band this might be a risky move but a new fan at the show would have hardly been able to distinguish the crowd response between the classic "Words and Guitar" and new ditty "Bury Our Friends."
While it was easy to get caught up in the magic of SK's return, it would be a shame not to mention Minnesota-based rapper Lizzo's dynamite performance. She was able to prove why Time named her one of "14 Musical Acts to Watch" with killer hooks in songs like "Batches and Cookies." Her music was undoubtedly different than what Riot Grrrl fans might have been used to. However her rhymes, her stage presence, and her impassioned speech on racial and gender equality won over the audience without question.
Sleater-Kinney's last song of the night was "Dig Me Out." Like a marathon runner at the end of the race, it seemed like the group's attempt to empty all their remaining energy into one strong finish. It has been a big year for the band. No Cities To Love was received with wide acclaim and was their highest charting album to date. They also boogied with the Belcher kids and were interviewed by the girls of Broad City. In that interview, Brownstein answered what it feels like to be a "rock star" as the feeling that "you could stop singing and [the audience] could carry [the songs] for you." As Sleater-Kinney played "Dig Me Out," the crowd was ready to carry them not only throughout the song, but also out of the venue and into their promising future.