MUSIC
We caught up with the duo right before they took the stage at Brooklyn's Rough Trade
press photo
Slenderbodies, who finally released their debut album, komorebi, last month after numerous EPs, are deep into their North American tour, and there is no denying that they're tired.
slenderbodies - "senses" (Live) | Vevo DSCVR www.youtube.com
"I don't really know where I am, I don't really know what day it is, but it's in a fun way," Benji Cormack told me before their show on Saturday. "Other tours, it's just been pure exhaustion, but this is, like, a loopy kind of exhaustion where I'm also energized."

Slenderbodies is still a fairly new band to emerge onto the neo-dream pop landscape, which is easy to forget judging by the duo's refined musical sensibilities. They emerged in 2016 with fabulist, an intriguing EP that integrated alternative rock with pop and psychedelia. The EP spawned the song "anemone," still the duo's biggest hit, and they have since remained unabashedly devoted to their sound and creative identity. It's rare for such a young band to know themselves so well. "We didn't set out to be unique," Benji previously told me. "We set out to just make music that was authentic... and that's how we arrived at where we're at now."
"Komorebi" is a Japanese word that has no direct translation. Roughly, it's a word used to describe the way light moves as it shines through the trees. The guys witnessed an "inspiring" example of "komorebi" while they were driving up to Mendocino for a show. "We'd known the word," said Benji, "but seeing that was almost a religious experience and became very indicative of what was to come." Nature is the seasoning that brings out the band's flavors. Neither of them have gone more than a week without stepping into a forest, even while on the road, and their music wouldn't be what it was if they didn't take the time to recuse themselves from the bustling metropolitan world. Fittingly, Komorebi is seemingly the pinnacle of Slenderbodies up to this point. It contains all the charisma and silky textures of the band's numerous EPs, while at times exploring the restrictions of their sound. "I'm super happy with the record just because we were disgustingly diligent with it," Max said. On "Hearth," in particular, the duo swaps out improvised guitar loops and ghostly vocals while rain patters in the background. It's a raw moment indicative of their unique chemistry as a band. "It's like the cabin in the woods that you come to," Benji added.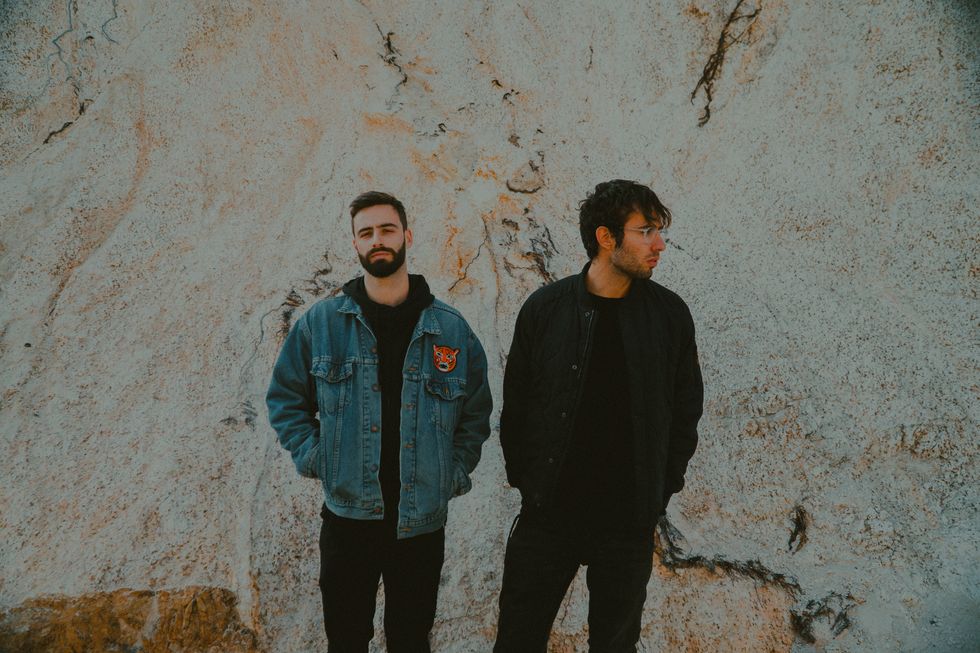 Slenderbodies
While this is by no means the duo's most grueling tour, everything feels different this time around. Saturday's show at Brooklyn's Rough Trade, along with most of their current tour, was completely sold out, but they are strangely calmer than they've ever been. "I'm probably gonna play some super smash bros," said Benji. "It helps us to not think about it too hard," Max added. "My mantra is trying to turn the pre-show nerves into a high," Benji said. "I wanna hit the pre-show blunt of excitement, then go right out and play the show. If we fixate on it, we'll burn it down to the roach before we get on stage."

As I got ready to go, the two friends loomed over a take-out container full of baked ziti. "What is that?" Max asked the room. "I think it's baked ziti," Benji replied. Max seemed confused. "Baked ziti? It's a type of pasta where you pretty much slap a sh*t-ton of cheese on there and bake it." They stood in calm silence, and I slipped out as they pondered the nature of the dish.
komorebi