TV
Voters need to think about which person they'd prefer to see consistently parodied on Saturday Night Live.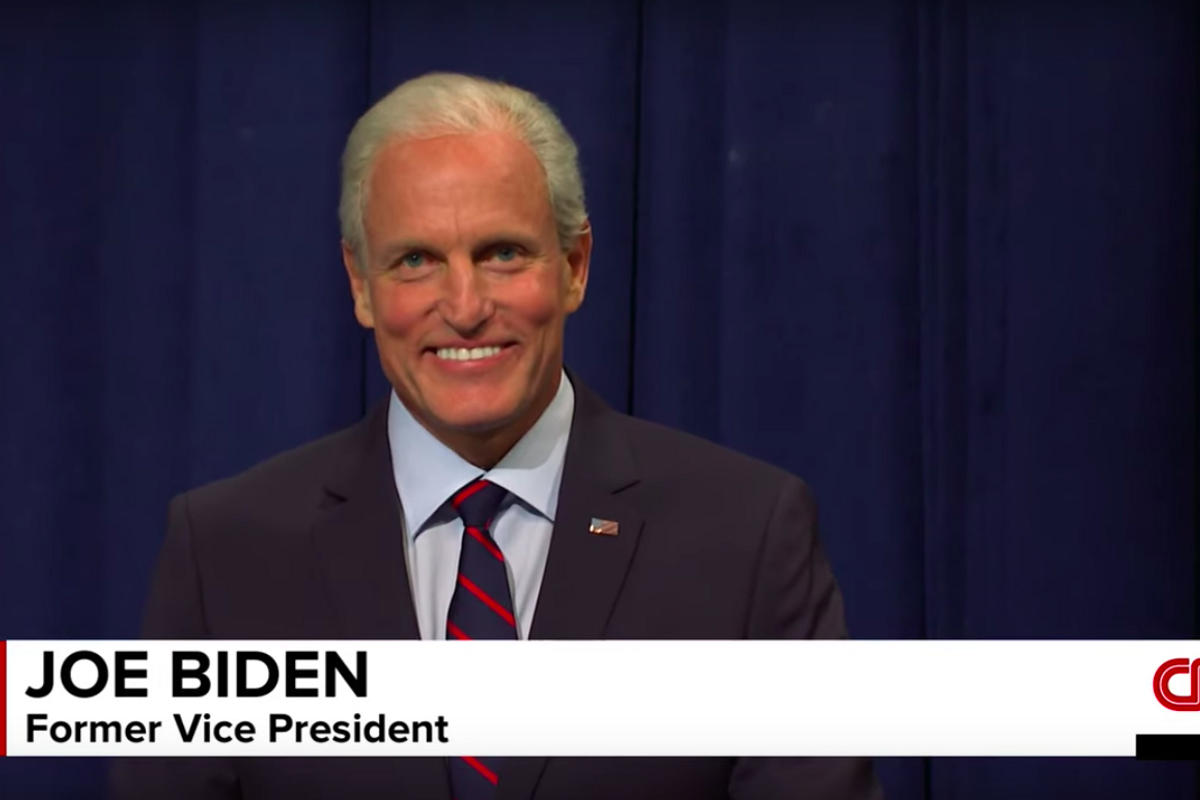 NBC/Saturday Night Live
When deciding who to vote for in the 2020 Democratic primary, there's more to consider than the candidates' policies and whether or not they'll push to prosecute Trump for treason.
Voters also need to think about which person they'd prefer to see consistently parodied on Saturday Night Live.
In their Season 45 premiere, SNL debuted their full slate of 2020 DNC characters, including one major surprise celebrity appearance. We've gone to the trouble of ranking the impressions so you know which candidates you can safely vote for (assuming you base your entire vote on a sketch comedy show):
DNC Town Hall - SNL www.youtube.com
9. Colin Jost as Pete Buttigieg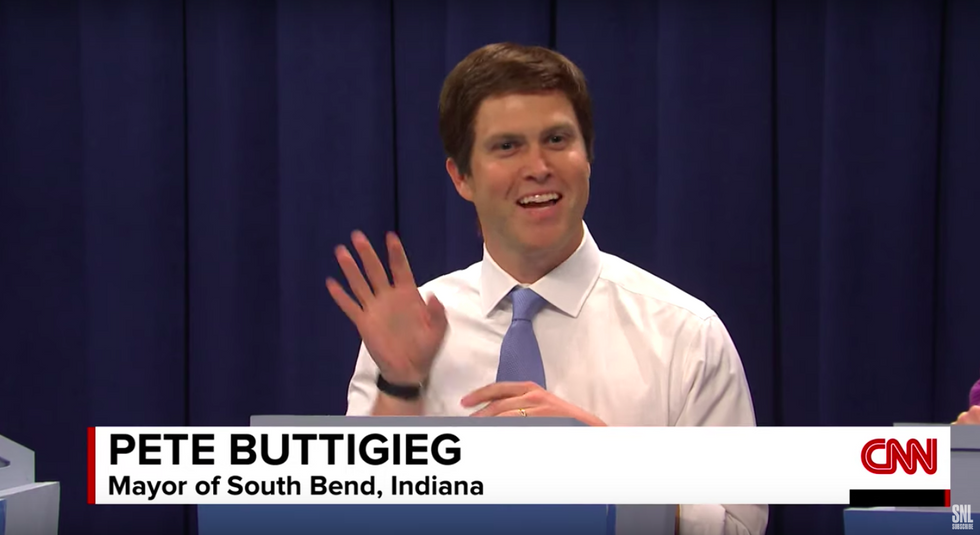 NBC/Saturday Night Live
This one is probably more on the writers than on Colin Jost. Buttigieg barely got any screen time or any jokes, and Jost didn't look much like him either.

8. Chris Redd as Cory Booker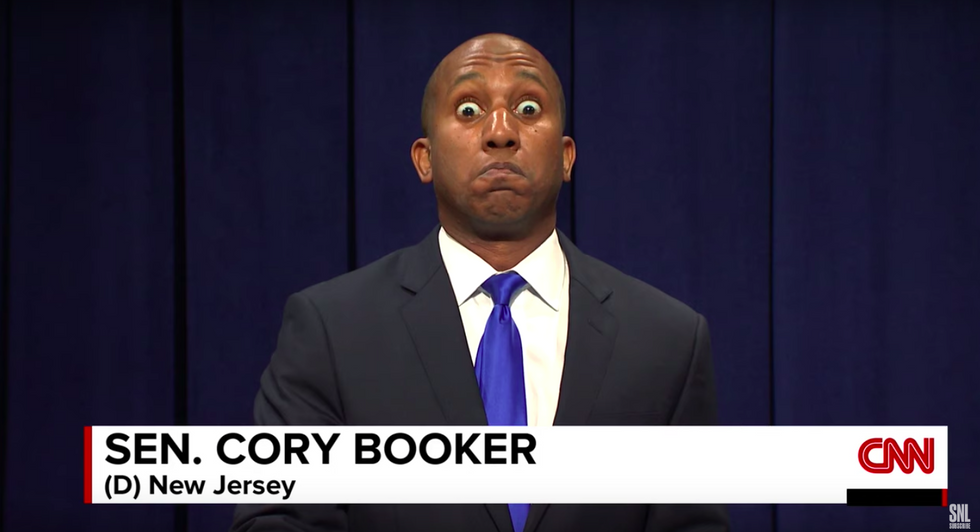 NBC/Saturday Night Live
Again, this ranking falls on the writers. Obviously Cory Booker isn't a relevant candidate, so it's hard to fault SNL for writing him out immediately, but Redd's wild-eyed impression is funny for the five seconds it lasts.

7. Chloe Fineman as Marianne Williamson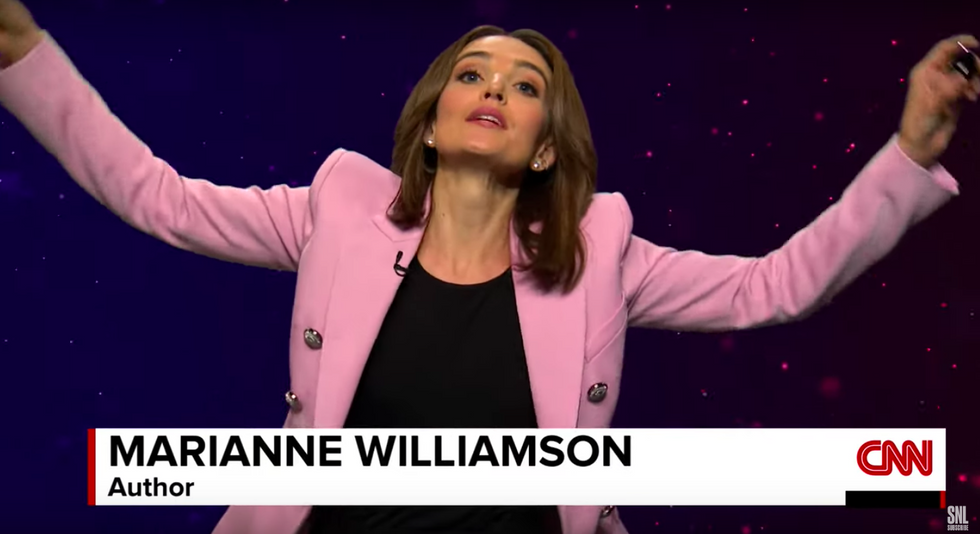 NBC/Saturday Night Live
It's nearly impossible to parody Marianne Williamson when she's already a living parody of herself. SNL newcomer Chloe Fineman definitely put herself out there in her role, but unfortunately falls short of Williamson's real-life lunacy.

6. Bowen Yang as Andrew Yang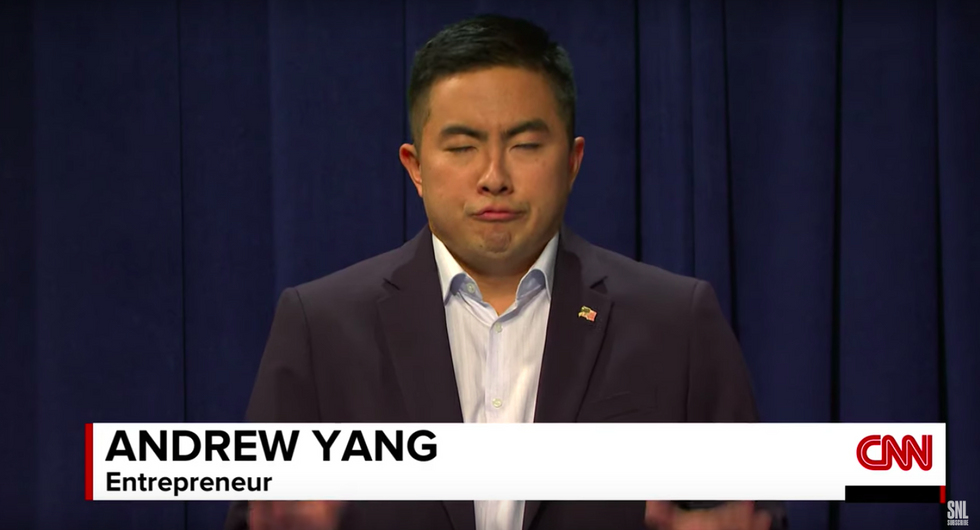 NBC/Saturday Night Live
While only onscreen for a single shot, Bowen Yang's stiff-shouldered, almost robotic performance is a pretty spot-on impression of the real Andrew Yang. Andrew Yang seemed to enjoy it, too, tweeting praise for Bowen Yang alongside a note for the writers: "Tip to the @nbcsnl writers - you should work on some new lines for @bowenyang because I'll be here all through 2020."
Haha great to see @bowenyang as me on @nbcsnl! If anyone has the footage please post it below. 😀👍

— Andrew Yang (@Andrew Yang) 1569730270.0
5. Alex Moffat as Beto O'Rourke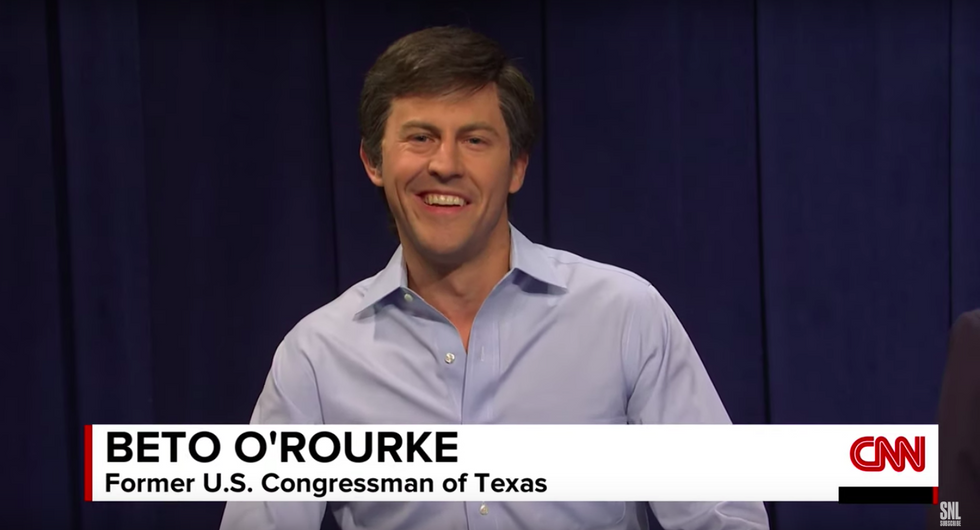 NBC/Saturday Night Live
Possibly SNL's most under-rated cast member, Alex Moffat kills just about every character role he gets (especially Eric Trump, who he portrays as a barely functional idiot). In the small bit of screen time he gets here, Moffat aces O'Rourke, too, honing in on the totally not self-aware, wannabe-cool-guy vibe that lead a losing Senate candidate to run for president.

4. Larry David as Bernie Sanders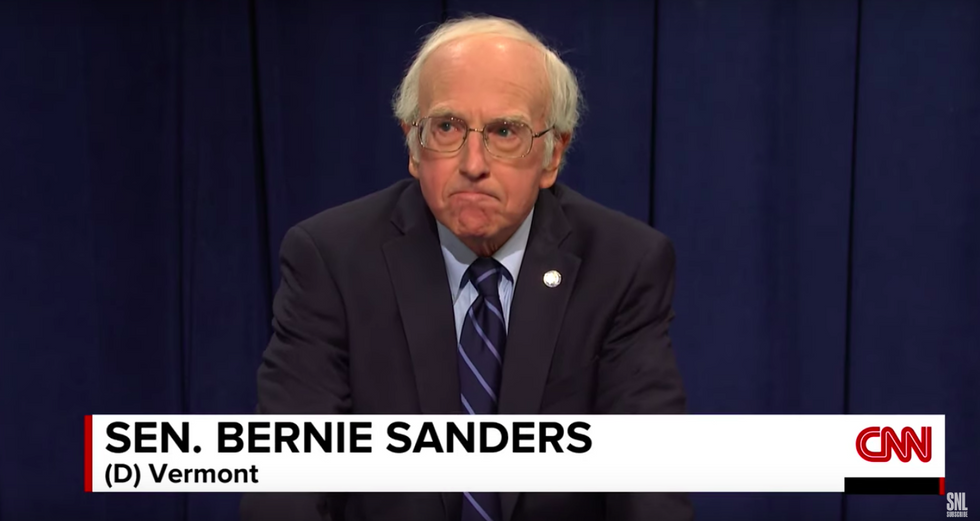 NBC/Saturday Night Live
Larry David basically is Bernie Sanders. He captures the angry New England grandpa so well that Bernie Sanders might as well be portraying himself. At this point, the rankings come down to writing, and unfortunately, the Bernie Sanders jokes don't land as well as the top three.

3. Kate McKinnon as Elizabeth Warren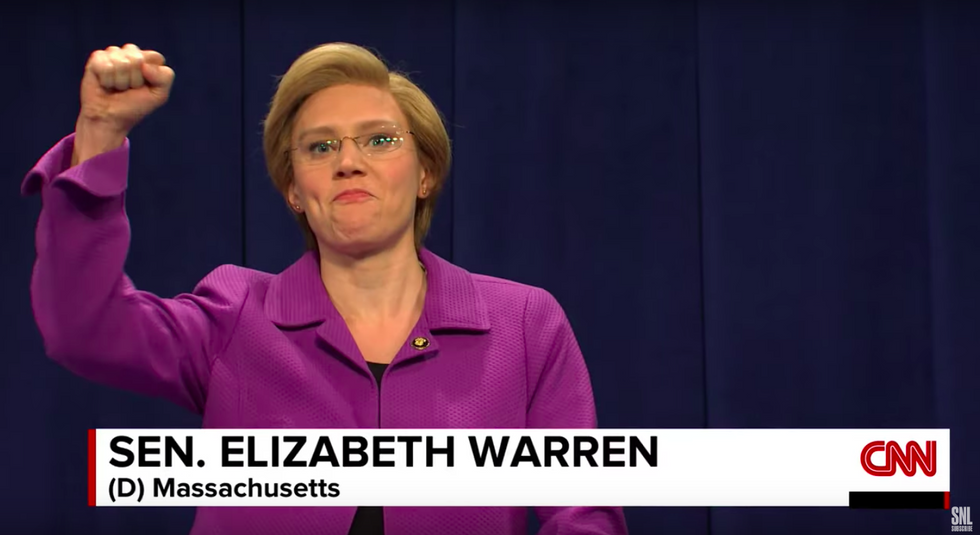 NBC/Saturday Night Live
While all the other candidates' jokes seem to come at the expense of their real-world counterparts, every Elizabeth Warren joke is designed to kind-of, maybe, possibly be usable as taglines for Warren if she wanted. Elizabeth Warren really does have "the energy of a mother of five boys who all play a different sport," and Kate McKinnon nails that energy perfectly. It's clear that the SNL staff are mostly behind Warren (as everyone should be), but that also means that the jokes have a little less bite.

2. Woody Harrelson as Joe Biden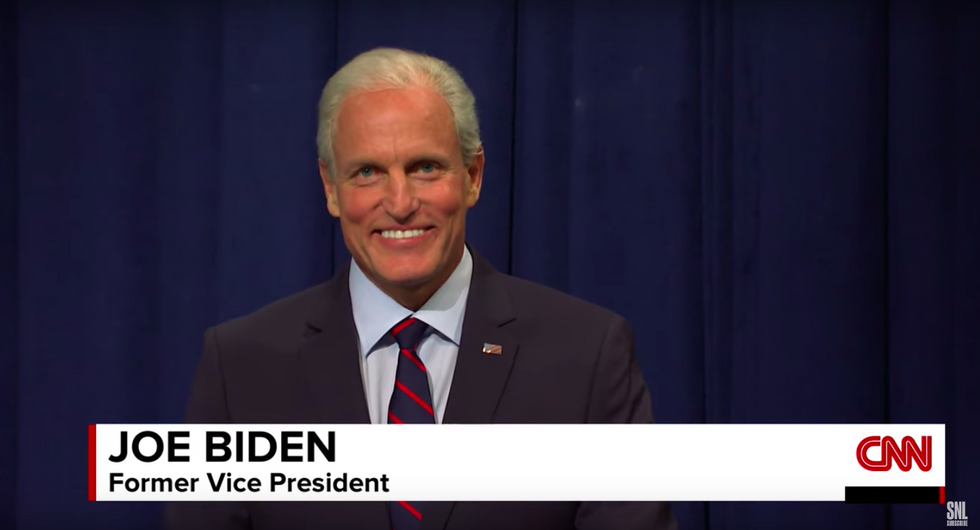 NBC/Saturday Night Live
Definitely the biggest casting surprise, Woody Harrelson plays Joe Biden as toothy and off-putting, prone to constant racial messaging and Obama name-drops. He does an excellent job, perfectly landing Biden's confusion about why people suddenly dislike him: "I'm like plastic straws. I've been around forever, I've always worked, but now you're mad at me?"

1. Maya Rudolph as Kamala Harris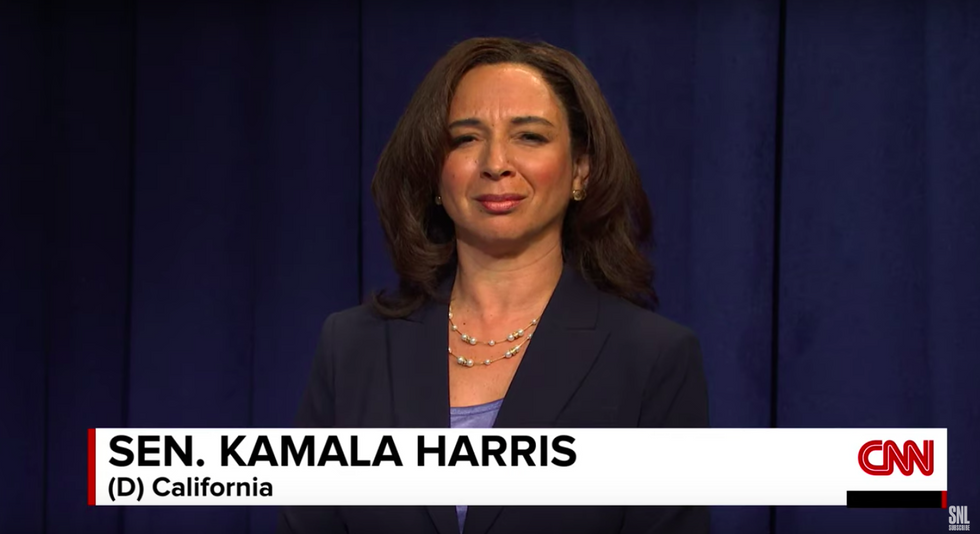 NBC/Saturday Night Live
Maya Rudolph absolutely slays as Kamala Harris. While the jokes are solid (they really hone in on the "That girl was me" line), Maya Rudolph's performance is next-level. Rudolph is an absolute master of facial expressions, saying more with pursed lips or a pointed smirk than any script could convey. Kamala Harris probably isn't too many people's first choice for president, but if she won, the biggest upside (aside from getting rid of Trump, obviously), would be more Maya Rudolph on SNL.

Oh, and the real Kamala Harris had an awesome exchange with Maya Rudolph on Twitter, too. Talk about earning those likeability points.
@KamalaHarris @nbcsnl YESSSSSSSSSSENATOR!!! An honor to attempt to be as cool as you💜

— Maya Rudolph (@Maya Rudolph) 1569771439.0