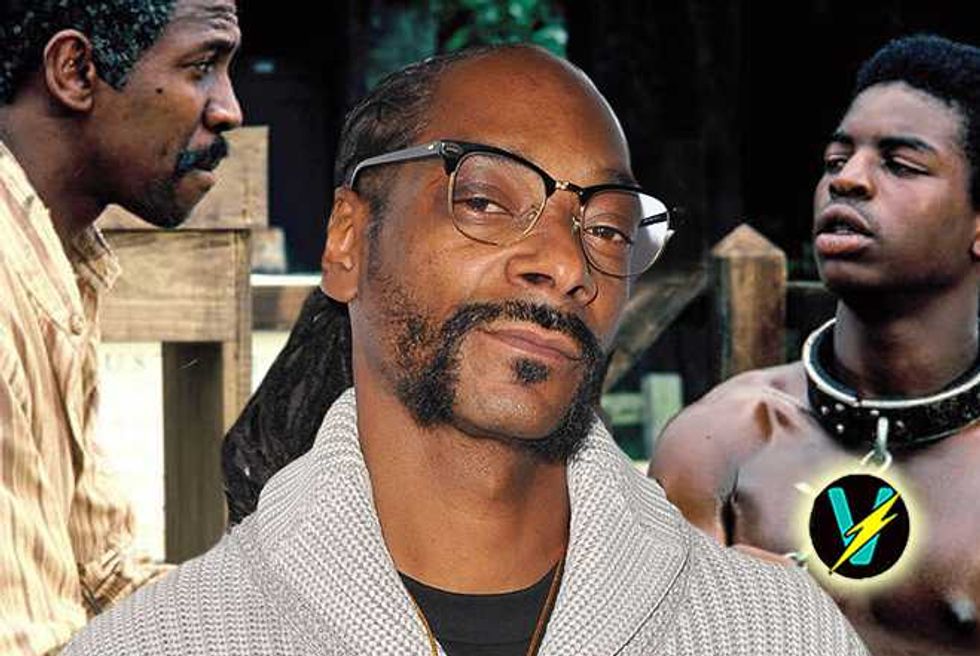 Snoop Dogg Roots boycott—musician is pissed that Hollywood just keeps retreading age old history—wants to focus on success instead of oppression
It's fair to say Snoop Dogg won't be tuning in to watch the remake of the '70s classic mini-series, Roots.
The rapper has called for a boycott of the four-part, eight hour show—which kicks off on the History Channel tonight.
Snoop is calling Hollywood out for focusing on the oppression of African Americans, rather than celebrating the achievements.
He's had enough of constantly being shown the abuse black people were subjected too—name checking recent slavery fetishization flick, 12 years a Slave.
Snoop made his feelings known via a video he posted on Instagram.
In the video, he explains:
How the fuck they gonna put Roots on on Memorial Day?

They gonna just keep beating that shit in our heads of how they did us, huh?

I don't understand America. They just want to keep showing the abuse that we took hundreds and hundreds of years ago.

But, guess what? We taking the same abuse.

When you all going to make a motherfucking series about the success black folks is having?

The only success we have is Roots and 12 Years a Slave and shit like that, huh?

Fuck ya'll. I ain't watching that shit.

And I advise you, as real niggas, like myself, fuck them television shows.

Let's create our own shit based on today, how we live, and how we inspire people today.

Black is what's real. Fuck that old shit.
The original Roots aired in 1977.
It was based on the 1976 novel by Alex Haley, Roots: The Saga of An American Family.
Haley's novel loosely traces the history of his family—from Kunta Kinte, an African captured as a young boy, back in the 1700s and sold to slavery in the U.S.
The original show—which aired on ABC, was a phenomenal success.
It won a total of 9 Emmys, in addition to a Golden Globe and a Peabody Award.
Roots also still holds the record as the second most watched overall series finale in U.S. television history.
In addition to the third highest rated episode for any type of television series.
Scroll down to watch the Snoop Dogg Roots boycott call
For more entertainment, music and pop culture updates and news, follow Max Page on Twitter
Snoop Dogg Narrating A Nature Show Is Everything
Snoop Dogg Takes A Stand Against Gun Companies
Snoop Dogg Gets Arrested—Blames Racial Profiling
Snoop Dogg Threatens Iggy Azalea, Calls Her 'Bitch' and 'Fucking Cunt'
Snoop Dogg 'I Smoked Weed In A White House Bathroom'
Watch the Snoop Dogg Roots boycott call:
Snoop Dogg Roots boycott call
Riff Raff Knows How To Stop Racism—Because DUH! Of COURSE He Does
411 On Baltimore City PD Corruption, Racism, Witness Coercion And Coaching
Starbucks to Solve Racism, Finally!
Kanye West—Racism Is Not an Actual Thing, It's Just a Silly Dated Concept!
Snoop Dogg Roots boycott call
Justin Bieber Gets Baptized In Bathtub, Racism Magically Washed Away
Inside Colbert Report's Epic Twitter Fail That Led To Cries Of Racism…. #WhoopsOhShit
Bill O'Reilly Slams Beyonce For Being Too Sexy—Shows Off His Thinly Veiled Racism
The First 48 Accused Of Racism, Compromising People's Freedom For Sake Of TV Ratings
Lorde On Royals Racism Claims, 'I Didn't Know Then What I Know Now' 
Snoop Dogg Roots boycott call