Humor
The Between Two Ferns of Cooking Television, IMO
Fellow ex-cons Martha Stewart and Cordozar Calvin Broadus, Jr., also known as Snoop Dogg, Snoop Doggy Dogg and, for some time, Snoop Lion, have more in common then large media empires and vast licensing operations. Now they have a TV show!
Kudos for VH1 to offer up some good paying work so these two will stay out of trouble.
Per the promotional video that Stewart and Snoop did for Architectural Digest, the show will focus on their differences as marketing icons of the 'aughts. The video, titled "Snoop Shows Martha Stewart His 'Herbs,'" is well worth a watch: Ms. Stewart explains that the show's kitchen will be split in two, like a primordial Id and Superego frozen in time and space, "my side reflecting me and Snoop's side reflecting Snoop."
Snoop, as we expect, is more conciliatory: "I love your bling," he says, pointing vaguely at the shiny arrangement of copper mixing bowls, tea sets, and a nearby pineapple cast in gold, "you got your…your bling is extraordinary," he concedes.
Long-time fans will know that this isn't Snoop's first feature on a Martha Stu joint. Last year, Snoop stopped by the ol' kitchen to whip up some brownies and rap some weird bars. Testifying to the friendship between these entrepreneurs, Snoop produced an exclusive oil canvas last month for the cooking titan.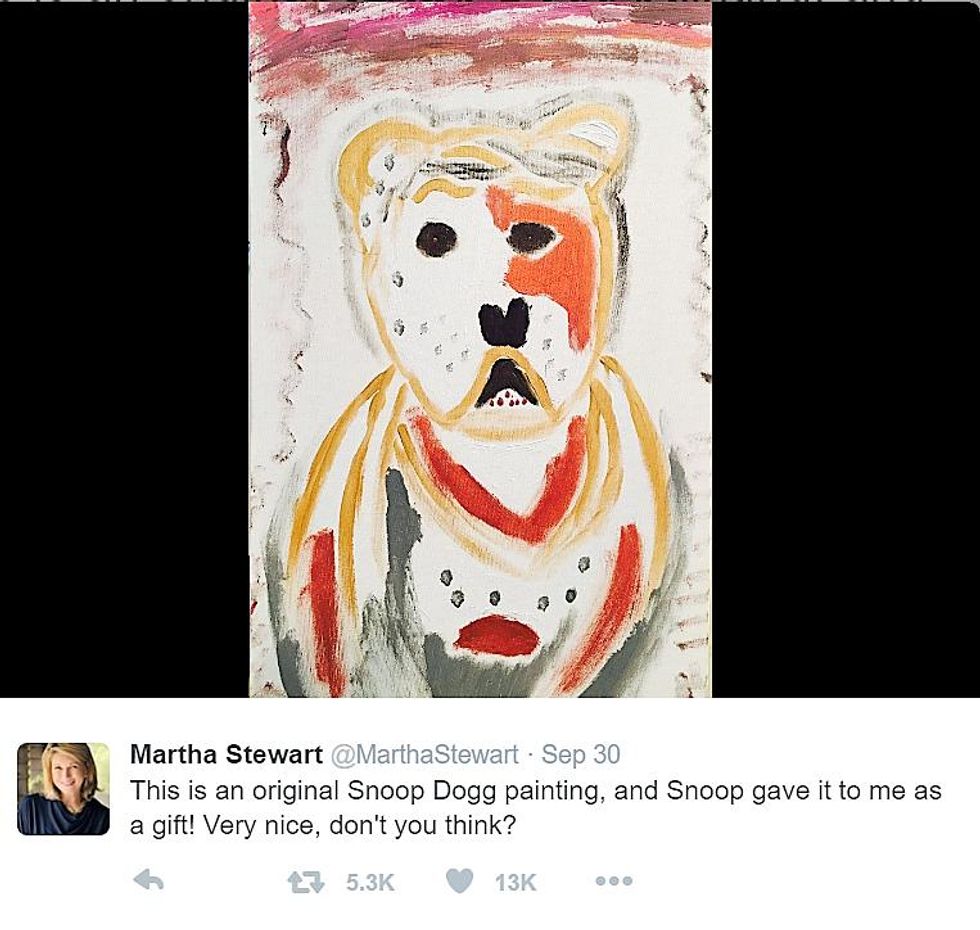 When was the last time you did that for a friend?

This time, according the trailer, the fun will include DJ Khaled, Wiz Khalifa, Seth Rogan, and other fun-loving and not burnt-out celebrities looking for a good time around a few marijuana jokes.

It's a trailer that has left in its wake as many questions as it answers. What happens to Martha Stewart's multi-million dollar holding company when its founder and chief personality is, officially, lit? Just what are the differences between Martha and Snoop's variety of herbs?
What is in Wiz Khalifa's mysterious green bag of seasoning?
Martha & Snoop's Dinner Party premieres on VH1 this fall.