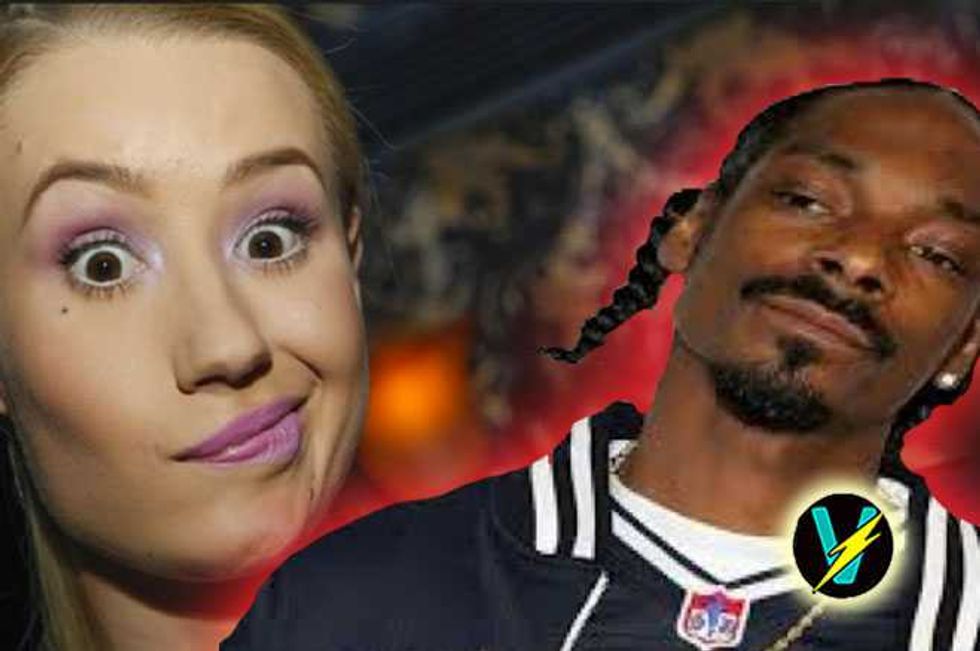 Snoop Dogg has escalated his feud with Iggy Azalea to completely vile and vicious heights.
As Popdust previously reported, Snoop started the whole thing by posting a mean meme of Iggy looking like a bizarre albino, on Instagram with the caption "Iggy Azalea No Makeup". The Aussie star blasted him for making fun of her, telling him he was behaving like an ass, which he was.
When Snoop wouldn't let up, Iggy posted a picture of Snoop's face and then a series of tweets highlighting how ridiculous the situation was:
"I could post a million more memes about snoop dogg making fun of the way he looks too, thats easy. But the real joke here is the middle aged man whos butt hurt i asked why he was pulling a Regina George move on social media. If I'm a bitch for asking why you are supportive to my face but another way on your Instagram then so be it. post away about this "bitch" I've seen all the memes the word has to offer in regards to me i honestly don't care. and its a shame because honestly everyone on my team myself included have only ever sung his praises. but there you have it."
This enraged Snoop so much that Instead of apologizing and moving on, he posted a video where he threatens Iggy and suggests her boyfriend Sean Young control her before Snoop "checks" her.
The caption on the video is "Last one until she speak now shut da Fuc up ubitchu."
Classy.
"Say bitch, you fucking with the wrong nigga and yo nigga better check you before I do...fucking cunt," he says in the video.
What's great about this whole thing is it totally blows apart the image Snoop has carefully been cultivating of an eccentric but loveable rapper who is mostly harmless.
Instead, he is the same piece of shit he has always been - violent, misogynistic, and homophobic (remember when he posted all those vile comments about gay people then deleted them because he is a total coward?).
THIS is the real Snoop, and always has been.
Last one until she speak now shut da Fuc up ubitchu.

View on Instagram