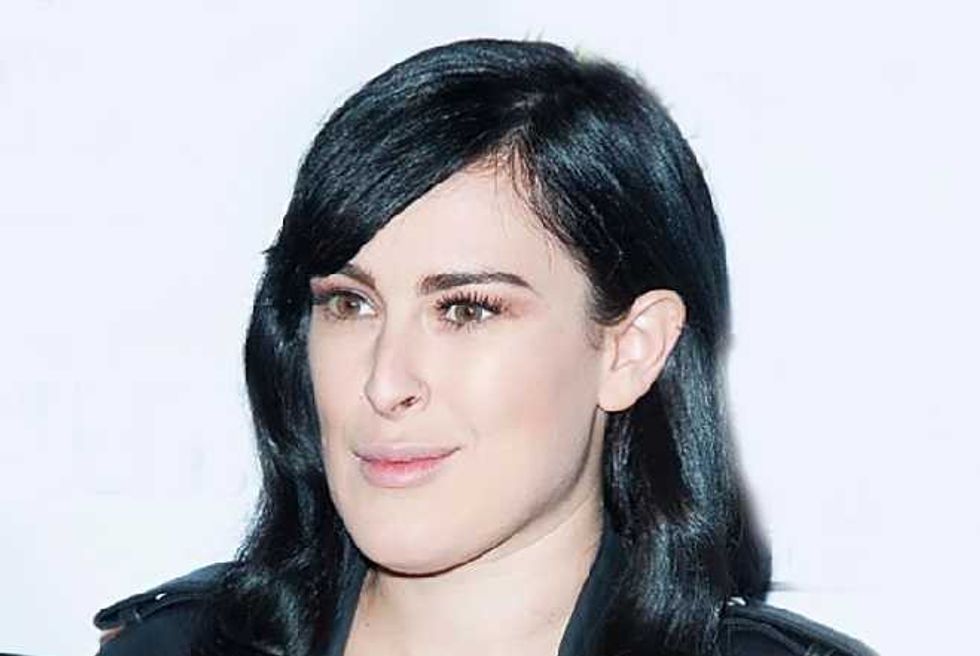 Rumer Willis jaw photoshopped smaller by photographer in editorial shoot
The Rumer Willis jaw photoshopped controversy has the 27-year-old calling out the culprit on social media.
Rumer's pissed. And we don't blame her.
Basically, some douche photographer decided he didn't like the way Rumer looks naturally.
So he took it upon himself to digitally alter her appearance.
And, we're not talking the usual run-of-the-mill post-shoot photoshopping—you know, removing some blemishes, smoothing out wrinkles kind of thing.
No, this is totally changing one of someone's strongest facial features.
The douche photographer took umbrage at the oldest Willis sister's jaw—deciding it's just too large for his aesthetic tastes—so he chiseled it down a few pixels.
And the result was pretty damn dramatic.
The douche photographer appears to have given his aesthetic seal of approval to Rumer's two sisters however.
Tallulah and Scout posed with Rumer for the editorial shoot—and they managed to come out of it digital surgery-free.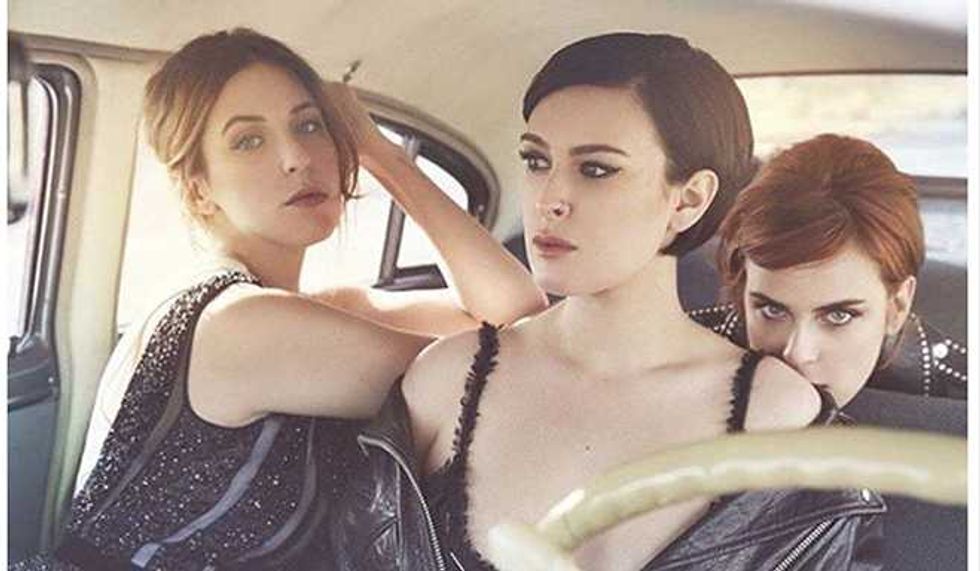 Rumer slammed the douche photographer on Instagram—accusing him of bullying.
She posted the offending altered pic, along with a message to her fans:
Any friends of fans of mine who posted this, I would appreciate if you took it down. The photographer Photoshopped my face to make my jaw smaller and I find it really offensive for anyone to try and change the way you look so drastically.
I love the way I look and I won't support anyone who would feel a need to change the way I look to make me beautiful.
Whether or not they realize it, it is a form of bullying, which I won't stand for.

And she's right. It's totally offensive.
Especially given Rumer's past struggle with insecurity over her appearance.
As Popdust previously reported, Rumer talked about the bullying she endured as a teenager during a tearful monologue on Dancing With the Stars, which she competed in last year:
When I was a teenager I was super awkward. I don't think I really felt comfortable in my body or with how I looked, and people were nasty.
People would say I looked like a man or something called a 'buttaface', which means everything good but her face, or potato head was the big term that everyone used a lot, basically making fun of the way I looked. …

Sadly, this isn't the first time Willis has been drastically photoshopped without her consent or knowledge.
It also happened back in 2014, when she modeled for Franziska Fox's spring 2015 lookbook.
At the time, she told US Magazine:
I think I would have felt very differently if I was a model who was hired to be a part of the brand. I get that there are certain things they want to change or whatever.
But, if you're hiring me to be a representative of your brand and you're changing who I am — like drastically changing how I look [while] everybody knows how I look [by] taking away the muscle — I just thought it was odd, you know?
If you have a zit or something on your face or a weird crease that you want to get rid of, don't get me wrong: I'll be the first to be like, 'Yeah, that looks weird.'
[But the lookbook editors] were trying like, to change my face and take the muscles out of my arms… It looked weird.
My stylist told me about [the photoshopping] and I was like, 'Well, that's fucked up.'
Then I immediately called my manager and said, 'You know, this is unacceptable, because that's not what I want to put out in the world and what I want to represent anyway.'
The ideal, you know, in this industry — all of the photos that you're growing up as a little girl and seeing — are all Photoshopped and retouched.
This idea that how you are is not okay [should] not [be] the case.
You should be able to feel beautiful with no makeup on, completely naked, and feel totally stoked about how you look and no one should be judging you for anything.

Amen to that, sister. Amen to that.
For more entertainment, music and pop culture updates and news, follow Max Page on Twitter
Scout Willis Topless Nipple Protest Is For A Very Good Cause
Tallulah Willis Ups The Ante With Gnarly Torso Tattoo!
Tallulah Willis On Battling Drugs, Depression, Body Dysmorphia And Bullying
rumer willis jaw photoshopped by photographer
Tallulah Willis Has Your Back!
More Style Wisdom From Tallulah Willis—This Week—Tips On Meeting The Parents
Tallulah Willis Crusades To Improve Women's Lives—And It Involves Mom Jeans
rumer willis jaw photoshopped by photographer