MUSIC
An ode to songs that would sound great while getting murdered.
On Monday morning, I entered the office, and, as usual, found myself in the midst of a conversation about a strange Internet phenomenon.
Over the past few years, apparently amateur audio engineers have been remixing songs to sound like they're being played through the halls of an empty mall, or refracted into other physical spaces, like bathroom stalls. Someone had Slacked the link to Toto's "Africa" but "playing in an empty shopping centre."
Toto- Africa (playing in an empty shopping centre) www.youtube.com
The sound of "Africa" reverberating through an abandoned mall is as chilling as you'd imagine. It's also profoundly sad and comforting at the same time, either because of the nostalgia it evokes for old times spent wandering through physical spaces that have been replaced mostly by digital ones, or because of the sad hollowness of mall capitalism, or because of a confection of both.

This reminded me of my favorite book I've read recently, Severance by Ling Ma, which is about a post-apocalyptic world where the few survivors of a deadly fever wind up taking shelter in (spoiler alert) an abandoned mall. Like me, the main character in that novel lived in Brooklyn and worked in Times Square—until the fever hit. The song also reminded me of my favorite New Yorker writer, Jia Tolentino, who writes so beautifully about the cursed alienation of late capitalism and social media and who of course has written about the empty-mall version of "Africa."
After I finished listening to "Africa," the next video that YouTube's algorithm had queued began to play. It was "Redbone" by Childish Gambino, except also altered to sound like it was playing in an empty mall. While I listened to it, I scrolled through the comments as I normally do, and I stumbled upon one that resonated strongly. It read, "I don't know if I'm being soothed or murdered right now but all I know is that I'm jamming out in the process." And it's true: Some songs just sound like they'd be perfect soundtracks to murders.
Childish Gambino - Redbone (playing in an empty shopping centre) www.youtube.com
Because the Popdust offices are fundamentally chaotic, soon enough we all quickly began discussing the best songs to listen to while being murdered. This was somehow happening at the same time that my coworker (and noted k-pop aficionado) Dan Kahan and I were debating the merits and ethical implications of a violent revolution in the case that Trump gets re-elected. Though I'm firmly against violence, my coworker got me thinking: Maybe going out with a bang would be the ideal way to depart. After all, aren't billionaires killing millions by hoarding their wealth instead of offering us affordable healthcare?

While thinking about all this, I looked over at the skeleton on my desk, a relic of the Halloween decor my charmingly morbid coworker Meg had brought to the office last month. Popdust's General Manager Brent had placed it there one night, apparently; when I asked him why, he chimed in with one of his weird moments of clarity that happen when he's not speaking in SEO and the virality of Baby Yoda, and said simply, "It's a reminder of your mortality."
"Hey There Delilah" but it's played in an empty Toys R Us at 2:37 pm with moderate traffic outside www.youtube.com
Maybe it was the combination of that skeleton's presence, thinking about violent revolution, reading Jia Tolentino and Severance, and that Youtube comment. Maybe it was the climate crisis activism I'd spent the weekend researching but not taking part in, or the fact that I recently discovered the phenomenon of hauntology, or the fact that I actually love my life maybe more than I ever have before right now; but as I listened to the rest of the tune, I couldn't stop thinking: This song would be the ideal song to be murdered to. Preferably in a dark mall sometime after midnight. Preferably by the government, during some kind of heist or failed act of ecoterrorism, but any average serial killer would do. Something about the song made it feel like it would be the ideal tune to accompany my not-so-gentle departure into that good night.

It may be relevant to mention here that the aforementioned Jia Tolentino has also written about the strange trend that is people on the Internet asking famous people to kill them, blaming it on an almost alchemical convergence of desire, loneliness, and guilt that's unique to the neoliberal age. "On the beach, flooded with joy, I felt the tug of that familiar undertow. "F*cking kill me," I thought, suddenly desiring a sensation strong enough to silence itself," she writes, "which is, I suppose, one way of defining love."
wii theme but its playing in an empty shopping mall www.youtube.com
mii channel but all the pauses are uncomfortably long www.youtube.com
Lest anyone grow too concerned about all this rumination on death and being murdered, many of the world's wisest philosophers believe there are innumerable benefits to contemplating death and that thinking about the end can greatly enhance one's brief time on Earth. "Virtually every great thinker. . . has thought deeply and written about death; and many have concluded that death is inextricably a part of life, and that lifelong consideration of death enriches rather than impoverishes life," writes Irvin Yalom.
Therefore, though it could indicate that we're all just typical writers, perhaps the views we have towards death in this office are actually quite healthy, or at least understandable in light of how the world is. Maybe American society is changing in that respect too; depression memes are the rage and murder podcasts are in vogue. Are all these trends simply a reflection of the truth that our lives are surrounded and shaped by death on every side? Do they embody the implicit knowledge that our planet is dying, or the fact that a lot of our old ways of life will need to die so we can survive? Or is this literal foreshadowing that I'm going to get murdered tonight?

In case that happens, I'll definitely spend the night listening to the collaborative Spotify playlist we made of the best songs to be murdered to (and you, too, can listen to it via the link below). My editor, notorious film-kid critic and most socially adept member of the entire Popdust team Brooke posted a call on Instagram for recommendations, and so this erratic list is thanks in part to the creativity of her friends. Also, if I actually die, please hack into my computer and posthumously release all the novels and music I've been hoarding away until "the right time"; and if you're reading this and it's too late, know that I love you, and (this is the hill I will die on) Jeffrey Epstein didn't kill himself.
Songs to Be Murdered To: A Popdust Special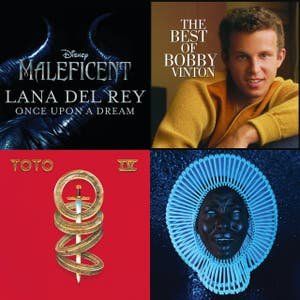 Songs to Be Murdered To open.spotify.com
Africa (playing in an empty shopping centre) — Toto
Redbone (playing in an empty shopping centre) — Childish Gambino
The Georgia Boy Choir — Silent Night
Once Upon A Dream — Lana Del Rey
Blue Velvet — Bobby Vinton
O Superman — Laurie Anderson
Placebo – Running Up That Hill
The Show Must Go On — Pink Floyd
Is That All There Is? — Peggy Lee
Mr. Sandman — The Chordettes
Je m'amuse — Caravan Palace
Hide and Seek — Imogen Heap
House of the Rising Sun — The Animals
Good Vibrations — The Beach Boys
Carnival of the Animals, XIII. Le Cygne — Clara Rockmore
You Are My Sunshine — The Civil Wars
War it Like A Crown — Rebecca Karijord
Riverside — Agnes Obel
Sprawl II (Mountains Beyond Mountains) — Arcade Fire
Road to Nowhere — Talking Heads
The Less I Know The Better — Tame Impala
Lovebug – The Jonas Brothers
The Christmas Song — Nat King Cole
Crazy B*tch — Buckcherry
Wide Open Spaces — Dixie Chicks
Drip, Drip, Drip — Chumbawawas
Between the Bars — Elliott Smith
Monster Mash — Bobby "Boris" Pickett, The Crypt-Kickers
Scary Monsters and Nice Sprites — Skrillex
Into The Ocean — Blue October
A Case of You — Joni Mitchell
Take It Easy — Eagles (but just the 4-part harmony)
Mombasa — Hans Zimmer
Graduation — Vitamin C
Hot Chocolate — Tom Hanks
Closing Time — Semisonic