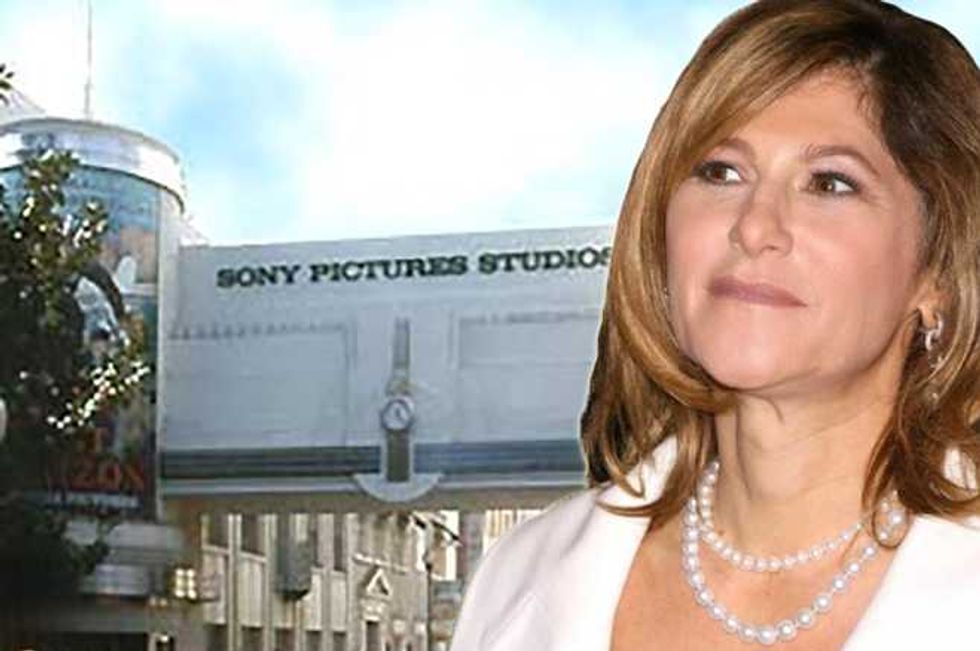 Amy Pascal hasn't just got egg on her face – she's got a whole omelette!
We've all sent those emails we wouldn't want made public—your bosses personal hygiene issues, the fact that your boyfriend couldn't perform last night, bitching about your mother in law's cooking—but Sony Pictures boss Pascal just has NO filter!
As Popdust previously reported, earlier this week, Angelina Jolie was branded "a minimally spoiled spoiled brat" in a leaked email exchange between mega-producer Scott Rudin and Pascal—and now details of thousands of other leaked emails are surfacing—proving more embarrassing for Sony by the day.
The mountain of mortifying missives include:
A racist exchange between Pascal and Rudin joking about what movies they think President Obama would enjoy:
"Should I ask him if he liked DJANGO?" Pascal writes—Rudin replies, "12 YEARS."

"Or the butler. Or think like a man?" Pascal continues.

"Ride-along. I bet he likes Kevin Hart," Rudin responds.
(The White House has said that an apology is appropriate – no shit!)
An email exchange between Sony exec, Clint Culpepper and Pascal, calling Kevin Hart a "whore" for requesting more money from the studio.
"I'm not saying he's a whore, but he's a whore," Culpepper writes. "If he doesn't do his normal routine, his film will not open as well and his brand will appear diminished and he will, in fact, be fucking himself because we have his next 2 immediate films."
Rubin slamming producer and Annapurna founder Megan Ellison, branding her a "28-year-old bipolar lunatic."
A scathing putdown of Pascal from Rudin
"You've destroyed your relationships with half the town over how you've behaved on this movie. If you don't think it's true, wait and see. Let's see the next filmmaker WME puts in business at Sony or the next piece of star talent. I'll bet my house I'm right."
An from Pascal's husband, forwarded to Sony HR department, telling her to fire the studio's Head of Communications, Charles Sipkins, after Pascal wasn't invited to a prestigious industry event – Sipkins was axed just SIX days later (don't leave Pascal off your Christmas card list)
Details of the $300 million new James Bond film in production – both script and ending
Studio plans unite in a campaign to fight 'Goliath' (ie: Google)
George Clooney boasting about his plan to take on Rupert Murdoch in a film about the UK phone hacking scandal
"I'm the son of a news man...everything will be double sourced….so come on with your lawsuits fuckers.."
Hacker group Guardians of Peace has claimed responsibility for the infiltration—some say as a reprisal for Sony's new comedy The Interview —in which, James Franco and Seth Rogen are tasked by the CIA to assassinate North Korean leader Kim Jong Un.
The chairman of the House Intelligence Committee, Mike Rogers, says the signs are pointing towards North Korea as a source for the attack—he was quoted Friday saying, "when a nation state says 'this group did this on behalf of the North Korean people…and we appreciate it' – that is a clue".
Not surprisingly, Sony Pictures Entertainment is fighting back—the FBI is investigating the security breach, and the studio is reportedly employing a company to issue a counterattack against websites offering files containing its emails.
Meanwhile, as we sit back and wait for the next embarrassing, juicy revelation—maybe Amy Pascal should be spending the Holidays brushing up her resume.