FILM & TV
MOVIE TRAILER | The latest trailer teases high-tech suits and a throwback Spidey
Gabe Ginsberg- Getty Images
Earlier today, Sony and Marvel released the likely final full trailer before Spider-Man: Homecoming's July 7th release date
Has your Spidey Sense been tingling? Well no need to consult a doctor or a priest, because today we've gotten the official trailer for this July's much anticipated Spider-Man: Homecoming. For those who've been out of the loop, the film marks the standalone film debut of Tom Holland's version of Peter Parker, previously seen in last summer's Captain America: Civil War. Perhaps the most noteworthy element of this is the fact that unlike the previous iterations of the superhero, this is the first time the character has been allowed to exist in and interact with the larger Marvel Cinematic Universe. And the first few trailers have made no secret of this, playing up the mentor-student dynamic between Parker and Robert Downey Jr.'s Tony Stark. This final trailer offers more of this, but puts a brighter spotlight on exactly what type of Spider-Man movie we're in for.
In this latest preview, we appear to be getting a hero who lives up to his rep as "your friendly neighborhood Spider-Man." While many are accustomed to darker, angstier interpretations of the character, weighed down by the sense of guilt and responsibility bestowed on him by Uncle Ben, we appear to be getting a version that appears to enjoy his superhero status. Whether it's stopping an ATM robbery or aiding an elderly woman, Holland's Spidey brings back a quippy fun-loving energy to the character found in some of his earliest comic book iterations. Envisioned originally as just an ordinary kid, facing everyday issues like paying rent and being bullied, who'd been granted the chance to be super, trailers appear to harken back to this as we get a significant amount of Peter's non-costumed life. He has quizzes and crushes to contend with in addition to trying to prove himself as someone able to cut it with The Avengers.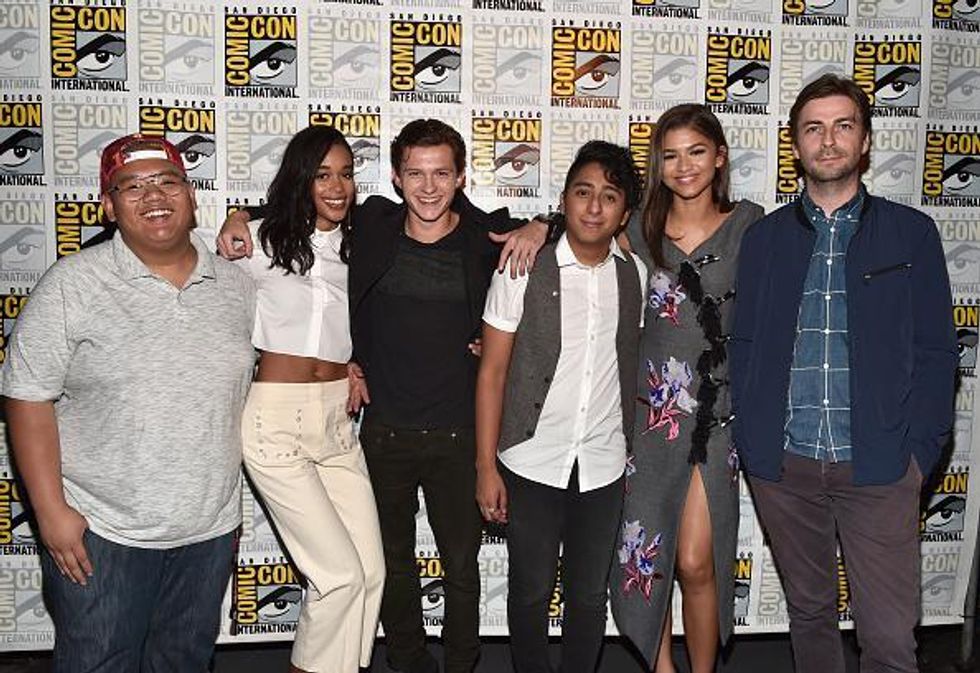 Alberto E. Rodriguez- Getty Images
Still, this iteration is far from just a throwback to the early comic book days. The latest trailer offers the most in-depth look yet at Spidey's high-tech new suit from Stark. Calling back to Iron Man's famous armor and recent comic iterations like the Iron Spider Armor, Spidey will have far more in his arsenal than his normal jumpsuit and moxy to save the day. But of course for this to be a fair fight, the bad guys would need some heavy tech too and Michael Keaton's Vulture has it in spades. Making his film debut, the long time Spidey-nemesis boasts a high tech flight suit of his own and a hatred for superheroes of Tony Starks-ilk. Despite Peter's long-standing wiz-kid persona, expect the tech and gadgets to play a far more pivotal role than in any previous installment of the franchise.

Yet even after of all these teases there are still plenty of questions left hanging. Who is Donald Glover's mysterious character offering advice? Will Zendaya be filling the Mary-Jane Watson/Gwen Stacy role of Peter's love interest or something more unexpectedly platonic? Will Tony still be making moves on Marissa Tomei's Aunt May? Consider us on board to find when it finally hits theaters this July.
---
More from Film/TV
Big names being pursued to direct The Flash standalone film, can they save DC?
What has us excited and concerned in the new Defenders trailer
Looking back at Marvel's most memorable post-credits scenes
---