Just two years ago, the Grand Mufti of Saudi Arabia stated that chess is "forbidden" in Islam due its promotion of idleness and competition. This didn't stop King Salman from striking a deal with the FIDE however. The 2017 speed chess world championship boasts a 2.5 million dollar prize pool, the largest in the tournament's history. But, despite the record-breaking payouts, the international chess community is up in arms about the FIDE's decision to host the event in Saudi Arabia, citing the country's less than stellar human rights record. A few optimists see Saudi Arabia's hosting of the event as an attempt by the country to open itself up to the rest of the world. Others have gone as far as to accuse the FIDE of total moral degradation.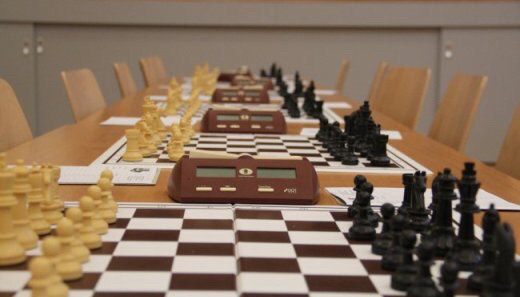 American grandmaster Hikaru Nakamura has elected to boycott the tournament in a political stance against the Saudi regime, stating "to organize a chess tournament in a country where basic human rights aren't valued is horrible." From the criminalization of homosexuality to the country's treatment of women, it's easy to see why some players aren't interested in participating. To make matters worse, Israeli grandmasters were denied visas and were effectively barred from competition by the Saudi government. On top of this, Qatari nationals are boycotting the tournament because they were barred from flying their country's flag at the event.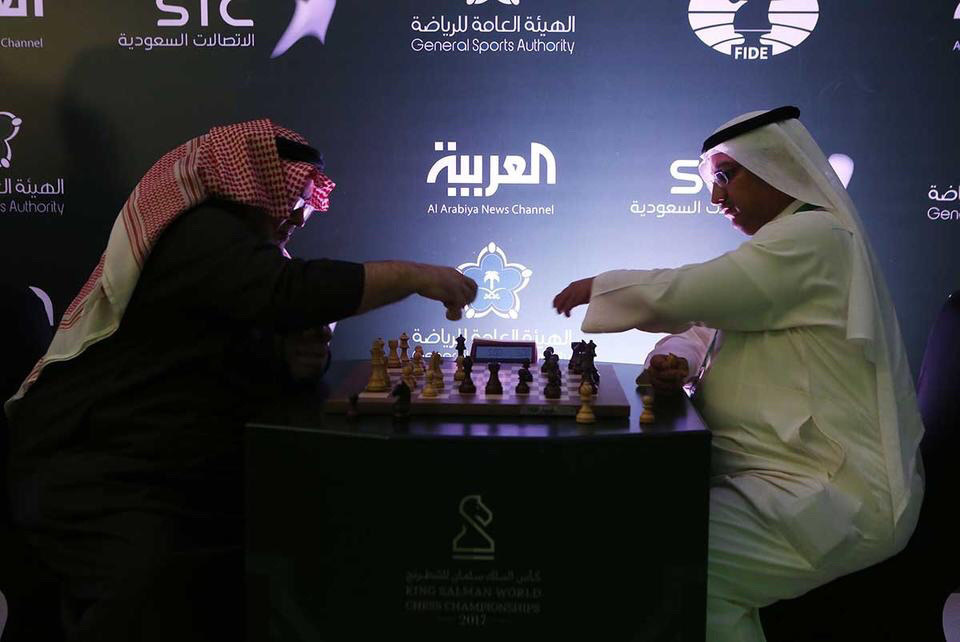 While there are too many controversies to count, perhaps the most striking storyline of the entire tournament is Anna Muzychuk's refusal to compete. Last year, Muzychuk won both the rapid (15 minute) and blitz (10 minute) women's tournaments, both ironically hosted in Qatar. Instead of defending her title however, she has stayed home stating: "[I decided] not to play by someone's rules, not to wear abaya, not to be accompanied getting outside, and altogether not to feel myself a secondary creature." According to reports, women are not being forced to wear abayas (traditional garb designed to cover women's bodies), but are being asked to wear dark formal pants with modest, high-necked blouses. Muzychuk is the second highest ranked woman in the world. She is one of only four women in history to have an ELO over 2600.
Here's a handy scale to show how good that makes her. An adult who has never played before is probably somewhere between 500-800. Chess hustlers in Washington Square would probably rank between 1600-1900.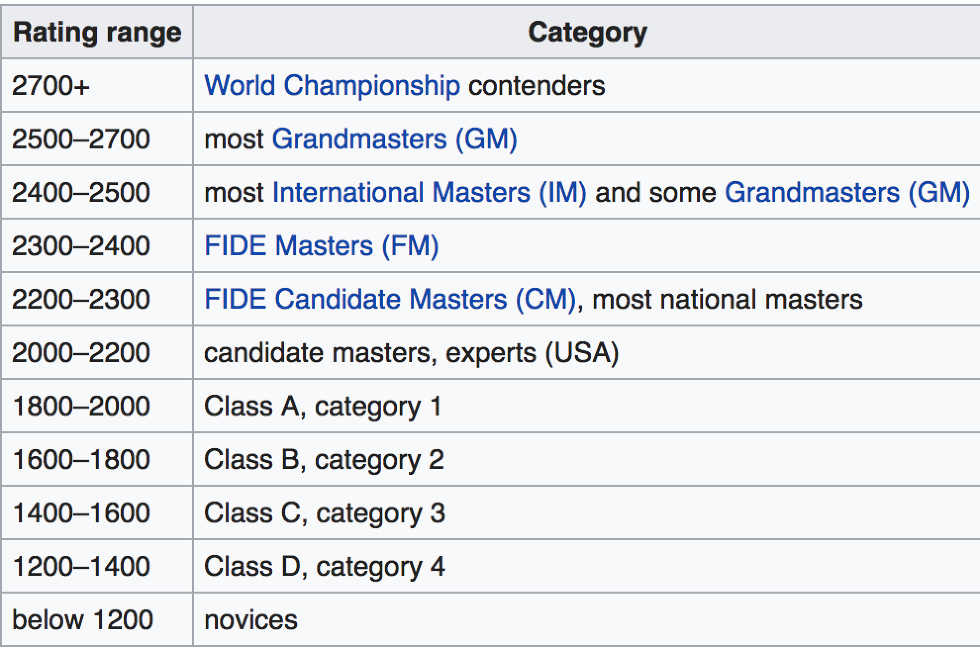 Needless to say, Muzychuk's abstention is a huge deal. It's the chess equivalent to Serena Williams refusing to play in Wimbledon, and it's a political statement that Muzychuk stands to lose a lot of money for making. When discussing the amount of money she, a clear favorite in the competition, passed up Muzychuk had this to say: "I am ready to stand for my principles and skip the event, where in five days I was expected to earn more than I do in a dozen of events combined."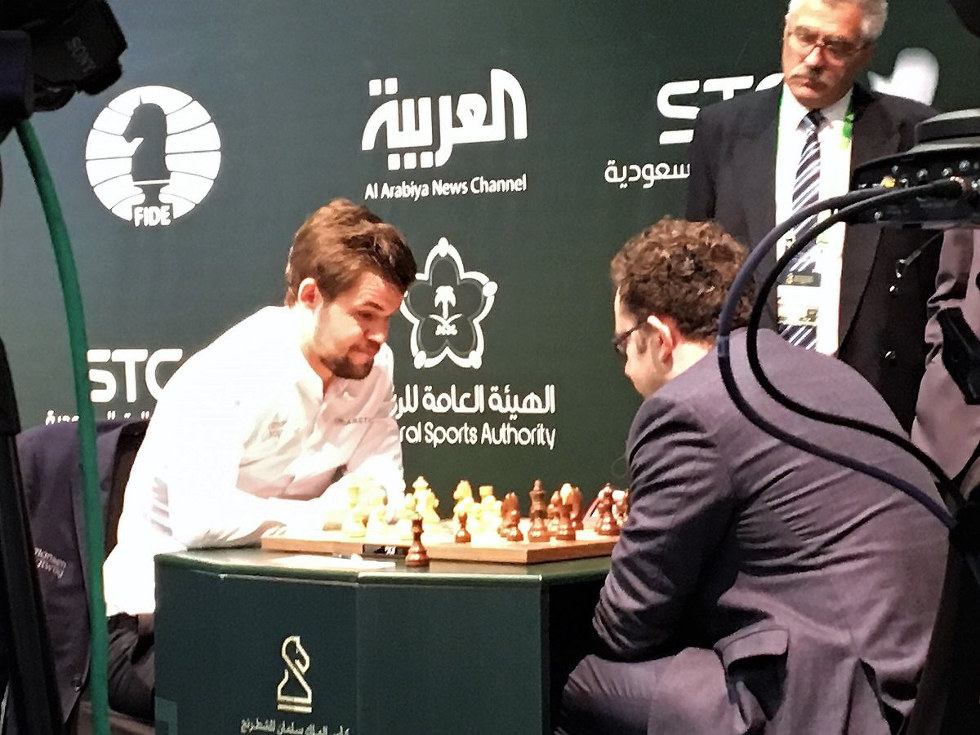 Magnus Carlsen (in white) he's the number one player in the world
While players like Muzychuk and Nakamura have taken the high road and decided to sit this one out, other top competitors haven't been quite as virtuous. Magnus Carlsen, current (standard) world champion is at the tournament, presently sitting somewhere in the middle of the field. Many other tournament favorites didn't have the moral fortitude to stay away either. Despite this, some within the FIDE are beginning to doubt the legality of the contract between the world chess organization and King Salman. While the contract includes the rights to events in 2018 and 2019, the FIDE's reputation would take a serious hit if it continued hosting its tournament in a place in which Israeli, Qatari, and Iranian players don't feel welcome. It would certainly go against the FIDE's motto, gens una sumus (we are all one people) and the inclusivity that it's supposed to convey.
Only time will tell whether or not the contract is honored, but considering the startling number of controversies surrounding the King Salman World Rapid and Blitz Championship, none of them having to do with chess whatsoever, it's not looking good. When a country can't convince the world's top players to show up, its tournament can only be considered one thing: a failure.
---
POPDUST Picks | Week 17*
Minnesota over Chicago
New England over N.Y. Jets
Jacksonville over Tennessee
Buffalo over Miami
Baltimore over Cincinnati
L.A. Chargers over Oakland
Seattle over Arizona
Carolina over Atlanta
Kansas City over Denver
Seattle over Dallas
New Orleans over Tampa
LOCK of the Week:
Pittsburgh over Cleveland
UPSET:
San Francisco over L.A. Rams
*There are several games this week that have no affect on the postseason. These games have not been listed.
---
Matt Clibanoff is a writer and editor based in New York City who covers music, politics, sports and pop culture. His editorial work can be found in Inked Magazine, Pop Dust, The Liberty Project, and All Things Go. His fiction has been published in Forth Magazine. -- Find Matt at his website and on Twitter: @mattclibanoff
POP⚡ DUST | Read More…

THE OPTION | The Stafford Effect
THE OPTION | Catalan Independence and What It Means for Barcelona Soccer