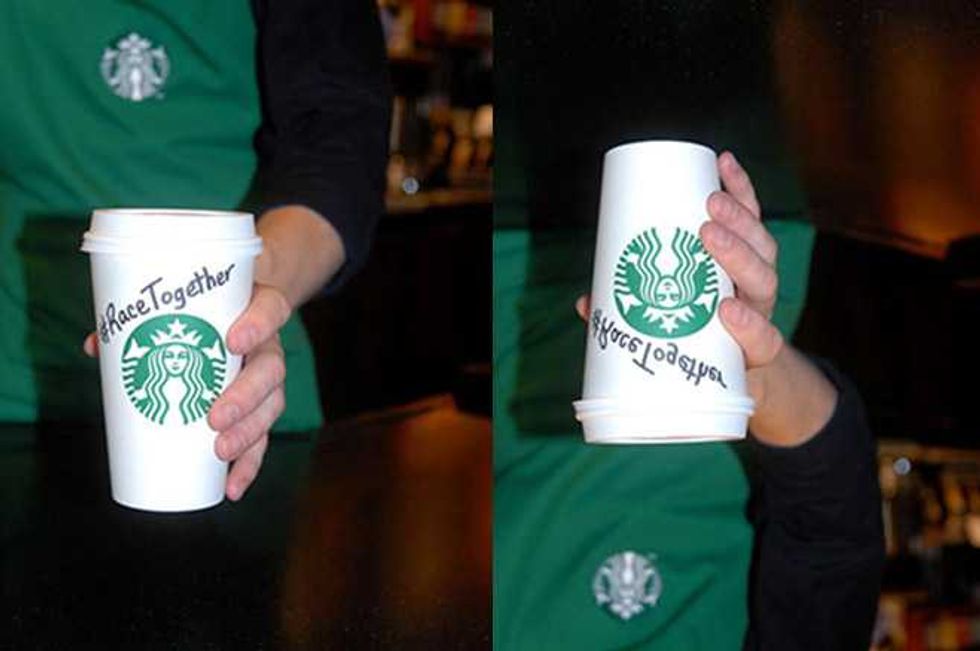 Starbucks CEO Howard Schultz has embarked on a campaign to improve race relations in America, one latte at a time.
After setting up forums for its employees to discuss race relations, Schultz decided to tackle the problem by asking baristas to write the slogan 'Race Together' on customers' cups.
The baristas have been encouraged to discuss race relations with customers who ask about the slogan.
Admitting that the program isn't a fix for racism, Schultz insists that these conversations can eventually lead to change.
Schultz has never feared controversy, but this may prove to be his most divisive strategy to date. His goal, Schultz says, is to promote a new level of understanding and sensitivity about racism, noting:
We have problems in this country with regard to race and racial inequality and we believe we're better than this and we believe the country is better than this.
Okie dokie! The only problem is that people are going to go crazy mocking the #racetogether campaign and berating Schultz's naivete.
In fact, the company's Senior Vice President of Global Communications deleted his Twitter account Monday night after a barrage of personal attacks - not exactly the healing dialogue Starbucks is looking for.
Me, I cannot wait to discuss race relations with the next young nose-ringed, purple-haired barista who hands over my coffee after mispronouncing my name!