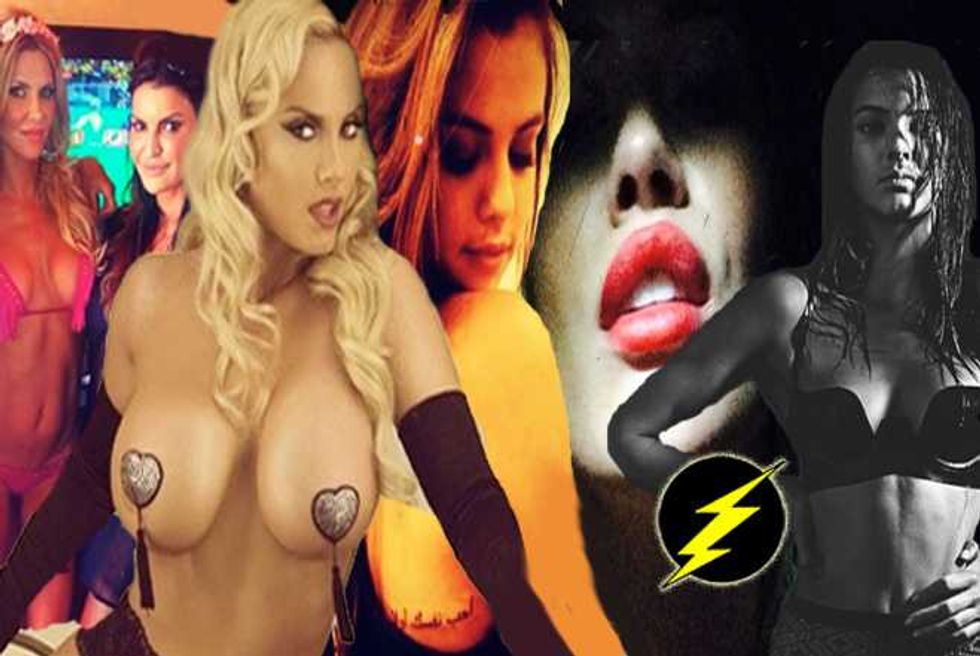 As usual all your favorite stars were very busy getting social this past week—posting their candid snaps, sexy selfies and family frolics all over social media.
Popdust scoured Instagram, Facebook, Twitter, WhoSay….Grindr… et all….to bring you all the best, worst, craziest and funny celeb social media photos—you can check them all out in the gallery below, but in the meantime, here's some highlights.
Andy Cohen enjoyed a threesome; Coco was topless bar some pasties in a vintage snap; Jennifer Gimenez got super sexy and looked hot hot hot with BFF Brandi Glanville in Vegas baby; Madonna was an unapologetic bitch; Teresa Giudice showed her love for her "honey"; 50-year-old Elle Macpherson showed off why she still deserves the title of "The Body"; NeNe Leakes was hanging with her girl Ivanka in the Big Apple; Jessica Simpson was in proud mommy mode—and with VERY good reason!! Lindsay Lohan stripped down and blowed…kisses… people…KISSES!!
Khloe Kardashian monkeyed around; Nick Jonas got his art on; Kim Kardashian flashed some major cleavage—and promoted Roberto Cavalli blankets all at the same time—good job KK!
Kris Jenner channeled her inner Sandra Dee in an '80s flashback; Ireland Baldwin spent some quality time in Stockholm with her cousin; Kendall Jenner gave her very best Blue Steel while little sister Kylie just looked… confused..
Justin Bieber managed to "make it" once again; Selena Gomez got tatted, very cryptically; Justin Timberlake threw it back on a Thursday in super cute style; Christina Aguilera flaunted her burgeoning baby bump and super excited son (AKA: brother-in-waiting); Miley Cyrus got contorted and Miranda Kerr was a model mommy.
And, that's just scratching the surface.. check out the gallery for the full unadulterated week in celebrity social media.