We all know how the story goes: Come January 1st, we reset the timers on achieving our new year goals with big hopes of making a healthy change after an indulgent holiday season... or an indulgent year.
I, unfortunately, am no exception. This year, especially, I've happily feasted on endless treats and comfort dishes. It's enjoyable, of course, but leaves me feeling guilty, lethargic, and saddled with a serious need to get back on a fitness regimen ASAP.
Just like everyone else, I've always made it my New Year's resolution to get back into shape, undo some of the damage (it's so worth it, though!) and step up my fitness routine.
And every new year, for as long as I can remember, I spend the first two months killing it only to abandon ship and fall back into the indulgent spirit by month three.
I needed something to stick. I needed to build a habit. So I decided, this year, I wasn't going to wait until after I've eaten every treat offered to me to get my body back in shape. I was going to start now so that I can still enjoy all the trimmings without feeling guilty.
My plan led me to Aaptiv, an audio and video guided fitness app that gives you a personal trainer right on your phone. I needed someone to hold me accountable and a strict plan to follow day-by-day if I was going to STAY fit.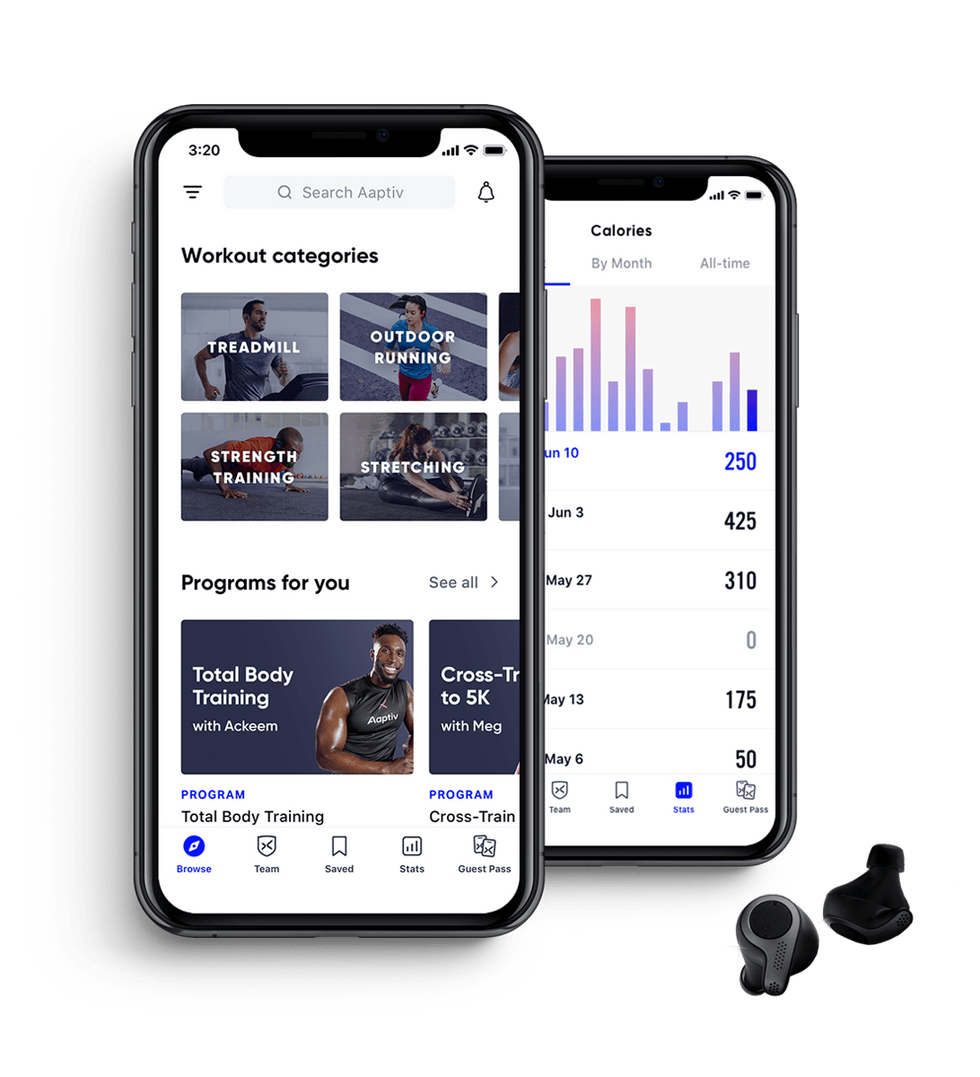 Aaptiv offers a variety of workouts from 15-minute yoga sessions to marathon training, and lets you exercise on your own schedule so there's never an excuse to miss that spin class. I loved the fact that I didn't have to be tied to a TV screen or a studio to get a workout in. Getting motivation from a personal trainer on-demand helped me stay on track and stick to a workout plan.

I decided to follow the app's high-intensity interval training programs and classes; this plan is designed to have the biggest impact on your body in the least amount of time. Every morning, I sprung out of bed an hour early, ready to get moving on my Aaptiv workout.
My trainer Ben helped me understand every rep and lunge, and his pump-up music choices were always spot-on. The workouts were better than coffee for boosting my morning energy.
With Ben's help, I completed a variety of strength training and bodyweight exercises, as well as yoga and meditations for more mellow days. It felt doable because of the detailed, step-by-step instructions and motivational encouragement throughout the session. I was able to workout longer and tried a wider variety of exercises than I ever would have alone.

At last, I have found something that keeps me motivated and helps me maintain and improve my body throughout the holiday season - and beyond! I find myself saying 'no' more often now because I am so proud of my progress.
Even better, I feel motivated to stay committed to fitness because Aaptiv changed the way I think about working out.
Now, I love my body, and am excited to keep working on my health year-round.
BLACK FRIDAY UPDATE: Our friends at Aaptiv are offering a HUGE deal. Get the first year for $49.99 and renew at $69.99! Follow this link and try Aaptiv today!