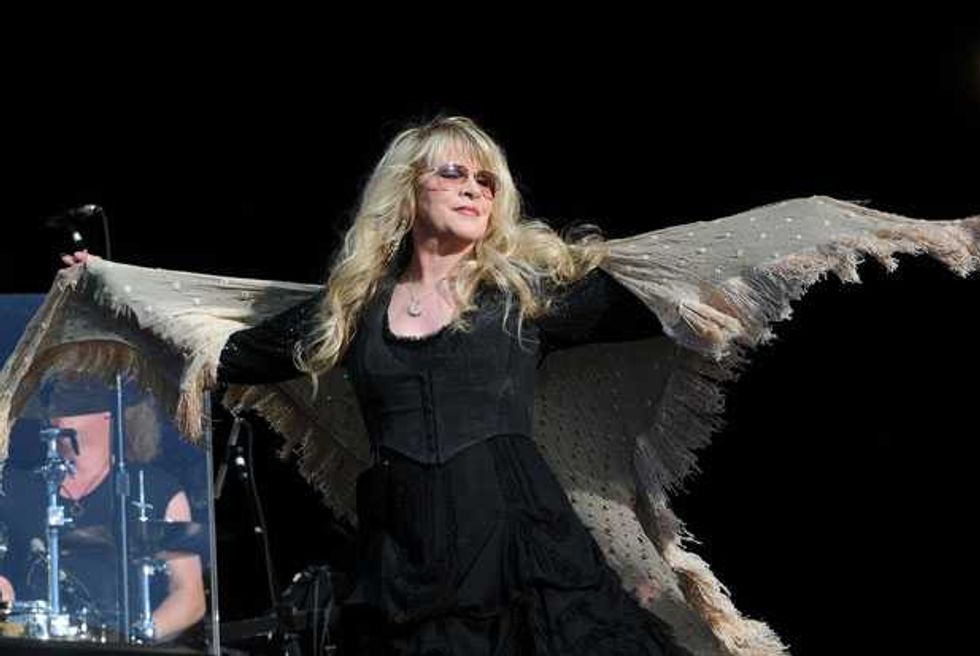 We haven't been shy about our love for Fleetwood Mac here at Popdust, nor have held back from expressing our disappointment at the "Landslide" cover young Miley Cyrus has been repeatedly busted out on her Gypsy Heart Tour in Australia. Of course we can gripe all we want, but what does Ms. Nicks think of the tribute? Apparently kinder things than we do. "You wish people would cover all of your songs," she explained in a recent interview with Australia's Daily Telegraph. As for a brief, albeit vague, critique on Cyrus' actual version of "Landslide," Stevie says:
"It was really good. We were on the Oprah show together, me and Miley and Pat Benatar and Sheryl Crow and some others. Rock and roll girls. I met Miley and I thought she was really nice. She's done a very sweet homage. I'm delighted to have someone her age doing that song."
This is us quietly ripping down our hater flag and slinking away sheepishly. But what about those pesky little Glee brats who dedicated an entire episode to the Fleetwood Mac album Rumours? Nicks has got to be a little peeved by that, right? Particularly the final group performance of "Don't Stop," complete with two cute little kids? (Very un-rock and roll.) "We talked for hours about the making of Rumours. I was so knocked out when I watched it, [Ryan Murphy] took a lot of what I told him. Most specifically the speech Rachel gave at the end where she was saying that when Fleetwood Mac made these songs they weren't yelling at each other in the studio, they were putting all that bad, crazy, I'm so broken-hearted energy right back into the songs instead of ranting at each other," she explained. "When she said all that I knew they'd really listened to me, he put the real thing that happened in Rumours into the Glee "Rumours" episode. I really love that show. It makes me happy. It makes me want to get up and dance." Luckily the singer, currently promoting her new solo album In Your Dreams, does not want to sit back and watch the younger generation do vocal gymnastics all over her classics. So what about those whispers of a reunion? "The Mac is always there. The Mac has never broken up," she said. "Being in a big elite group like that, why would you ever not want to do that? When this record runs its course then I'm sure Fleetwood Mac will get together." And now we'll be sleeping a lot more soundly tonight.
Nicks also appeared on reality clusterfuck America's Got Talent on Wednesday, further proving her happy, indiscriminate embrace of all things pop culture. Watch her perform "Edge of Seventeen" below, while AGT contestants like the indomitable Professor Splash look on.