MUSIC
She called "Fine Line" Harry's "Rumours" in a sweet note to fans, but mostly to Harry.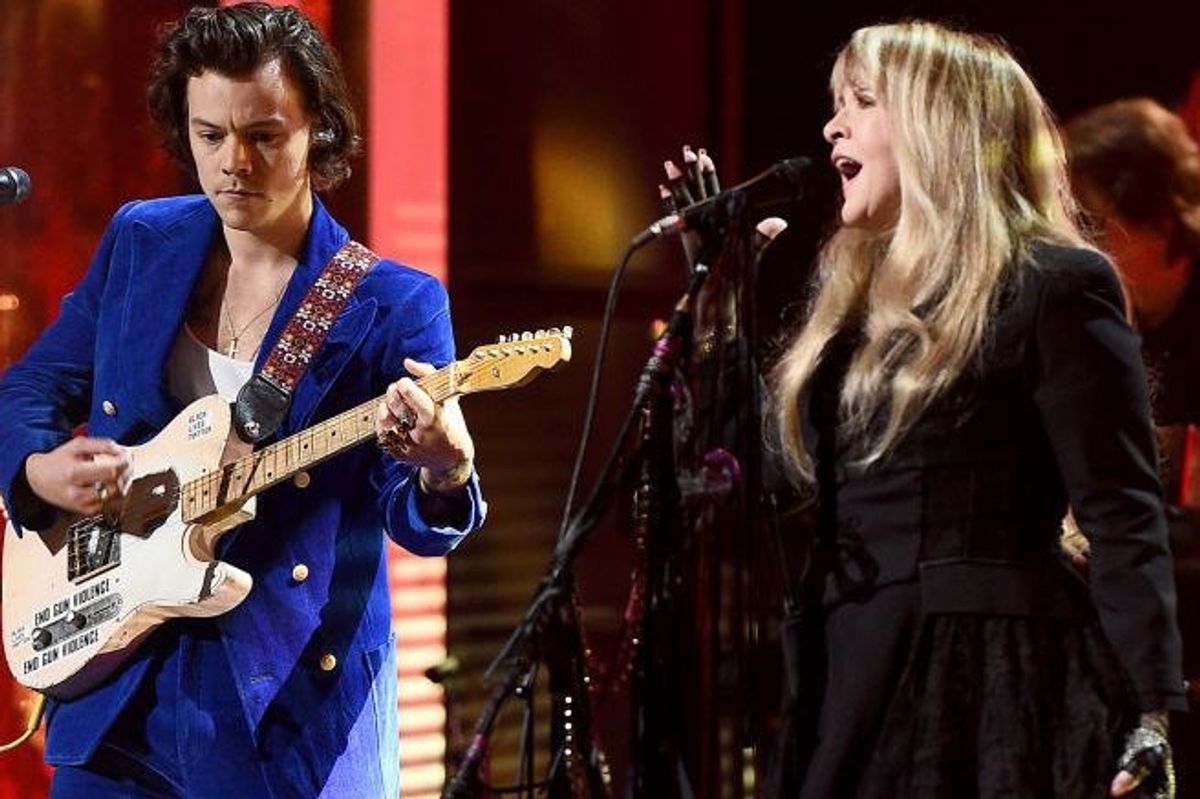 Stevie Nicks posted a sweet note on Twitter today, encouraging fans to stay strong during the COVID-19 pandemic.
https://t.co/qdw8WuZJ3G

— Stevie Nicks (@Stevie Nicks) 1584978789.0
In it, she gave Harry Styles possibly the best compliment imaginable. She compared his recent LP, Fine Line, to Rumours, the legendary and perpetually relevant Fleetwood Mac classic.
"I am getting all my paintings and drawing out - listening to music (mostly Harry Styles' "Fine Line") and being inspired by him to write some new songs and poetry. Way to go H - it is your Rumours..." she wrote, essentially confirming that Harry Styles is also a witch. Clearly, their friendship must be fueled by some secret esoteric knowledge, if not genuine magical abilities.
While calling Fine Line Harry's Rumours may be a bit of stretch—it's Rumours, after all, the most healing, bitter, glorious breakup album of all time—if Stevie said it, we have no choice but to agree. Styles' effervescent, psychedelic pop is sonically distinct from Rumours, but, on the other hand, songs like "She," "Falling," and "Cherry" definitely share some of the Fleetwood Mac classic's folky, slow-burning emotional resonance.
Nicks also gave fans some more general tips, writing them out in a way that resembles a spell. "My advice for all this free time and terrible news is - Just dance - This will pass - Love will find a way - It always does," she wrote in a spirally, witchy font.
This seems like as worthy an incantation as anything else that's being passed around these days (other than good old social distancing and mutual aid). During this uncertain time when many people are trapped in their homes, lots of us are seeking new rituals and old magic in order to make it through and grow into a new and more loving future. Nicks' spell, complete with loving, dancing, and some escapism via Styles' saccharine tunes, may be the quarantine potion we need.
Fine Line
Rumours (Deluxe Edition)
HARRY STYLES - Landslide ft Stevie Nicks live in Los Angeles (13/12/2019 - The Forum) www.youtube.com
Stevie Nicks, Harry Styles - Stop Draggin' My Heart Around (Rock & Roll Hall of Fame Induction 2019) www.youtube.com