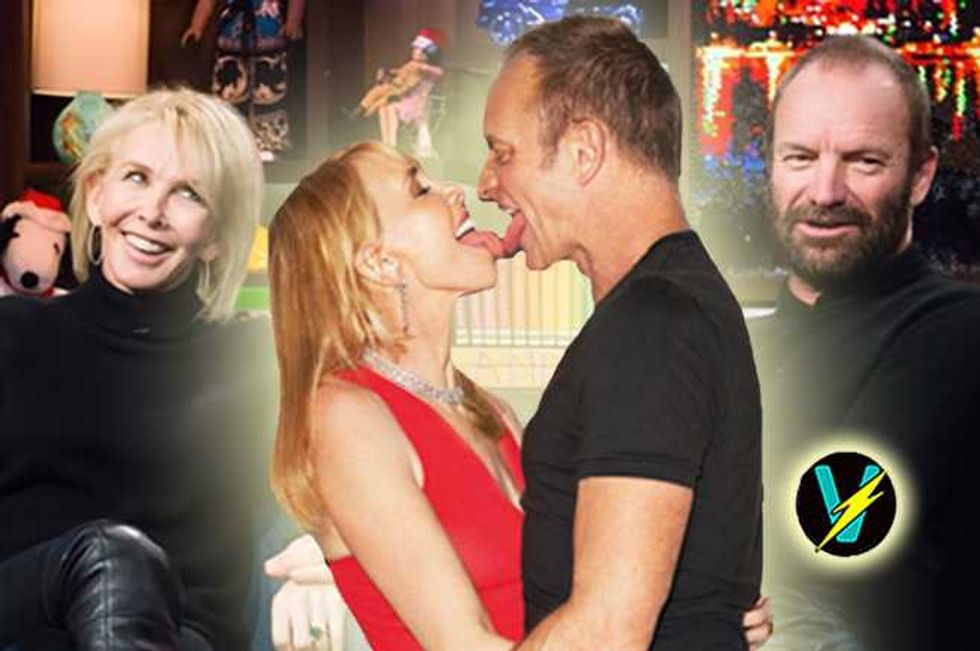 Sting and Trudie Styler are really keen for the world to know that after 30 years together they still have hot steamy sex, very frequently, and for very long periods at a time.
Andy Cohen prised open Trudie's "boudoir doors" on last night's Watch What Happens Live, leading to some very candid coital confessions—if you can stomach it, Popdust has details and video.
Wearing matching all black outfits, the 63-year-old musician and his 60-year-old actress/producer wife held hands throughout the interview, as they talked tantric sex, role play, and hinted at having enjoyed threesomes.
Ewwww. Just ewwwww.
In response to Cohen's question about how often the two have sex, Styler immediately fired back, "often"....and just in case anyone was left in any doubt, she reemphasized it by repeating her answer several times.
OK Trudie…. we got it…. you guys still go at it like two hot, horny teenagers…..
But, apparently, not before noon though—as, Trudie revealed, Sting is NOT a "morning man."
However, since he took on his current Broadway acting gig, the couple do have sex even MORE now (just in case you missed the earlier bit about how often they do the deed) as they like to incorporate a bit of role play into their bedroom antics, "He's a different character called Jackie now," Styler shared.
So, what else does the world need to know about their sex life?
Well, Sting's favorite position is "on top", Trudie likes to get down and dirty to his 2003 hit, Sacred Love, and it's pretty much a given that they've had threesomes—as they coyly chose to "plead the fifth" when asked if they've indulged with another party.
Oh, and last, but most definitely not least….yes, of course they still do tantra.
"Obviously!" Trudie exclaimed when Cohen asked the inevitable question. "You know after 25 years you have to keep that one going!"