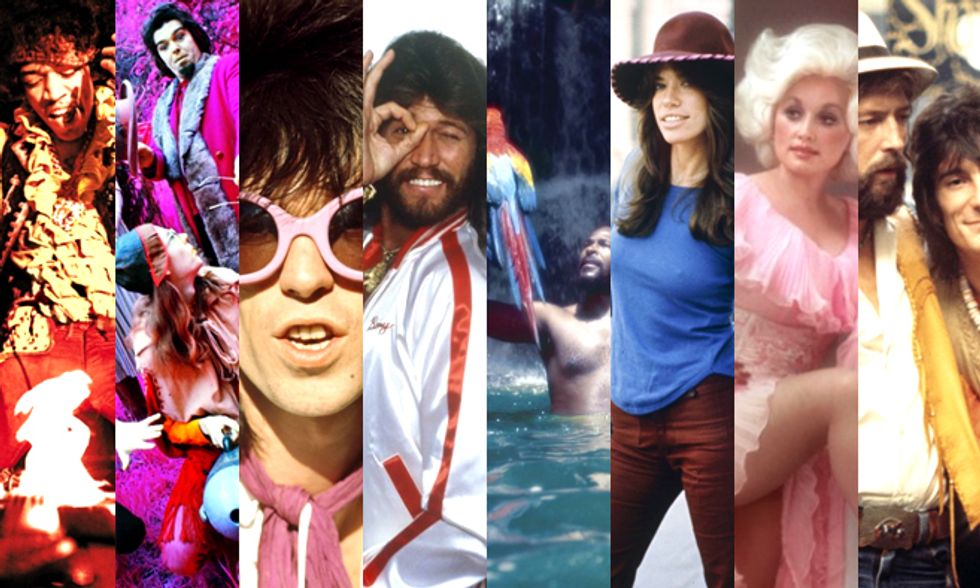 They say a picture is worth a thousand words—and that's clearly evident when it comes to the work of Ed Caraeff.
RockPaperPhoto has the definitive collection of the famed music photographer's amazing body of work along with the back story behind such iconic shots as Jimi Hendrix torching his guitar at the Monteray Pop Festival—Popdust brings you our favorite photos.
Caraeff was still in high school when he headed to the Monterey Pop Festival in the hope of capturing some photos he could sell to local newspapers.
He ended up far exceeding all his expectations and cementing his name as one of the leading music photographers of all time after a photo he took that day—of Hendrix lighting his guitar ablaze—became one of the most well-known images in pop music history and the only photo to appear twice on the cover of Rolling Stone.
"When Jimi stepped out on stage that night, I had never seen a photograph of him or heard any of his music before," Caraeff explains.
"Jimi closed his show by laying his guitar down, taking Ronson lighting fluid, a book of matches and lit a fire. This photograph is shot number
36A, the last shot on the roll. I could feel the heat of the guitar as he then proceeded to smash it on the stage less then six feet in front of me."
Throughout his esteemed career, Caraeff has displayed his knack for capturing the primal edge—and playful side—of his famous subjects time and time again.
But, don't take our word for it—see for yourself.
Jimi Hendrix burning his guitar—Ed Caraeff
Never before seen Marvin Gaye album cover for Here, My Dear—Ed Caraeff
Keith Richards poolside at his rented home in Bel Air, California—Ed Caraeff
Carly Simon walking to the studio to record No Secrets—Ed Caraeff
Double exposure image taken for Dolly Parton's album, Heartbreaker—Ed Caraeff
The Bee Gees—Ed Caraeff
Eric Clapton and Ronnie Wood at a Shangri-La studios recording session for Clapton's No Reason To Cry—Ed Caraeff
Captain Beefheart and his Magic Band at a recording session for Frank Zappa's Bizarre Records in Topanga Canyon—Ed Caraeff
To check out more photos from Caraeff's amazing body of work—and purchase your favorite shots—go to RockPaperPhoto