Top Stories
The synth-rock duo out of Salt Lake City eye a rather ambitious and mesmerizing release, setting the pace for 2017.
Aaron Hendrix
There is a tendency in modern pop and rock music to wallow in only what is skin-deep, a superficial understanding of the world and real human attributes. And when you, as the voyeuristic listener, aren't able to process your own feelings through the filtered, rose-colored glasses of someone else, you are left parched and malcontent and unable to sleep at night. The dreams, they haunt you to your core. But Salt Lake City's own Strange Familia relay the darkest wellsprings of their hearts on their self-titled debut, out this Friday (April 21). Through 11 varied and stylistically-ambitious tracks, the duo--Brecken Jones and Garret Williams--sharpen their pens on love and loss, in every 50 shade of grey, with the hope that you, too, can find some kind of closure. "It was only planned [to explore the 'quiet voice' of love] in the sense that we wanted to write something really honest. Love gets romanticized in pop culture, and I think that's a result of its simplification," shares Williams, who assisted in crafting one of 2017's most dynamic and intimate projects.
"It's such a complex emotion and some tend to focus on the black and white of it all and ignore the gray parts that don't fit the classic narrative. We're uncomfortable with not knowing, so we pretend or convince ourselves otherwise," he explains further--those complicated, arduous processes drench the entire LP, from the ghostly echo of "Ms. Badblood" to the starry mood of bookender "Odes." "Admittedly, It was, and still is, a struggle to open up and hold on to moments of insecurity and uncertainty, but it was part of the story we wanted to tell so we pushed ourselves into some uncomfortable places."
Formed in late 2014, Jones and Williams went through a minor shake-up early on. The band originally had four members, which included Stockton Berminghan and Mark Swink (who have both since moved on to other projects), but the shift impacted the music only minimally. "I think having only two minds streamlines the writing process and makes us quicker to decisions on arrangement and production. Although we are not against adding members in the future, the duo works for us at the moment," says Jones. "I think [Garret and I] have stayed together because we have an honest partnership going on. We are constantly solving problems and working together toward a common goal. We are both realists and don't give much attention to bullshit, so I think, in a way, bullshit keeps us together."
Williams add, "I've felt so fortunate to work with such a talented musician and producer. He's so creative, and he works harder than anyone else out there. With that being said, I'm not sure music is the only thing that keeps us together. We've grown a lot together and shared a lot of peaks and valleys inside and outside of music. We've bonded over our love science and philosophy every bit as much as we've bonded with music. You could say we're pretty chummy."
With their paired journeys, Strange Familia alight upon disco fever, Middle Eastern flair, biting rock of Muse, eclecticism of the Flaming Lips and the polished charm of CHVRCHES, while also doubling-down on their own dreamy signatures and scrawling out messages into the sands of time. "If I just sit here choking on excuses, I could use this to find another love," they parse on "The Wreck," one of their more subdued and atmospheric entries. Mixed by Scott Wiley, known for his work with Neon Trees, The Moth & The Flame and Fictionist, the record "was born out of a need to continue being creative as we had both just recently disbanded with prior projects," explains Jones. "Our general consensus seems to be about one and a half years until it all started to slot into place. We had about six or seven tracks worked out at that point--with another bunch of random song ideas floating around. We moved into a house in downtown Salt Lake City about 10 months ago, and that is when the tracks really started to get finished."
"The music that influences us the most isn't really dictated by genre as much as how well the artist can tell a story through their music. Whether it be their music and beats or their lyric and melody something has to create an image in your head," he continues. "Bringing our influences together into the album is a process of paying close attention to contrast. Choosing parts that compliment each other but don't necessarily sound like they come from the same era."
When it came to whittling down their stack of demos (45 in all), these 11 "allowed us to be diverse," they explain. Strange Familia flickers between the octane intensity of "Love/Drugs," the most Top 40-friendly of the bunch, the sheer propulsion of Flume-flecked style ("Cheap Perfume," "Motel") and the volatile singer-songwriter mold (as found with "The Wreck" and "Odes"). But despite the inspired encyclopedic range, their debut record is glued together with Jones and Williams' undeniably smooth voices and an unraveling of a story "with a beginning, middle and end" framed around breakups and breakthroughs.
As with what often happens when writing and recording an album on your own, the duo's personal transformation is even more important, in the grand scheme of things. "I really began to value patience and openness to different ideas writing this record. I can't tell you how many times Brecken would show me an alteration he'd made to a track that would leave me thinking to myself, 'Well, the song's ruined now,'" admits Williams about what the album taught him. "I began forcing myself to sit with new ideas for days. Nine times out of ten, I would come back in love with the new part and thanking him for being patient with my original passive-aggressive response to 'What do you think of this new part.'
Williams also learned a thing or two about romance. "Before the record, I wasn't sure that love was a real thing. Now, you could call me a believer, but it's very different from what I thought or wanted it to be. In some ways, the legend has outgrown itself; in others, it's beyond any expectation."
Meanwhile, Jones' perception of his job versus his work witnessed a profound metamorphosis. "I've learned that sometimes even the thing you love to do can be work. But it's a different kind of work. It's not a 'job.' It's more fulfilling than that. It's a way to teach yourself to be more accepting of the way things are in your life and to have better tools to change things if necessary; by getting off your phone and tracking that damn bass part," he says. "I've learned that love isn't just given or received, but taught and retaught constantly over the course of a relationship. It's always evolving and needs to be handled not by changing the people we love but by understanding and loving ourselves."

Strange Familia have a tour booked for June in support of their splashy debut, and the album's translation to the stage is a rather straight-forward one. "We're both multi-instrumentalists, so you'll see us playing guitars, bass, keys, and samples. I take care of most the lead vocal stuff with Brecken filling in harmonies. We have pre programmed drums and synth parts, as well," says Williams. Tour dates will be officially announced next month.
In addition to their own headlining venture, the duo are set to open for Cold War Kids and American Authors this Friday (April 21), a rather appropriate way to celebrate their debut.
Take a listen to Strange Familia's debut LP below, and check out their track-by-track commentary:
"Ms Badblood"

BJ: This song started with a simple guitar progression that I had been sitting on for a few months. It was slower and softer. Then, I wanted to try something a little funkier so I started plucking each of the notes in the chords and that became the guitar you hear in the intro. The slap bass in this song is one of my favorite recorded parts on the album. Disco is something I've always had a love for and I think that love found it's way into this track.
"Love/Drugs"
BJ: This one began a little slower and was more of a ballad in the beginning. I fell in love with the synth bass line and it changed everything. It just sort of made the song want to move. This is one of the more "guitar heavy" tracks on the album which caused me to spend more time on this track; dialing in tones and articulating guitar parts. I wanted this song to feel sort of out of control and about to fall off the rails, which ties into the feelings portrayed in the lyrics.
"Red Lipstick"
GW: I had been listening to Billy Joel's The Stranger LP when I was writing "Red Lipstick." The opening line is a bit of a nod to "She's Always a Woman." I won't dive deep into the lyrics on this one, but I will say it was a dream to have Chase Meier from Goldensuns work on this track with us. The first time Brecken and I ever played music together was in their practice space. We're huge fans of the band and to have them featured on Strange Familia is an honor.
"Lines"
BJ: There were several versions of this track before we finally felt right with the album version. The first one was a little more dramatic and soundtrack-ish. I wanted to give the song a darker mood and make it more of a dance song then a dark ballad. I started by completely re-doing the drums and bass, going more towards a Reggaeton beat with syncopated bass synth. That set the tone for all the other following parts. This song has a little bit of everything in it. A little bit of the Middle East in the intro and outro, a little funk and soul in the chorus, and some rock and roll in the verses.
GW: Yes, there is a "So, I Married an Axe Murderer" reference in this song.
"Breathe"
GW: This song took me the longest to write. I sat on this for close to 9 months. When Brecken gave me the first instrumental, it had such a positive and happy vibe. I was in love with it. When he came back with a second version, I was actually upset. He took a perfectly good beat and ruined it. A 180 degree turnaround only took me three or four days but once I caught the vision, I had no idea what I would do with it. All I knew is that I was obsessed with the instrumentation. I needed to do right by the song.
Brecken and I really got into mindfulness while writing Strange Familia. It helped us grow in music, love, and relationships, but mindfulness can be so difficult at times. Lyrically, the song is a representation of how mindfulness has been for me. I live so much of my life thinking about how good/bad things were or how good/bad things will be. It's hard to really focus on where we are and find satisfaction in this moment. When I'm able to find myself not living in the future or the past, it's so fulfilling but is too often fleeting. There's a dark hopefulness in this track I hope to be found.
"The Wreck"
GW: I wrote this song after a really wonderful girl broke up with me. She never really felt like I cared about her the way I needed to. I really wanted to prove her wrong and tried really hard to show her that I cared. I thought I had been in love before, but what I felt for her was so much stronger than anything I'd ever felt, and I couldn't believe she couldn't see it. I wrote this song during our time away from each other. I remember thinking, "This is the first real love song I've ever written." After a few months I somehow convinced her to try again. This time I was more present to how I was around her. Even though there was this loud voice or strong feeling telling me I loved her and would do anything to be with her, other things were constantly pulling me away from her.
In my alone time I started wondering if maybe she was right all along. I did a good job of ignoring those thoughts for a long time, but one day finally owned the fact that I couldn't care for her the way she needed. When we were getting close to finishing the record, I had the thought that this song wasn't really telling the whole story. I decided I would write something underneath the main vocal; a representation of the voice or ideas of uncertainty I'd push to the back of my mind.
"Cheap Perfume"
BJ: "Cheap Perfume" is a really dynamic song; using very few elements in the beginning of the track and then expanding to more of an epic in the bridge and outro. A lot of influences came from Michael Jackson and other dance hits from the 80's. I wanted to make a track that could tell a story but not keep the listener from dancing whilst contemplating.
"Motel"
Friends of ours have described Motel as our "metal" track. If Kanye West and the soundtrack to Stranger Things had a baby, that baby would be "Motel"s doppelgänger. Kanye-like kick drums and samples with Stranger Things synths. I wanted to make a scary song. Something that felt sort of like a f$%@ you track.
"Love is a Terrace"
GW: A few nights before we started working on the instrumentation of this song, I had been driving past an ex's house. It was a complicated break-up that left both of us feeling wronged but also regretful of our own mistakes. As I drove past her apartment at 10pm, I noticed her light was on. I'd never been the type to show up unannounced but something in me had to go and see how she was holding up. I felt so incredibly embarrassed when she opened the door standing in a beautiful pink dress. "She must be with someone or be heading out on the town," I thought. I apologized for intruding and turned to leave and she stopped me saying that she was home alone without plans. She had been struggling and just wanted to feel pretty again. She had put the dress on and had been laying in bed when I knocked. Maybe it's because the experience was so fresh in my mind, but these lyrics more than any others on this record, just flowed out of me.
"Sleep"
GW: We've been envious of bands who have the capacity to record live. We're very proud of what we've created but we both are drawn to imperfection, and in electronic based music, you don't get a lot of that. One night around 2am, we put up a single microphone and laid the delay on thick. Twenty minutes later, we had "Sleep." We were listening to a lot of classic country and loved how you could hear the instruments hard panned around a single microphone. You get a little bit of that in this song.
"Odes"
GW: This was the first song we wrote together. We'd both been pushing through a difficult year musically having strong projects unexpectedly dissolve. When the carpet gets pulled out from under you, I think you're forced to take a step back and reevaluate all of your relationships. You don't want to risk being blindsided again. The people who really love and care about you will be there, and you will be there for them. That's what "Odes" is about. It's about true love. It's not always romantic; only true.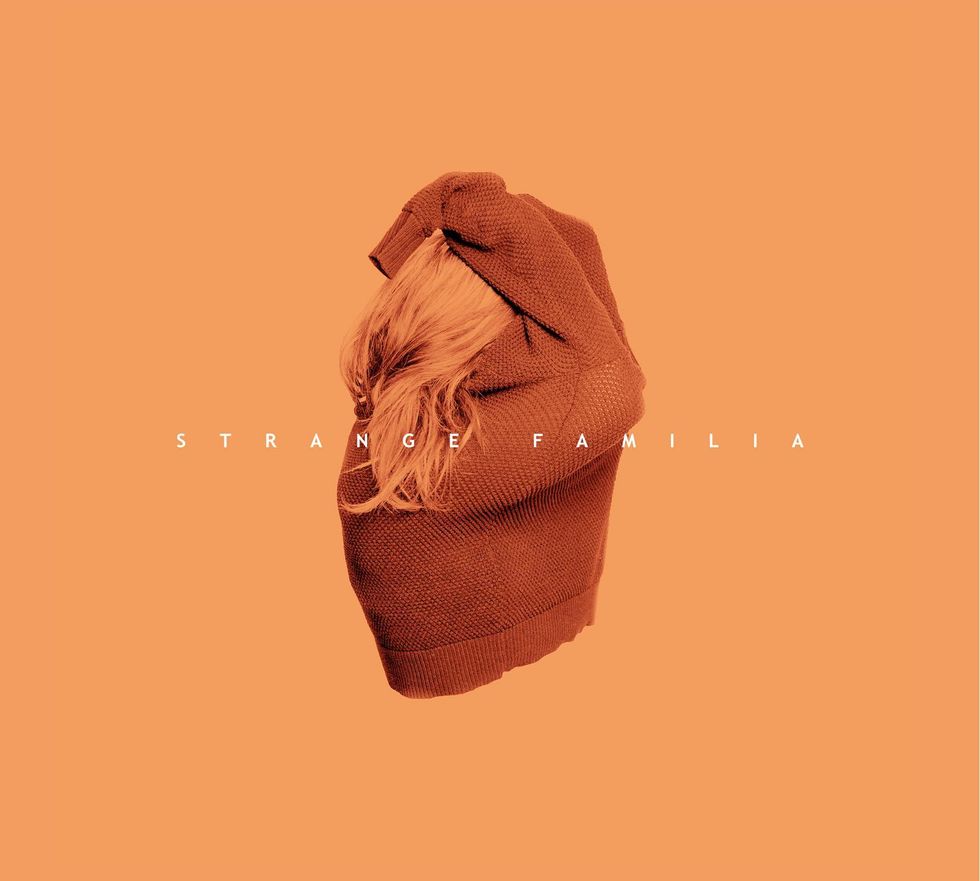 ---
READ MORE ABOUT MUSIC...
Review: Betty Who is some kind of wonderful at Webster Hall
Cherryade do what they gotta do to "Get By"
Interview: Hunter Hayes talks Heartgard Plus, healing power of dogs & new album
---