18th century writing doll nightmares generator—yeah, because this little fella isn't creepy at all.... oh no, no siree!
In the spirit of Friday 13th, we bring you video of a super creepy 18th century writing doll—nightmares disclaimer included.
The doll is actually an Automaton—one of three built by Swiss watchmaker Pierre Jaquet Droz.
He also made The Musician, an equally creepy female organ player who "breathes" as she tinkles the ivories.
And, The Draughtsman, a (not quite as creepy) boy who draws four different images and blows on his pencil (and no, that's not a euphemism)
But, it's The Writer that we fear will be working its way into our nightmares some time soon.
It's the eyes! The eyes that seemingly follow you wherever you go!
Shudder!
Creepiness aside—the Automaton is an absolutely amazing creation—especially when you consider it was made in 1774.
That's 242 years ago!
According to ThisIsColossal, The Writer is considered by many as the earliest example of a computer.
All of its mechanical workings had to be miniaturized and they sit completely inside the doll's body—there are 60,000 of them!
He's fully programmable  and writes up to 40 letters, using ink and a goose feather.
When he inks up the feather, he even gives his wrist a little shake to ensure there's no spillages.
But, then there's the eyes…..
Did we mention the eyes?!!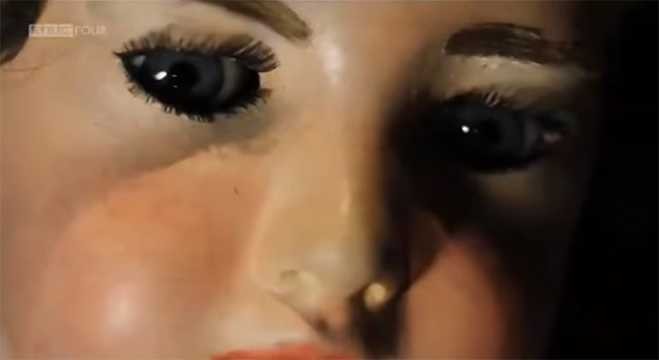 All three of Droz's Automaton creations are housed at Switzerland's Musee d'Art et Histoire, in Genova.
You can check out The Writer in action below.
Sweet dreams!
For more entertainment, world, music and pop culture updates and news, follow Max Page on Twitter
Is This The Dumbest Hostage EVER In The History Of Hijacks?
The Most Scandalous And Sexy TV Show Scenes In History
The Most Scandalous And Sexy Movie Scenes In History
18th century writing doll nightmares generator:
18th century writing doll nightmares generator
Stacey Dash Slams Patricia Arquette Oscars Speech 'Needs To Do Her History'
Kristen Stewart Makes History As First American Actress To Win César Award!
Archbishop Arrested On Pedophilia Charges, A First in Vatican History
UK Nightclub Makes Most Cringe-Inducing Promo Video In History
Basketball Body Art Blunders! The Most Disgusting Tattoos In NBA History
Drake Discusses His Dating History on Ellen
18th century writing doll nightmares generator