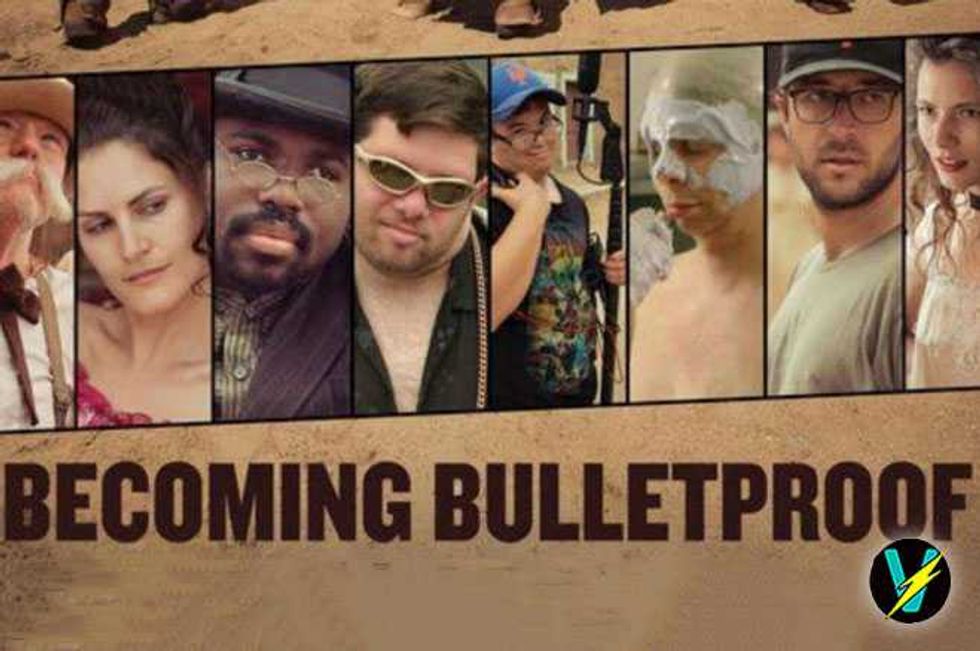 Morgan Spurlock becoming bulletproof
Super Size Me's Morgan Spurlock latest film, Becoming Bulletproof, is already generating Oscar buzz, but why? It was shot on a shoe- string budget, it doesn't feature any A-list stars, and there's not even any nudity!
Because Becoming Bulletproof has done something that I Am Sam, Forrest Gump, and What's Eating Gilbert Grape were too chicken shit to do. It stars actual disabled people—many are mentally challenged, some have cerebral palsy, another has Williams Syndrome, and a few are wheelchair bound, but it will have you rooting for the underdogs way more than Rocky, Rudy, or even The Karate Kid ever could.
People With Disabilities React To Mannequins In Their Likeness In Amazing Video
Every year, Vermont based non-profit Zeno Mountain Farm hosts an annual film camp for people of all abilities. This year's production transports us to the wild west—gunslingers, bar room brawls, and damsels in distress. It's a heartwarming documentary as well as a behind-the-scenes look into how movies are made. Acclaimed commercial director Michael Barnett makes you feel like you're part of the process and ensures that you fall in love with the actors as they trudge the road of happy destiny, and realize their big screen ambitions. Becoming Bulletproof is about "making an awesome movie, not a statement."
Taiwanese NGO Gives Disabled Men Hand Jobs
That makes us proud of what we do," said Spurlock. "Michael Barnett has made a film that's funny as well as inspiring—it's a one-of-a-kind gem."
Virgil Films will distribute Becoming Bulletproof across digital platforms in early 2016.
You'll laugh, you'll cry, this shit is so much better than Cats.
Ted Danson summed it up when he said;
"I will drag everyone I know to experience  this film, because I know they need to see it and they will thank me for it afterwards."
The Netherlands Pays For Disabled Citizens To Have Sex With Prostitutes!
Popdust fan and Zeno Mountain founder Will Halby tells us: "These people are my family and it's been such an honor to know them and now to work with them."
Wow!  Can't wait to see it? Watch the trailer here.....
Morgan Spurlock becoming bulletproof
Morgan Spurlock becoming bulletproof