Superorganism came out of nowhere. It was February when "something for your M.I.N.D." appeared on SoundCloud, caught the ears of anybody listening closely, and then disappeared without a trace. Half of the song remains hidden on YouTube by a quick-handed uploader. Then, last week, the group called Superorganism released their second song, "It's All Good," seemingly a reference to their sudden disappearance and another incredibly and weirdly fun song.
"Good morning," the song starts in a muffled, deep voice. "You are awake." The guitar and synths are off-speed or out of tune just enough to put the song in a strange world of its own, where the super catchy melody and wah-wah bass seem to be played by aliens wishing everyone a good day. Imagine a ship floating beyond the atmosphere, watching an aged VHS tape version of what's happening down here, and transmitting a three-word message: It's all good.
The song is a very 2017 jumble of samples, synths, distorted spoken word sampled from Tony Robbins and the bubbly vocals of the mysterious lead singer, Orono. Apparently, it was a legal issue with one of the samples in "something for your M.I.N.D." that made the track disappear. A message from the Superorganism singer said, "My 7 buddies from London and I cooked up this 100% legal tune (that won't be taken down this time)."
That's right. Orono is a 17-year-old living in Maine while the rest of the band behind two consecutive surprise hits collaborate from London. The band's social media bio reads: "WE ARE SUPERORGANISM, WE ARE IN MAINE/LONDON, WE ARE EIGHT AND MULTIPLYING, WE HAVE BECOME SENTIENT." Their secrecy and surprise have fueled the excitement over the two songs, only one of which is currently available to enjoy. Taking full advantage of the mystery, the band even claimed responsibility for a mysterious gathering of humpback whales:
They followed up with a downloadable whale file and the caption, "NOW UR THE OCEAN. HELP THE WHALE REACH ITS DESTINATION."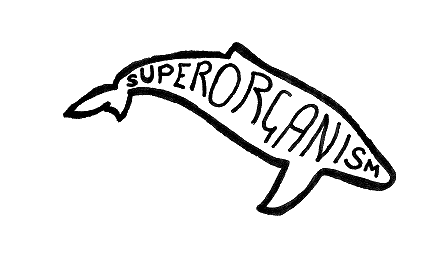 A week after "It's All Good," the song still begs to be played on repeat and the band remains largely anonymous.
Frank Ocean aired "something for your M.I.N.D." on his Beats 1 show, blonded RADIO, ep. 002. Matt WilkinsonWilkinson also played the song and featured "It's All Good" when he subbed in for Zane Lowe on 4/25.
The title of their first song might remind you of The Flaming Lips and "The W.A.N.D.," but Superorganism sound more like The Avalanches with their cacophony of samples and unapologetic sound manipulation. The stuttering in the chorus has no interest in acoustic replication: it's a totally synthetic effect that feels right at home amid the alien-sounding vocal layering and pitch effects.
Superorganism are an international band, operating entirely online, sending vocal tracks and instrumentals back and forth across the ocean. Still expanding, according to their bio, they could become one of the most sonically diverse and experimental groups now recording. Will they ever tour, or will they be a strictly studio group? Will they drop an album on the world soon, or is this a band that's past the album format, beyond the physical studio and as fluid as the ocean? For now (and until we hopefully hear a new and legal version of the amazing "something for your M.I.N.D."), lock their new song onto repeat and feel the inspiration flow through you.
READ MORE ABOUT MUSIC:
Kendrick takes aim at Drake's style on 'DAMN.'
Gorillaz declare their return with new tracks from giant upcoming album
Royal Blood drop first taste of new album with single, "Lights Out"