Top Stories
Meme economy reports: now is the time to invest in Gnarly Davidson!!!
Is Gnarly Davidson the next big meme?
Early reports this morning are saying that Syd Weiler's beloved Trash Doves have been co-opted by the alt-right. When Nazis take something as innocent as a spastic floppy bird drawing from us, what can we do? Why do Nazis have to ruin everything pure and good?
But as the meme sun sets on Trash Doves, it rises for Gnarly Davidson, which is the name of Cee Lo Green's new alternate persona that appeared last night's Grammy Awards. Gnarly Davidson – a portmanteau of Gnarls Barkley and Harley-Davidson – looks like a cross between C3PO and Zordon from Mighty Morphin' Power Rangers, and he's already sneaking into memes everywhere.
Here are some early Gnarly Davidson memes; we guarantee these won't be the last you see of him.
I edited Ceelo Green into the background of pics of Trump in his apartment and holy shit 😂😂😂 https://t.co/VurY7DMJ1w

— Jesse McLaren (@Jesse McLaren) 1486947516.0
Is Gnarly Davidson the next big meme? Early Google Trends reports have valued Gnarly Davidson slightly above Trash Doves, and while both are more popular than #SaltBae, neither seem anywhere close to "Howbow Dah." By the way, if you still haven't sold your #SaltBae stock, now is definitely the time.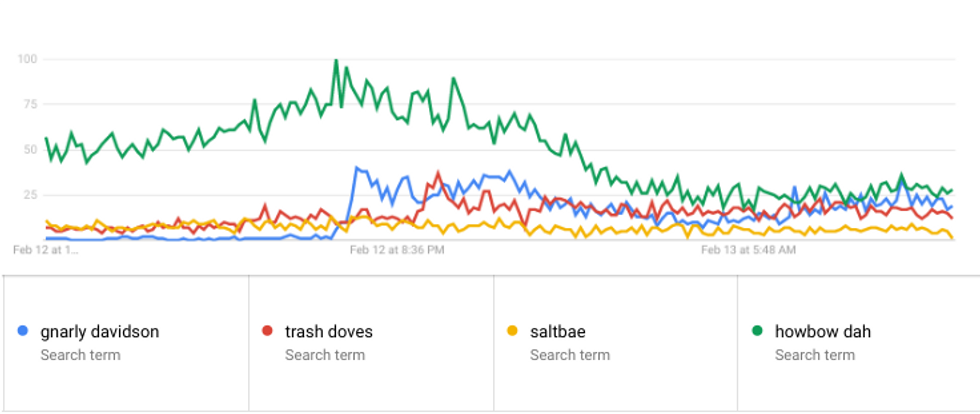 Meme interest report from Google Trends
What's your favorite Gnarly Davidson meme? Post it on our Facebook page or @popdust on Twitter!