Meet Sudan, the last male northern white rhino in existence—and since rhinos have been officially declared extinct—Sudan has more security than Barack Obama.
The 40-year-old is holed up at the Ol Pejeta Conservancy, with 2 female northern white rhinos, and conservationists everywhere are desperately hoping they will reproduce.
"The only reason his horn has been cut off is to deter poachers," Eldoie Sampere told The Dodo. "If the rhino has no horn, he is of no interest to poachers. This is purely to keep him safe."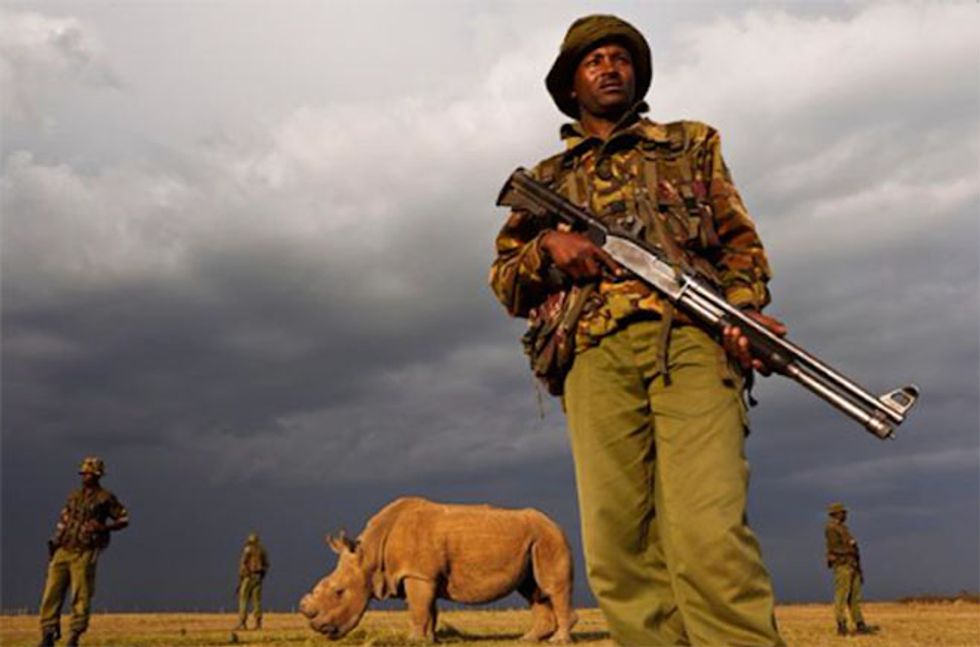 In 2009, Sudan and three other northern white rhinos were taken by the conservancy from a Czech Republic zoo in the hopes that they would make lots of baby rhinos.
Five years later, there are still no baby northern white rhinos and 34-year-old Suni, the only other male, died last October.
Rhino horns are a hot commodity in Asia and can net $30,000 a pound because they are believed to reduce fevers and seizures. In reality, they have no more medicinal value than biting your fingernails.
The Kenya Wildlife Service reported that 54 rhinos were killed by poachers in 2014, according to Inquisitr.com.
Simon Irungu, a ranger with the Ol Pejeta Conservancy, said armed patrols guarding Sudan often find themselves in the line of fire. To increase security, Sudan was also fitted with a radio transmitter.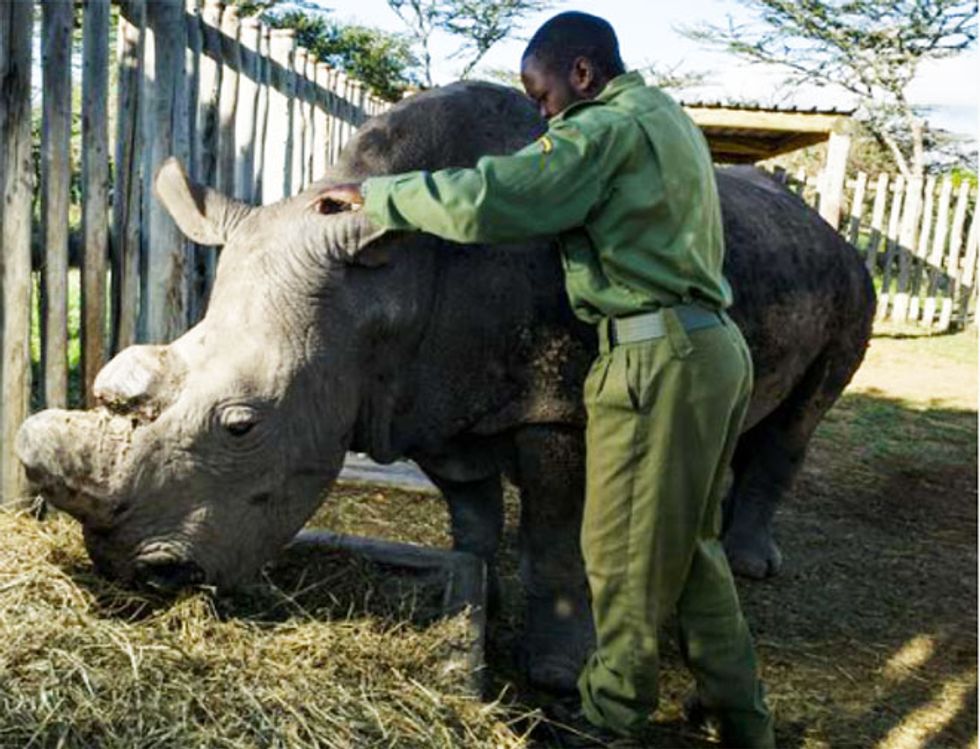 "With the rising demand for rhino horn and ivory, we face many poaching attempts and while we manage to counter a large number of these, we often risk our lives in our line of duty," Irungu said. "Our conservancy is among the least damaged by poaching now, thanks to a dedicated and united team and the support of our management and beyond."
The white rhino's lifespan is between 40-50 years, the black rhino's is 35-50.
The Ol Pejeta Conservancy, which is home to 23 white rhinos and 105 black rhinos, is hoping to raise funds to keep the rhino rangers, as well as the rhinos, alive and well.
"Please keep giving and spreading the word, our wildlife's future, depends on you," the conservancy states on its gofundme.com campaign.