FILM
The "John Wick" co-creator brings his action style to "The Fast and the Furious" franchise.
Universal
By the time Vin Diesel returned to the Fast and Furious franchise, the family had expanded with more dynamic, colorful characters.
After Dwayne Johnson joined the family in Fast Five and Jason Statham was revealed as the villain in Furious 7, Deckard Shaw (Statham) and Luke Hobbs (Johnson) reluctantly teamed up in a subplot in The Fate of the Furious. Now they're starring in their own movie: The Fast and the Furious Presents: Hobbs & Shaw.
Hobbs and Shaw are forced to team up to find Shaw's sister, Hattie (Vanessa Kirby). Hattie went missing after an attempt to secure a virus went south. She's now on the run from the CIA, MI-6, and Princeton (Idris Elba), who wants the virus for himself; fist fights, car chases, and insulting one-liners fly.
The movie's director, David Leitch, co-founded 87eleven Action Design and co-created and co-directed the first John Wick movie with Chad Stahelski. After that, he directed Atomic Blonde and Deadpool 2. Leitch spoke with Popdust about bringing his unique action style to Hobbs & Shaw, which hits theaters Friday, August 2.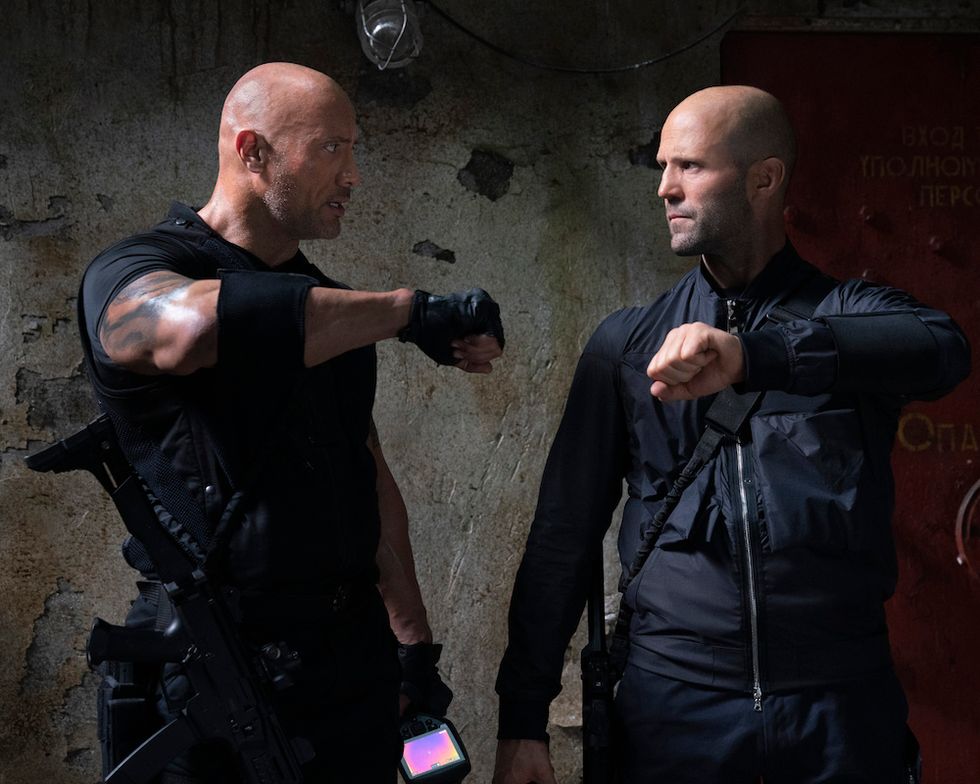 Hobbs (Dwayne Johnson) and Shaw (Jason Statham) ready for actionUniversal
In preparation for the movie, did you watch Dwayne and Jason's fights in all their movies, studying what they've done and thinking about what they might be able to do going forward?

David Leitch: Well, it was funny. I didn't need to study Jason necessarily, because I've worked with him so many times. He works out at 83eleven's stunt training facility that Chad Stahelski and I have. So he's always there preparing, whether it's for a movie that we're doing with him as action directors or even if he's just preparing with the stunt team; he always comes to our place. Dwayne's a little different. I did go back and watch the stuff he did in the Fast movies. I watched this old movie of his called The Rundown, which I remember had a really cool fight scene in the bar where he throws the record player. It was a really creative use of props and things. I just wanted to see where he'd been in terms of his action life in terms of fighting and then where we could take him.
When you intercut Hobbs and Shaw's separate fight scenes, do you actually have to choreograph those scenes together so they intercut well?
DL: You normally would. That was something that actually I got inspired with in post, the intercutting of it all. We were choreographing and adding some moves to be reflective of Shaw moves. So it would reveal brother and sister, chip off the old block kind of thing, like brother, like sister. So we were really specific that way, but in terms of editing and transitions and things, we really discovered that in editorial with Christopher Rouse (the editor).
I love how those intros imply that Hobbs works out constantly and Shaw just rolls out of bed looking like that, as if Jason Statham doesn't work out to maintain his physique.
DL: [Laughs] I think we just wanted to make sure that we can clearly define these guys. If they're both training and they're both working out, then what's the fun in that? I think seeing him go to the pub and seeing him be a little bit more James Bond-y in a way was a little more interesting than seeing Jason kick a heavy bag or do martial arts. That would've been the easy way, but I think we were really trying to define the character and not make them so alike at that moment.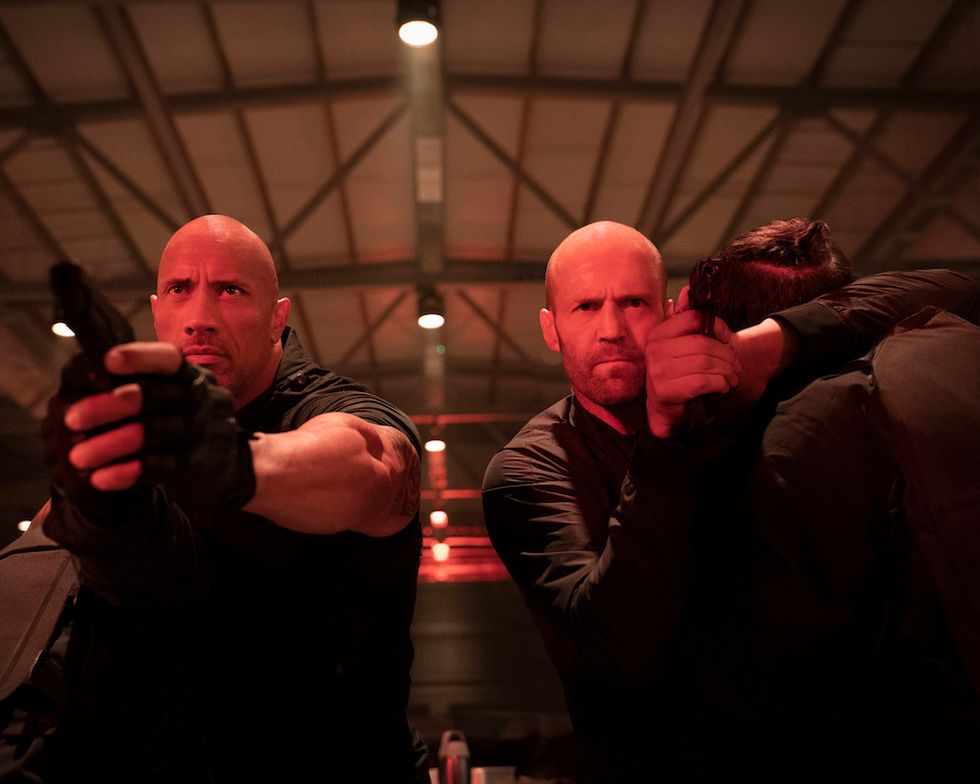 Guns aren't going to work against this villainUniversal
You've done a lot of gunfights before. Did it add an element that Princeton can actually deflect bullets?
DL: It did, and again, we were building this movie for a four quadrant PG-13 model. The gun scenes that I've done in the past with John Wick or Atomic Blonde or Deadpool, obviously that's rated R and you can have a different sort of consequential action. Here, I wanted to make sure that we could have action that told the story but was also frenetic but also allowed us to live in the PG-13 space. So we created our confines and constructs to allow us to do that.
Was editing the comedy banter similar to finding the rhythm of an action scene?
DL: It is. It's honestly very similar. I think there's a pace and kind of flow to performance, whether it's action or it's drama or it's comedy. So that's why editorial is so important, and that's why having a good editor who understands pace in all those ways, like Christopher Rouse. It's really important for a filmmaker to have that collaborator.
PD: The movie features a truck convoy vs. a helicopter, were you flying a real helicopter and driving real trucks?
DL: We were flying a real helicopter and driving real trucks. That's what I think people will not always understand or believe. This integration of visual effects and practical stunts was pretty amazing. I worked with a great visual effects supervisor named Dan Glass. It's always a challenge to me to get as much in camera as possible. So that Black Hawk in 90% of those shots is real. The backgrounds are real, and the trucks on the ground when they're driving are real. Then we're getting enhancements where you see they're being lifted off the ground and things like that. There are things that just couldn't be done safely in the time we had, so then you add visual effects to do it. It was a really great collaboration.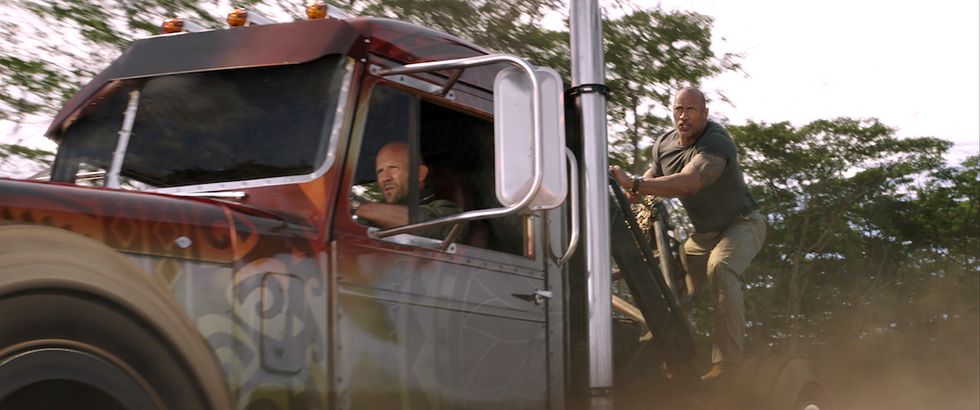 Don't try this at home!Universal
So I'm assuming the chain between the helicopter and the trucks was CGI?

DL: The chain, yes, was CGI and in that respect, when the Peterbilt is towing the helicopter, it's all just great choreography between the helicopter pilot of the Black Hawk with my driver of the Peterbilt, Jeremy Fry. And then Fred North is the guy in the helicopter. He's an incredible, prolific helicopter pilot who was also our aerial coordinator. He did all the stuff between the Black Hawk and the cars.
Did I hear a Transformers sound effect in that scene?
DL: Everybody asks me that. No, not to my knowledge. It certainly wasn't trying to be in homage or anything. I think there might be some crossover in terms of the scale of those movies and what we were trying to achieve so the sounds can end up similar.
That might just be what a Black Hawk really sounds like.
DL: The sound team was exhaustive in trying to get real sounds. So Mark Stoeckinger, who's done all the sound for me since John Wick, he's an Academy Award-winning sound designer. They recorded the Black Hawk. They're real pros, getting their hands dirty and getting that sound.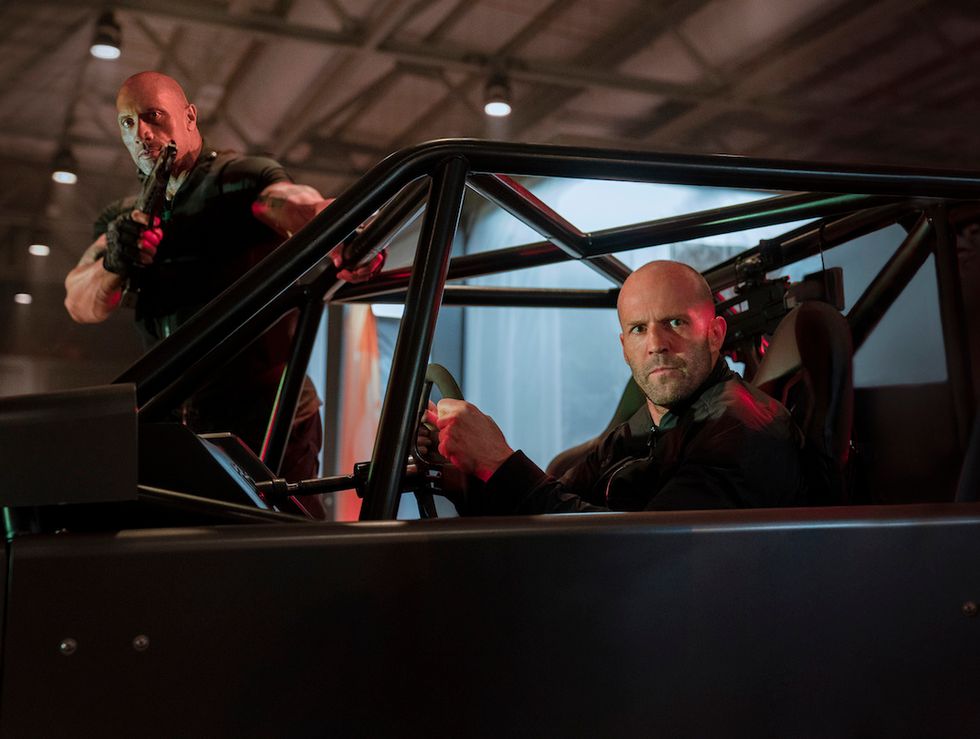 You see, they are not only furious. They are also fast.Universal
Which scenes in Hobbs & Shaw pushed you the most?

DL: I think the vehicular action was most challenging. Generally, it's more logistically challenging. Locking down 10 blocks of a London street is really impossible. You have to be more creative in the stunt logistics. You ask, "How do I tell this story?" We're shooting some of the London chase in Glasgow, so we can have more control. Maybe you have more elements on blue screen to keep you in rigs with your actors and do dynamic movements that you couldn't really do with them on the street. It's just a bigger puzzle and a lot more departments who need a lot more resources.
This is the first Fast and Furious Presents spinoff. Did you have the freedom to give it its own style?
DL: Yeah, there were no mandates on me. In fact, I was encouraged by the studio to make sure that it was my own. They were like, "We're hiring you because we want you as a filmmaker. We want you to set the palette of this spinoff moving forward. They were incredibly supportive. Donna Langley and Peter Cramer at the studio were like, "We want a David Leitch movie. We appreciate you as a filmmaker." It was great.
You definitely made it your own. Were there any things from the Fast movies that did appeal to you that you did want to include?
DL: Oh, I think there were two really important things from the Fast movies that I wanted. Well, three things actually. Number one was characters. Chris Morgan has done such a great job of telling a family narrative that's lasted through the whole season. We wanted to make sure we were true to that and we had our own version of that. And then I wanted the big spectacle set pieces that everybody knows and loves that push the boundaries of physics, but we don't care because we're kind of in this wish fulfillment universe. I wanted to do all those things.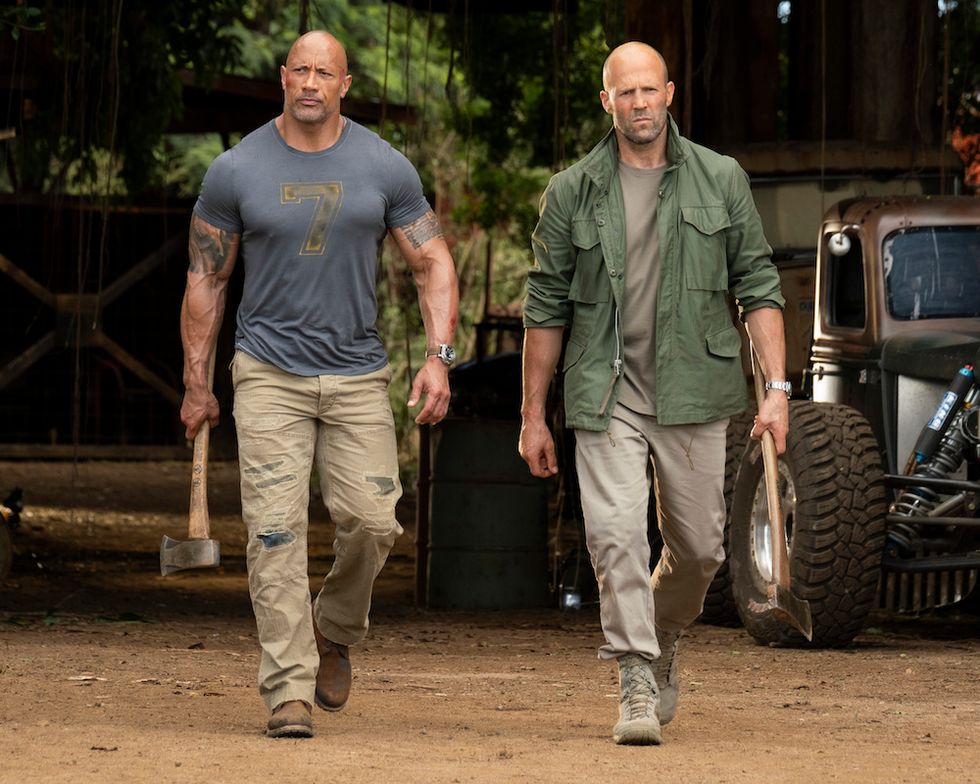 Hobbs (Dwayne Johnson) and Shaw (Jason Statham) only walk in slow motion.Universal
You, Chad, and Keanu are developing a John Wick TV series for Starz, but now there's already John Wick 4 on the books for 2021. Is the TV series taking longer than you expected?

DL: I think it has and, quite frankly, I haven't been as hands on with it as Chad has. So we're both involved in it as executive producers. He's been sort of shepherding the whole John Wick world. I think we just want to get it right, and it's hard when you're making a movie and you're so in it; there are so many moving pieces. But everyone's really excited about it, and it's such a rich world. I have no doubt that we're going to make it happen.
How different will an LA branch of The Continental be than what we've seen in New York in the films?
DL: Well, in terms of building out that world, it's so fun because L.A. obviously has many different aspects. The Hollywood angle is obviously the most obvious one. I'm looking forward to what the showrunners and Chad come up with and helping in any way I can.
Have you watched the John Wick series go on as a proud father?
DL: Yeah, and a proud brother. I think Chad has taken it and brought it to places that I wouldn't have. I think when we made the decision to do other things and I wanted to do Atomic Blonde and he stayed in the John Wick world, that franchise became more him and that's great. I get to put my imprints on other things like Atomic Blonde and the Deadpool world. For us, it's been a really great experience and we'll continue to collaborate on our platforms and even our projects.