Rising Star
The Emmy-winning Mexican artist talks about his surreal work.
Dionisio Ceballos, 2016
Derbby's featured artist of the week is Dionisio Ceballos.
Ceballos was born in Mexico City in the 70s, and the multidisciplinary artist has gained renown for his bright, abstract murals. His work draws inspiration from everywhere, from the work of the bright colors of his culture to the literary genre of magical realism. He's also gained fame for creating reproductions of iconic Mexican surrealist Frida Kahlo's for the eponymous Academy Award-winning film starring Salma Hayek, and has even won an Emmy for his work as an animator. All this said, Ceballos is humble, unapologetically invested in his work and, to quote him, "weird" about accolades.
We caught up with Ceballos to ask him about his collaboration with Derbby, his inspirations, and how working deeply with Kahlo and her process has impacted his own work.
How did your collaboration with Derbby come about?
The collaboration came from my teenager daughter. She met Tim [Farley, co-founder of Derbby] while working at a juice bar and shared with him that I was a professional artist.
What was it like working on Frida? I saw that private collectors still reach out to you sometimes for your reproductions; has diving this deeply into such an iconic artist's style influenced your own work?
Frida's work has influenced my work in a very specific technical way. While I was studying her life and work closely during the production of the film, we had a special permission to visit museums in Mexico City where Frida's exhibited permanently. We also had the opportunity to watch her work very, very closely. From those days, I took on some of the way she prepare her wood and masonite painting. She used rabbit glue, casein, carbonate calcium, and plaster of Paris. I use this old school mix to prepare my contemporary work—by using the same traditional plaster. In that way I invoke her power.
You're well known for your murals, which you've mentioned channel Rufino Tamayo and Pedro Coronel; after working so much on the Kahlo reproductions, did you ever look into her husband Diego Rivera's work as a muralist?
I was very impressed with Rivera's work when I was a little kid. Tamayo and Coronel have a more abstract side to them, which in my more important formative years had a solid stamp on my style and education.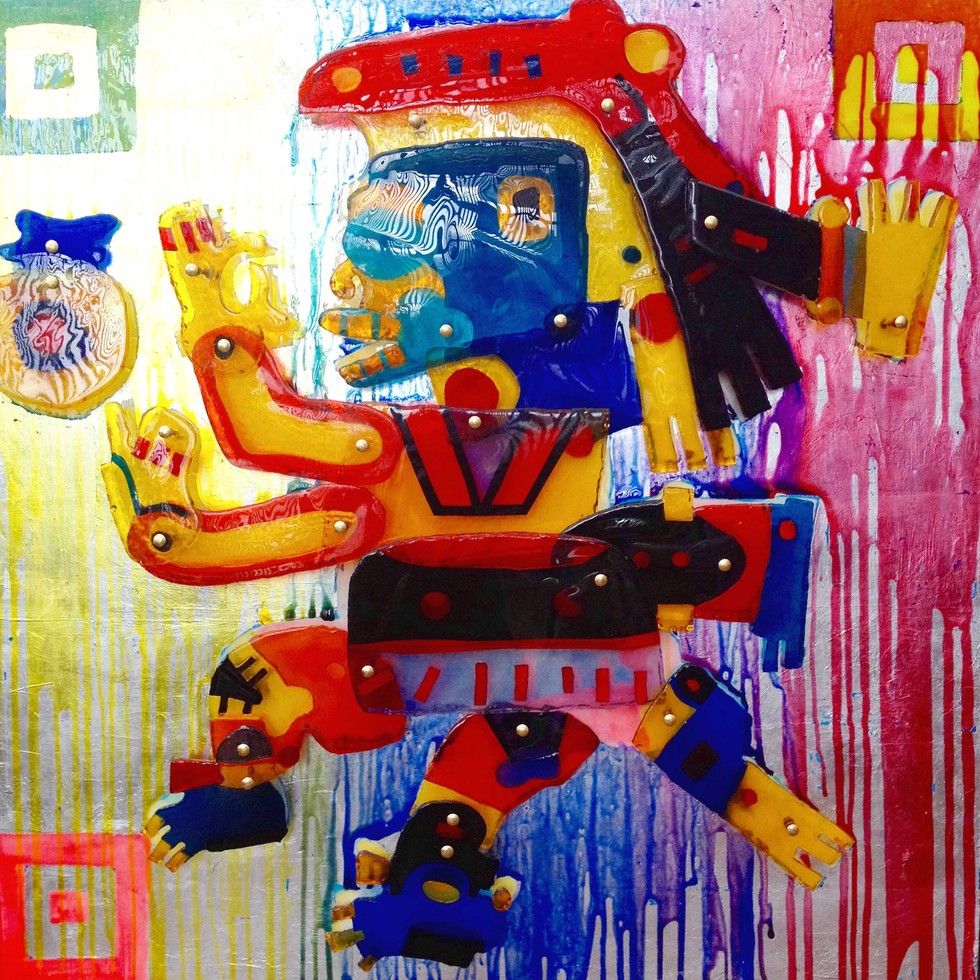 Códice de Mexicanidad (2015)
What did you win an Emmy for and what did that recognition do for your career?
Awards are weird for me. The works that I have been most proud off, most invested in, I've gotten nothing—often, they are not given any attention. Then the opposite happens. I received an Emmy for my work as a designer and animator for a documentary on green technologies, The Golden Age of Green. I was not expecting it, honestly; I didn't even attend the ceremony. Nevertheless, I take it as a validation from life. You never know how the energy comes back to you. It helps to let people know that I have been dedicated to my craft so deeply that these kind of things have happened.
Crónica del Elefante II is part of a series that you describe as evoking Magical Realism. How do you transmit this literary form onto the canvas?
Magical Realism has influenced my aesthetic appreciation of life. Indeed a more literary style, however the images of my painting are all from imaginary worlds within. Literature paints images that sometimes you can't find in the visual arts. The possibility of translating from literature keeps the mind engaged at a different level. It's a powerful relationship for many artists, and I love when a book can trigger different worlds within for different people—it's visual artist ping-pong with visual writers.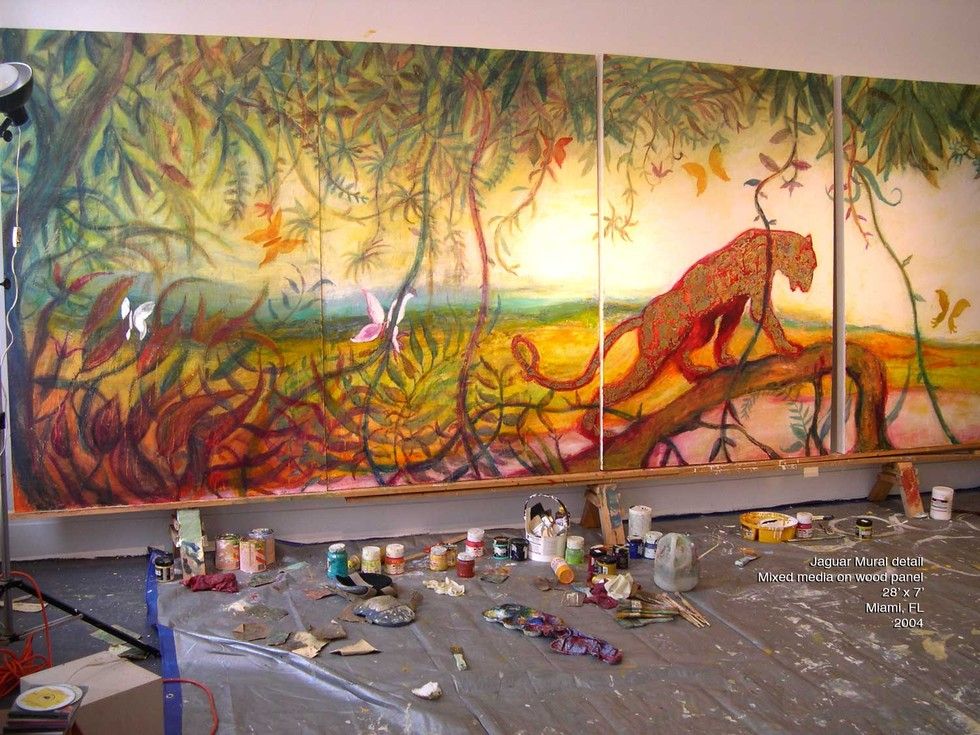 Jaguar Mural, Miami (2004)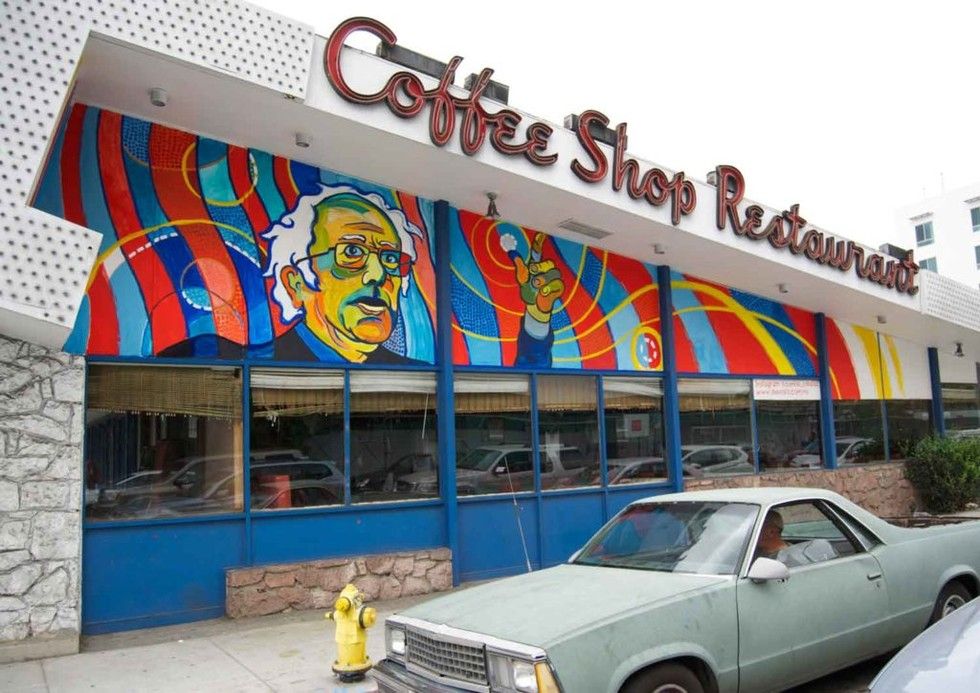 Bernie Sanders Mural, Los Angeles (2016)
Who is your favorite contemporary artist?
Tough question. If I have to respond to that, I'd have to say [Mark] Rothko and Lucian Freud.
Are you working on any new projects?
Yes, I am working on a new series of erotic works. Very explicit material. So much, that I might try a different identity to put it out and not confuse my loyal collectors.