FILM
Review of the Ted Bundy biopic "Extremely Wicked, Incredibly Evil and Vile" questions how emotional music cues and close-ups of Lily Collins and Zac Efron gazing into each other's eyes add to true crime canon.
America has a timeless obsession with Ted Bundy and his legacy of being too good-looking to be evil while committing crimes too deviant to believe.
As pop culture's favorite serial killer, he's the tired subject of countless documentaries, but this week director Joe Berlinger (Paradise Lost, Whitey: United States of America V. James J. Bulger) added to his repertoire of profiling controversial figures with Netflix's Extremely Wicked, Shockingly Evil and Vile. It's Berlinger's follow-up to his true crime docuseries about the serial killer, Netflix's Confessions with a Killer: The Ted Bundy Tapes, which was released earlier this year. In this newest dramatization, Zac Efron makes his much-awaited debut as the gregarious and manipulative Bundy, opposite Lily Collins as his long-time girlfriend, Liz. An emotionally intelligent and nuanced film, Extremely Wicked forgoes gruesome re-enactments of Bundy's crimes for a character study of Liz's love for the man whom she slowly recognizes as a monster.
Efron surprises with a mature and self-aware performance that highlights the psychological instability that lurked behind Bundy's Hollywood smile. But the film is heavily structured by Liz's memories of Bundy, from love at first sight in a Seattle bar in 1969 to viewing his televised murder trial (the first in history) ten years later. In fact, the film is based on Elizabeth Kendall's memoir about her conflicted relationship with the serial killer, The Phantom Prince: My Life with Ted Bundy. Published in 1981 (8 years prior to Bundy's execution in Florida State prison), the memoir has since gone out of print at the real Liz's request. (Kendall is a pseudonym meant to protect her privacy). Berlinger described working with her to Esquire: "She does not want the spotlight...She doesn't want to participate in the press. She wants to remain anonymous. She trusted us with her story. She agreed to do the movie, obviously, so it's not being done without her cooperation. I think she's very ambivalent because she doesn't want attention to herself today."
If your primary interest is in the true events depicted in the film, then its focus on Liz's perspective can feel crippling. Michael Werwie's screenplay is full of flashbacks to the burgeoning romance between Liz, a single mother working as a secretary, and the man she knows as Ted, a charming law student and attentive surrogate father to her young daughter, Molly. Emotional music cues and close-ups of Collins and Efron gazing into each other's eyes are new additions to the strange canon of Ted Bundy.
Extremely Wicked replicates the veil of memory with archival footage of breaking news reports on Bundy's crimes, the details of which have become painfully familiar. Bundy was sentenced to death for the 1978 murders of several Chi Omega sorority members, but he would later confess to over 30 cases of murder, rape, necrophilia, and dismemberment (though the number of victims is thought to be much higher). If such crimes can ever be tastefully transferred to the silver screen, then Extremely Wicked does so with meaningfully spare descriptions of the murders and only one graphic crime scene photo. Jim Parsons plays Florida Prosecutor Larry Simpson, who uses the details of the crimes to emphasize their depravity in his opening statement to the court. John Malkovich plays Judge Edward D. Cowart, who displayed a bizarre fondness for Bundy in response to the man's manic rants as his own lead defense counsel.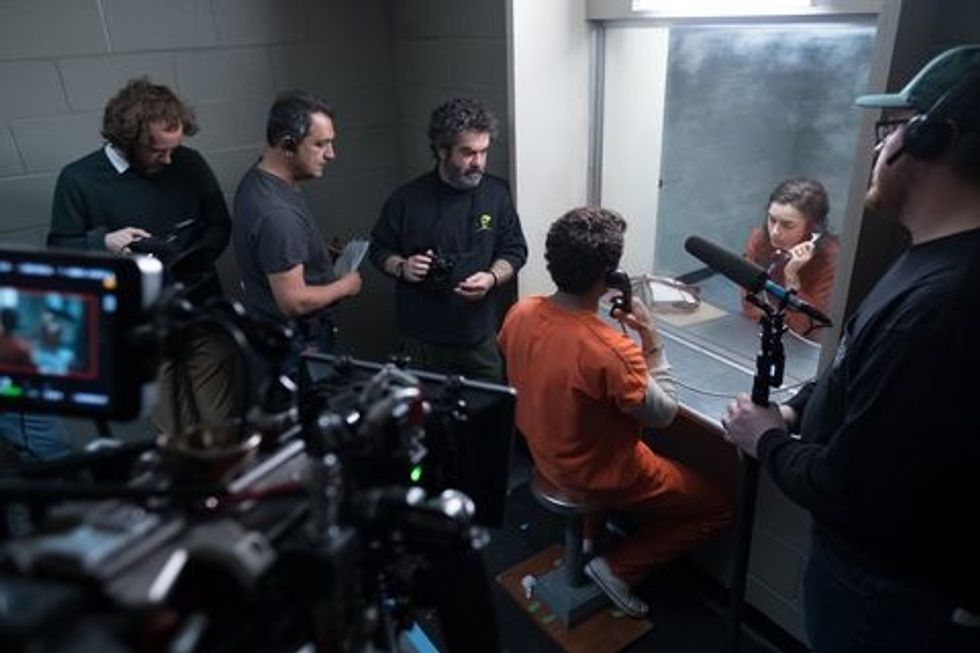 Esquire
Amidst the film's excellent design and immersive world-building, the film's supporting characters are pillars of rationality that ground the entire film. Parsons' presence as a serious prosecutor who's taken off guard by the circus of Bundy's trial makes him a much-needed, relatable anchor. Haley Joel Osment plays Liz's concerned co-worker who supports her through the stress of Bundy's trial and later becomes her husband. As for Malkovich, he utters the titular phrase with dire finality. Malkovich delivers Judge Cowart's other outrageous remarks with deadpan conviction. Aside from "Take care of yourself, young man," the judge said to Bundy after conveying the guilty verdict. "I say that to you sincerely; take care of yourself, please. It's a tragedy for this court to see such a total waste, I think, of humanity that I have experienced in this court." He continues, "You're a bright young man. You'd have made a good lawyer. I'd have loved to have you practice in front of me. But you went another way, partner."

At worst, the film focuses on Liz at the expense of creating a more three-dimensional cast. Parsons' and Osment's characters aren't given enough screen-time or attention to developing their fascinating, integral roles in Ted Bundy's trial and Liz's experience of it. Osment supplies a calming presence and a cathartic voice of reason, helping Liz to recover from her guilt-induced alcoholism. In fact, he ushers in what is effectively the climax of the film: Liz reveals that, despite her apparent devotion to Ted, she was the anonymous tipster who gave his name to the police. His resemblance to the police sketch published in the paper was too close for her to ignore.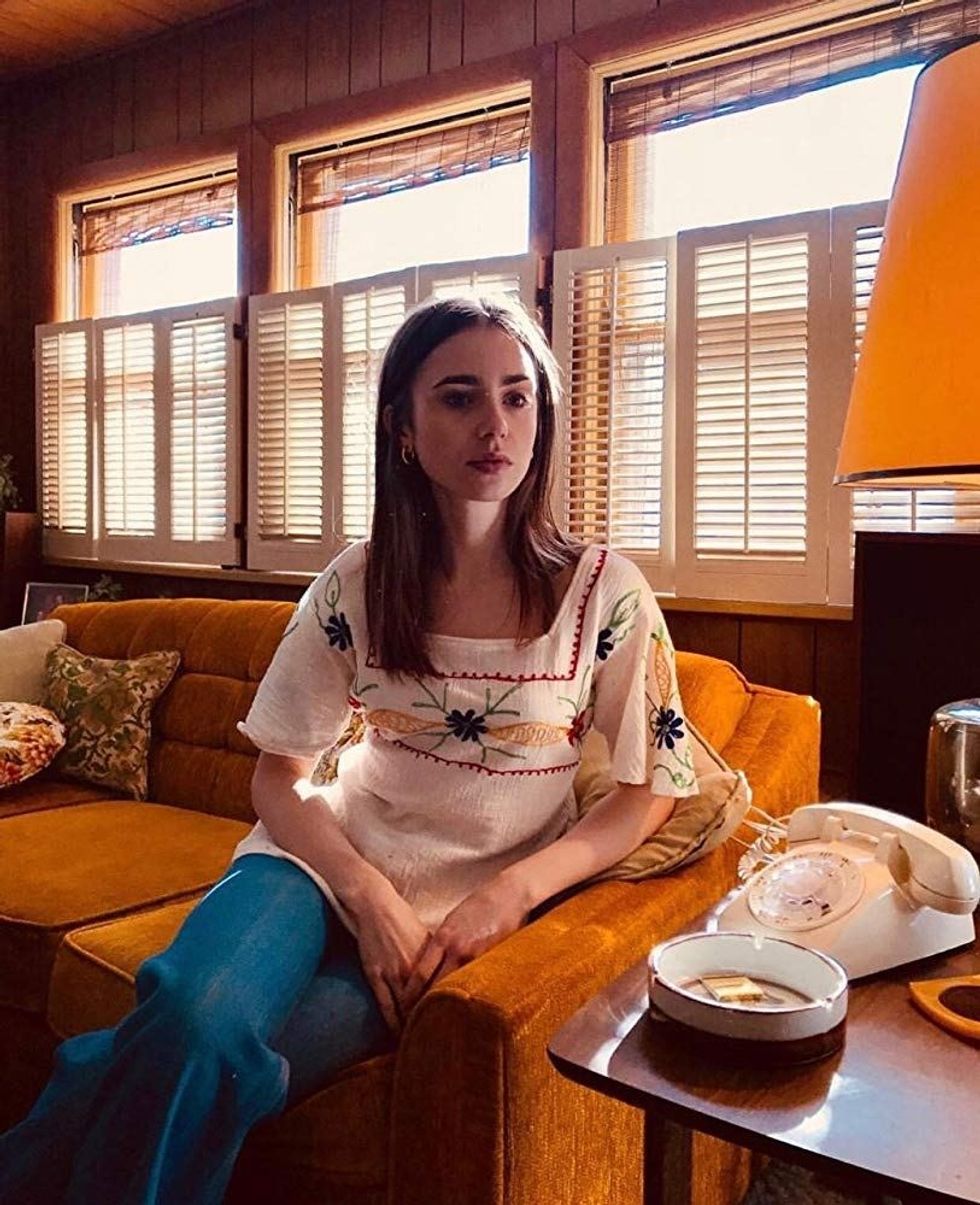 Lily Collins/Stylecaster
In that vein, if Extremely Wicked errs in its treatment of the topic, then it's through its light-handed depictions of Bundy's eeriness. The real man was not as relentlessly charming and infallibly reasonable as the version depicted by Efron, whose facade is only challenged in one lazy scene when a dog barks at him at the pound. In Elizabeth Kendall's memoir, she recounts Bundy habit of stealing and how he once threatened her, "If you tell anyone, I'll break your fucking neck." He even confessed to once trying to kill her in her sleep by filling their apartment with smoke and blocking the door. Ultimately, the real Liz was much more aware of Bundy's dark side than Collins' unassuming character suggests. When she spoke to Bundy in prison, he said, "There is something the matter with me … I just couldn't contain it. I fought it for a long, long time … it was just too strong."

Extremely Wicked takes for granted the disturbed psychopathy of Ted Bundy and instead fleshes out the details of his manipulations. Collins is all the more sympathetic because of Efron's convincing earnestness. The movie depicts the man she fell in love with, not America's favorite serial killer, from Ted urging Liz to look out the window to see the car that's been following him for days ("either I'm going crazy, or I'm being set up," he says) to downplaying his murder confessions as "bullshit" he's just feeding detectives to earn more time to prove his innocence. According to Berlinger, the film is meant to allow the viewer to "really experience the charm and smarts and cleverness of this guy so you could understand how somebody so charming and attractive and smart eluded capture for so long and eluded detection by those closest to him."
By the time Liz learns the truth, we understand the crushing weight it carries. Even if you're familiar with the twisted myth of Ted Bundy before watching the film, Extremely Wicked, Shockingly Evil and Vile forces you to experience it.
---
Meg Hanson is a Brooklyn-based writer, teacher, and jaywalker. Find Meg at her website and on Twitter @megsoyung.

---
POP⚡DUST | Read More...
The Fetishization of"Space Jam": How Lola Bunny Shaped a Generation
Why "The Act" Is Unsatisfying: The Contradictions of True Crime Dramas
Why Series Finales Hurt: When Your Favorite TV Shows Break Up With You