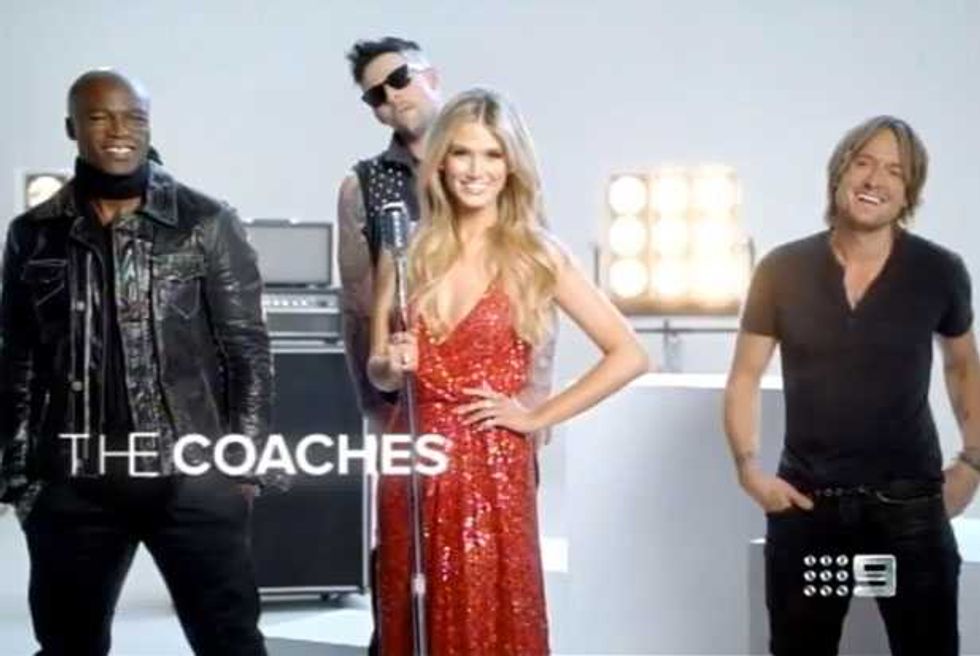 Did you know that there was going to be an Australian version of The Voice? Hardly surprising, since just about every successful music competition franchise eventually gets ripped off by about 50 other countries internationally, and truthfully speaking, we stole it from Holland anyway. But judging from the trailer for the show, at least one element from the Voice Down Under seems a direct rip-off of our deal—the formula for the four coaches.
Let's see if this sounds familiar: One of them is an established country star, one of them is a bald R&B singer who's crossed over to a number of other genres, one of them is a female pop star who's been in the industry since she was a teenager, and one of them is a lead singer of a rock band who spent a lot of time on Top 40 radio. If you're currently picturing Blake, Cee Lo, Xtina and Adam, you'd be exactly right—except you'd be one level too high in terms of fame and relevance. Instead, swap those names out for Keith Urban, Seal, Delta Goodrem, and Joel Maddon of Good Charlotte. Now you're on the trolley.
Not that we doubt the professional bonafides of any of these guys—well, except for Joel Maddon maybe, what the hell does that guy know about singing?—but damn, is it kind of hilarious how slightly worse all four coaches are than their American analogues. When they have their big All Four Coaches Sing intro (a la "Crazy" from last year), what song from one of the four coaches are they gonna go with? "Kiss From a Rose"? "Lifestyles of the Rich and Famous"? "Tonight I Wanna Cry"? Some Delta Goodrem song that we've never heard of? We wait with baited breath for our readers from the Commonwealth to clue us in.
[The Boot]