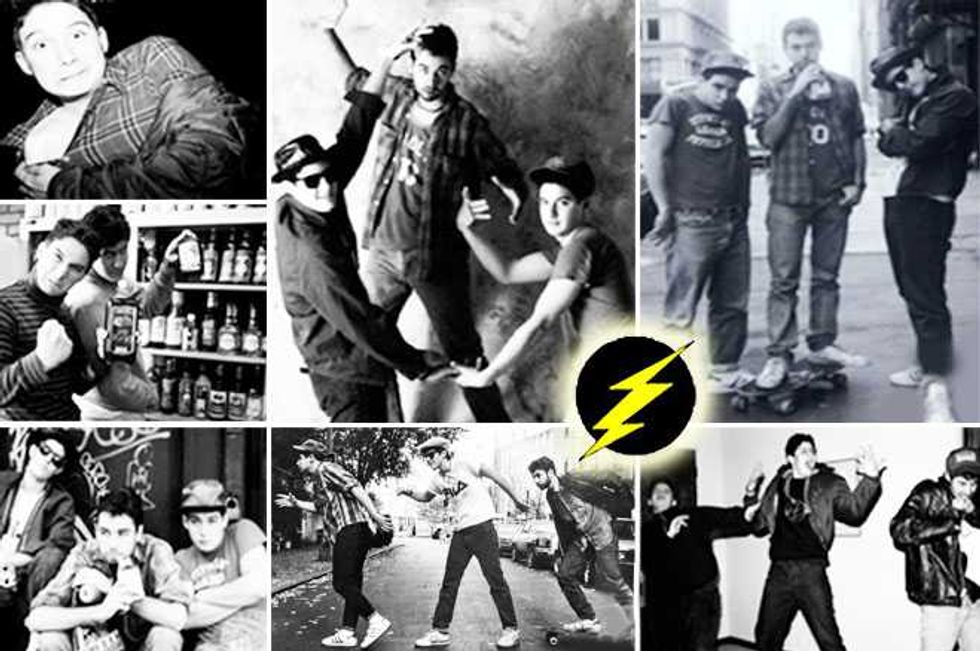 Take a stroll down music memory lane, courtesy of Popdust's iconic Beastie Boys photo gallery.
Any old school hip-hop fan worth their salt would die to have these pics in their collection—and now they can—thanks to RockPaperPhoto, the internet's premiere source for pop culture fine art prints.
The Website's awesome Beastie Boys collection comes courtesy of two superstar snappers who had a chance to get up close and personal with  Mike D, Adam Horovitz and Adam Yauch when the three musicians were just kicking off their careers.
Sunny Bak—who now splits her time between New York and California—was so close to the rappers that, back in 1986 they asked her to shoot the cover for their first album, Licensed to Ill.
It was a match made in music photography heaven and Bak went on to shoot the group's gatefold image, watch them record tracks at Chung King Studio in Chinatown, and even go on tour with them.
She says,"They were a lot of fun and made for some interesting photography."
So much fun and interesting photography in fact, that Sunny soon racked up an enviable collection of performance and candid shots of the trio, all of which are featured in her Beastie Bak exhibit that's currently showcasing in Miami, Florida.
The esteemed photographer spoke to SouthFlorida.com  about her time spent working with the rap pioneers.
"Rap was just starting, and I really just learned about it being in the studio while they were recording Licensed To Ill," she said. "I would listen to them recording and keep waiting for the singing to start."
But, Bak wasn't the only snapper to capture the boys back in the day—famed photographer, Ricky Powell, also hung out with them in mid1980s– along with acts like Run DMC.
Now, thanks to RockPaperPhoto, fans who can't make it to see Bak's exhibition in person can snap up some of her photos through their website.
Warning though! You may also be tempted to buy super cool iconic pix of everyone from Michael Jackson, John Lennon and Elvis Presley to the Rolling Stones, The Beatles, Blondie…and whoever else currently floats your musical boat.