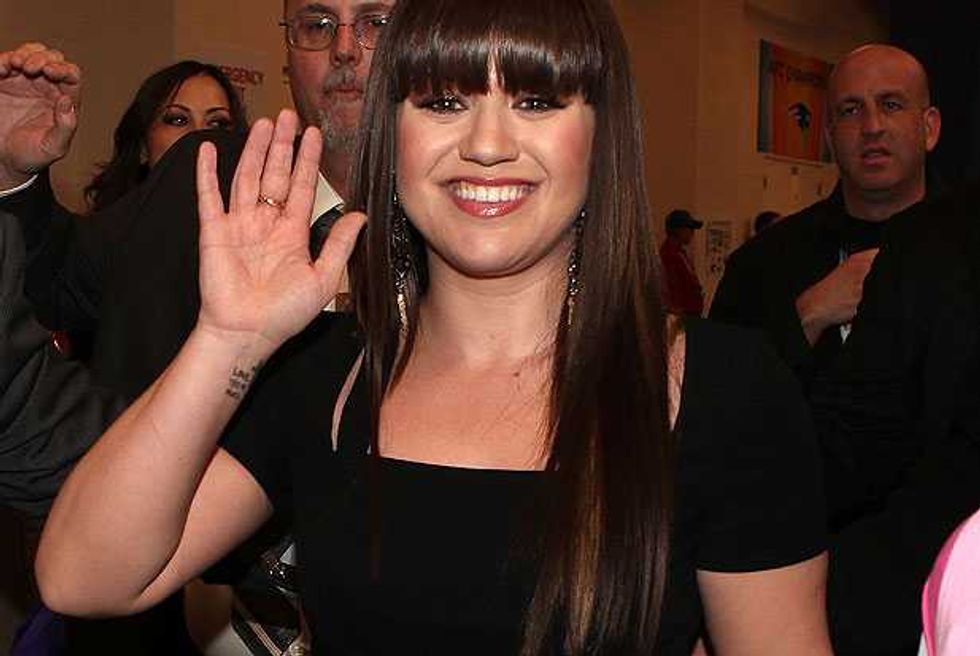 When Adele takes the stage at the Grammys this Sunday, she will be cruelly denied the privilege of performing the #1 song in the country. The two-week run of "Set Fire to the Rain" on top the Hot 100 has been interrupted by Kelly Clarkson, who tops the charts this week with "Stronger (What Doesn't Kill You)," her second single off latest album Stronger. Kells' recent ubiquity has no doubt assisted her single's placement, appearing in oddly cast Toyota commercials and singing the National Anthem at the Super Bowl—watched by 111 million people, which we're pretty sure is a lot. The #1 is Kelly's third, after 2002's "A Moment Like This" and 2008's "My Life Would Suck Without You."
Outside of the top ten—which features no new entries except for a 12-8 rebound from Snoop, Wiz and Bruno's "Young, Wild and Free"—appears another artist assisted greatly by a Super Bowl bump. Madonna might not get the full weight of her watched-by-everyone-and-their-uncle's-uncle performance in Indy last Sunday until next week's charts, but she still manages a #13 debut for the Nicki Minaj-and-M.I.A.-assisted "Give Me All Your Luvin'." Billboard notes that the single is Madonna's mind-boggling 56th Hot 100 entry, tying her with Dionne Warwick (who had about a two-decade head start) for second-most among female solo artists. (Both Madge and Dionne have a ways to go to match Aretha Franklin's 73 Hot 100 hits—no shame in getting beaten by the best.)
A third Bowl-boosted single should make some interesting waves next week, as Fun. and Janelle Monae's "We Are Young" has soared to the top of the iTunes chart on the back of its appearance in an OK Go-featuring Chevy Sonic commercial. "Young" has gradually been regaining steam after its initial sales burst from the song's appearance on Glee earlier this year died down, and now seems poised to crash the Top 40, at the very least. Be prepared for it to become one of the most over-karaoked songs of the 21st century by year's end—and we call the microphone first, obvs.