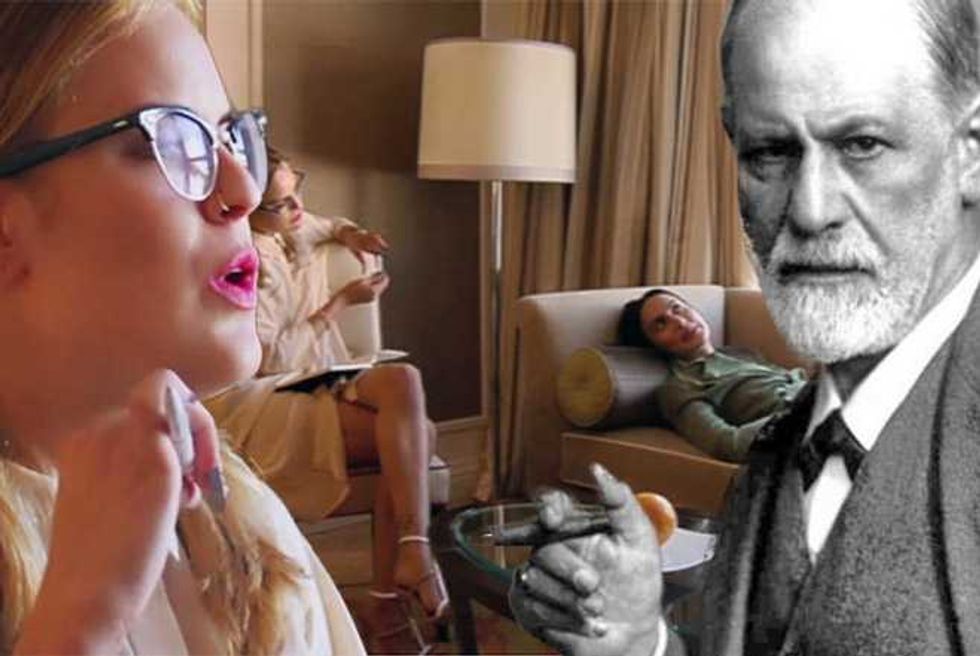 It's been a long wait, but Tallulah Willis has returned to her fashion blog, Clothing Coven, after a website makeover. Confidence seems to be the new governing theme, and Tallulah genuinely wants to inspire you.
Tallulah knows that her looks are unconventional but she has always been blessed with self-confidence. In that spirit, she has posted a video where she pretends to be a therapist as she questions her friend and co-blogger, Mallory Something. I could only take about two minutes of the video, due to the repetition of the word 'like,' which takes on the percussive torture of a jackhammer.
Still, Tallulah deserves a break. Think about it: Rumer is too ambitious, and Scout is too topless. Of the three Willis sisters, Tallulah is just right!
She left college in order to bring us Clothing Coven, and that is no small sacrifice. But for all her goodness and generosity, Tallulah gets this shocking rebuke from Mallory, who writes in a brand new post, 'My black slip dress is my best friend, literally.'
Christ, Mallory, what about Tallulah? You dumped her for a dress?? Fine BFF you turned out to be.
In any case, Tallulah has given so much with her blog, and gets so little in return. She is full of advice about astrology, Egyptians, hairstyles, cars, etiquette,  She gives us fashion philosophy like the following:
 

Leather leggings and their sister – the leather baggy sweats – overrun our world, and to state the elephant in the room, they are slowly but surely becomingly tired.
I don't know about you, but I could read that sentence over and over, never tiring of the ideas expressed so poetically. You go, girl!
Visit Tallulah's blog and feel the magic.