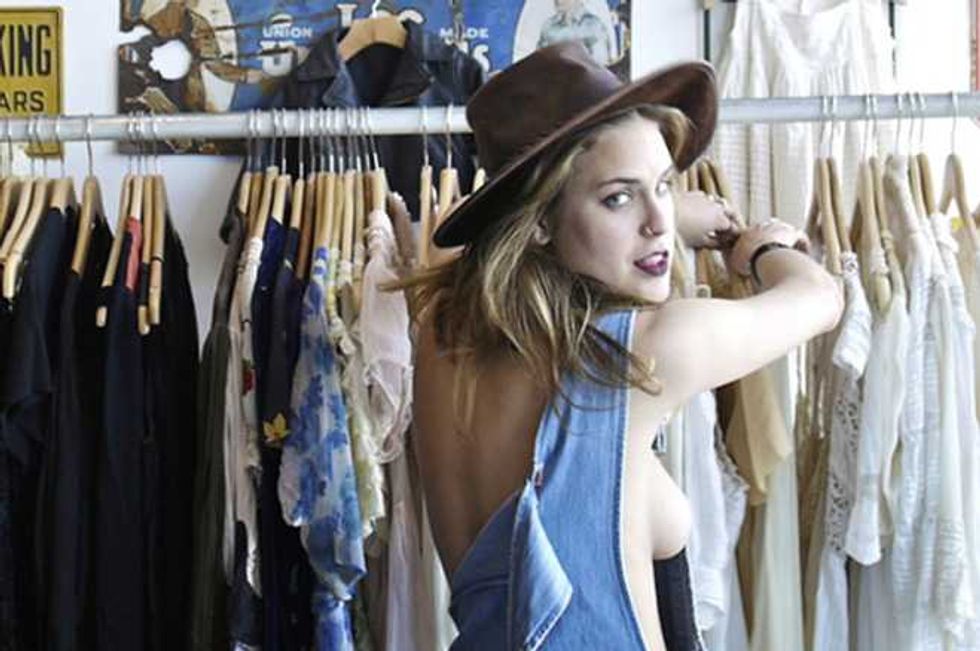 Tallulah Willis, blogger and fashionista, is nothing if not generous, sharing style tips and even directing us to her favorite shopping spots via her blog, TheClothingCoven.
Here is how she introduces us to 'Chuck's Vintage':
'I started coming to this store when I was so young that I literally could not appreciate the epicness that was within."
Right away, I am hooked. What does she mean by 'literally'? How would it be different from 'figuratively'? This hurts my head so let's move on.
"Immediately, my feeble, naive eyes began scanning the room, and I instantly understood that this place was a goldmine."
But wait, Tallulah, you just said that you literally couldn't appreciate the epicness! Make up your mind.
Maybe this blog-post is just an excuse for Miss Willis to show off her bosom. Or maybe the bosom itself is searching through that rack of dresses.
My own bosoms are worthless at finding stuff in vintage shops. I am always forced to sort through that overpriced shit with no help whatsoever from my boobs. Wearing a bra might be the problem, muffling their opinions or something.
Let's move on again.
"I remember being stunned by the mass array of tissue-thin tees," Tallulah recalls with Proustian sensuality. But what is a 'mass array'? Does she mean 'wide array' or a massive amount?
I'm sorry. I keep getting stuck in the subtext of this wonderful blog, which is sadly taking a two-week hiatus for a makeover even though it just launched in April. Perhaps by then my boobs will be guiding me through the thickets of Tallulah's prose.