sponsored
Best Wine Club Delivery Service: Tasting Room by Lot18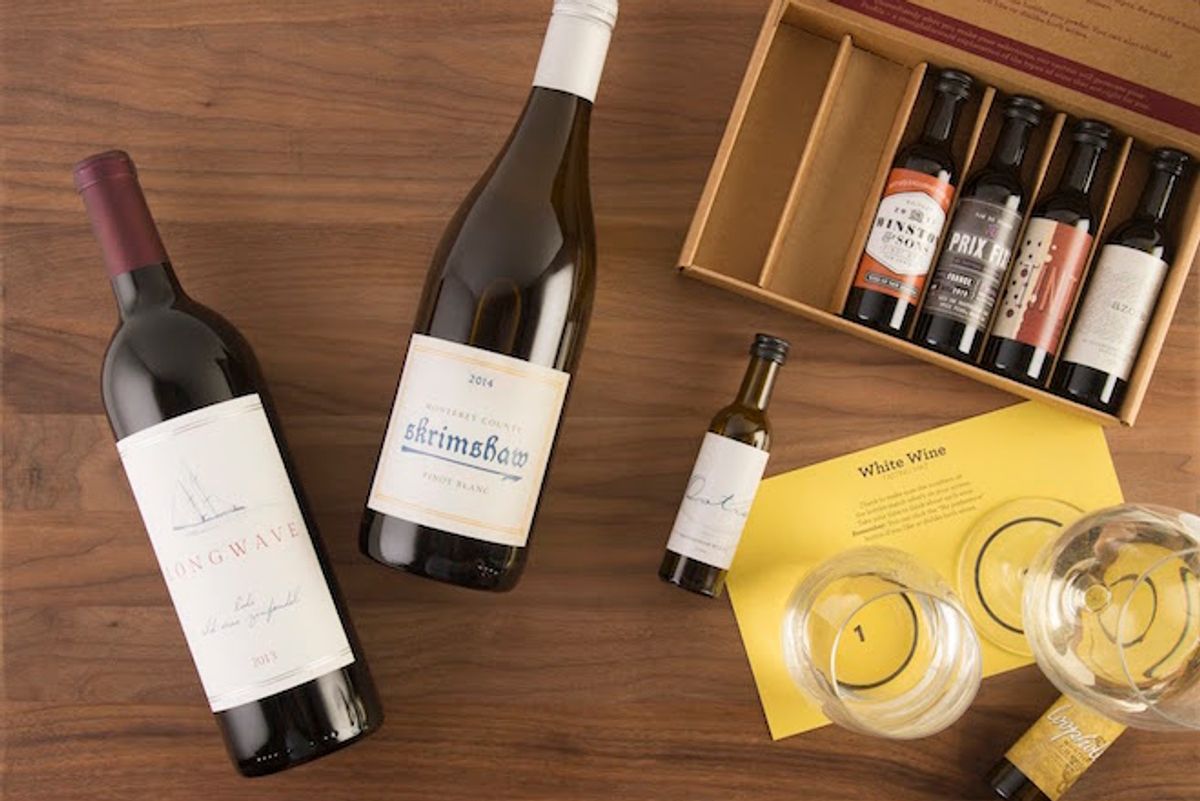 In vino veritas – Latin, for, "In wine, there is truth." And truth be told, whether we're eating a stinky chunk of cheese, a piping-hot dish of spaghetti carbonara, or in most cases, whatever's in the fridge, we want a decent glass (or plastic cup) of wine to go with it. We're not wine snobs, but we want a decent glass to share with friends. Here's another bit of truth: It's nice to learn at least a little bit about which wines pair best with our favorite foods. Wouldn't it make you feel better to have even just a little more knowledge about wine? Okay, but where to start? That's where Tasting Room comes in.
Too many trips to the liquor store, and you're going to start to seem a little Charlie Sheen-ish. That's why wine clubs or subscription services have become such a great option. While there are a bunch of options online, there's no question as to which is my favorite. Raise a glass to Tasting Room by Lot18.
Founded in 2013, Tasting Roomstands out from the pack – first and foremost because it isn't a "club" as all the others are. Tasting Room is a personalized service catered to your specific preferences, and you actually get to taste wine to help you decide which grape varieties, styles and regions you like. No other online service lets you taste first. While other clubs send you the wines they think you'll want, only Tasting Room goes the extra mile to learn – and send you – wines you'll love. It's basically like Netflix for wine.
To get started, they send you 6 mini bottles and you go online to rate them. After that, Tasting Room sends you bottles they've selected for you based on what you like. You can further customize by choosing the number of bottles you receive, select all reds, all whites, or a mix of both. It's under $10 to join, and you can cancel at any time (though why you would is a mystery to us). Not only will you get to taste delicious wines from some of the world's greatest producers, you'll become more educated and less intimidated about wine. I'll drink to that!
There are some other wine clubs out there that are certainly quaffable and deserve attention. What they don't offer, however, are such attractive price points, the flexibility, customization or other perks I love from Tasting Room.
WSJ Wine Club offers two basic plans: their Discovery Club at $149.99 for 12 wines, or their Premier Club at $239 for a case of tiny-production releases. There seems to be only one shipping option of 12 bottles delivered quarterly. With WSJ Wine Club, you can select the varieties and regions you want to receive. You can cancel at any time. They get great reviews, but one common complaint is their $19.99 shipping charge not mentioned in the club package prices. Wall Street…can't be too surprised about the devilish detail buried in the fine print, can you?
New York Times Wine Club offers the impressive perk of a selection team comprising wine pros and even a Master of Wine. They do the choosing, so you cannot taste and select. Like Tasting Room, if you do not care for a bottle, they will send you a replacement. You can join their Times Sampler Club at $90 per 6-bottle shipment or their Reserve Wine Club, which costs $180 per 6-bottle shipment. You can choose the frequency of shipments – either every month, every 2 months, or quarterly. Hopefully you like red wine, since there is no option for an all-white wine subscription.
Gold Medal Wine Club offers 6 packages or "series," as they call them, the cheapest starting at $37 – quite reasonable. All the wines must meet the criteria of having won medals from competitions and accolades from critics. Gold Medal has been around since 1992, so the club is "well aged," so to speak. Gold Medal offers month-to-month memberships, which is nice for those who want to play things by ear. Cons? The site is tough to navigate, and they only offer California wines, so you won't get much variety. Also, a dirty secret of the wine industry is that if a wine doesn't win a medal in one competition, just submit it to another. There are dozens of competitions, and eventually a poor-quality wine might get lucky...and find its way into your club shipment.
Ready to relax with a nice glass of Cabernet, Chardonnay or perhaps a rosé? Now you can let Tasting Room take care of it for you.
Update: The awesome folks at Tasting Room are extending a special discount for our readers. Follow this link to get your wine tasting kit for $6.95 (originally $9.95)!