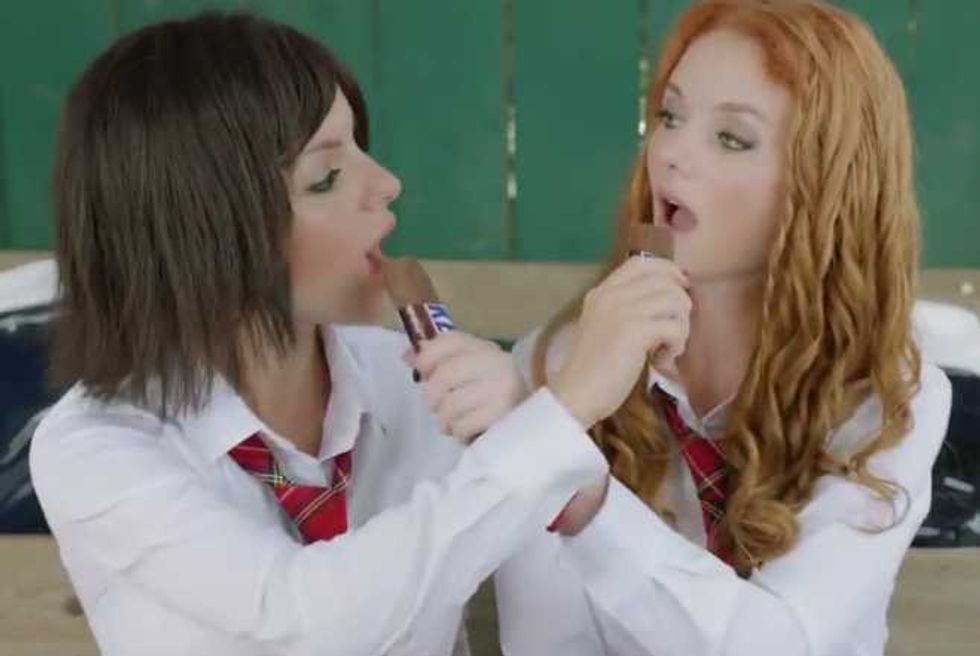 Well, this didn't last long, did it?
Less than two weeks after reuniting for a performance at the opening ceremony of the Winter Olympics and announcing plans to release a new single, faux-lesbo Russian pop duo t.A.T.u. have broken up -- again.
All their scheduled events and shows have been cancelled, as has their new single and any "future collaboration" or "communication" between the members, Yulia Volkva and Lena Katina.
Why, exactly? Well, according to a post by Lena on t.A.T.u.'s official Facebook page, Yulia is the sole reason for the discord.
"Hello Guys,

For the reason of incorrect behavior from Julia's side concerning me, I must announce that our future collaboration has become absolutely impossible. Aside from many crude and hurtful statements made about me, Julia gave me an ultimatum: she declined to participate with me in t.A.T.u. if I do not comply with her and her team in all aspects regarding the creative direction of t.A.T.u.. Otherwise she will find a different red-headed, curly-haired girl to replace me.

Besides that, I was threatened with the fact that Julia, using her close ties to the heads of Channel 1 Russia, will shut down my solo project in Russia. In this instance I consider our future collaboration to be impossible as well as communication between us.

I am sad that our fans' hopes of a t.A.T.u. reunion will not come true. I hope you understand and I want to say thank you for loving and supporting me always. Thank you."
We're still waiting to hear Yulia's side of the story, but to be quite honest, we don't really care. We just want these girls to set aside their differences and get along together so they can bring back what was easily one of the best and most exciting pop acts of the 2000s. Not only are the fans missing out because these two can't play nice, but Lena and Yulia are missing out on all the money they could be making. Because, let's face -- their solo careers ain't goin' anywhere any time soon.
Sigh.